@USA and European Union NATO allies - to park missiles

max. 10 seconds

from reaching Shanghai, Beijing, Shenzhen, Guangzhou, Chongqing, Tianjin, Chengdu, Wuhan etc...

Xi Jinping further talked with his Chinese crew in this very Novo mesto house how Slovenes must integrate in greater Serbian chetnik state previously known as Yugoslavia - repeated me words of Borut Pahor's mentor Milan Kučan and conditioned recognition of my case with view of greater Serbian chetnik state and remnants of Slovenian UDBA in Slovenia...that local Chinese community which settled here through this case will monitor and surveillance my activities - was brought on opportunity inside of the Chinese stores in Novo mesto city where tortured by locals and Chinese who demanded absolute compliance with China.

Chinese FASCIST statements with idea to undermine European security on European continent are clearly indicating Chinese territorial tendencies

(murderous appetites)

on foreign continents - not only in neighboring countries to China

(from Taiwan to Philippines etc.)

or genocide against occupied by China Uighur minority...its why I figured out is best to keep VERY CLOSE eye on trigger in respect to one.
@China - you crossed the

red

line as far as I am concerned and you are not dear to me that much when it comes to Ukraine and other eastern European countries that I would blindly continue to support your blatant lies

(your statements are plain schizophrenic self delusional lies of which you yourself are well aware are nothing more as stated right here)

...also Ukraine as a country when it come to fertile agricultural land is more important for world than China or Russia as is on geographically more desirable position as well as size wise. With Poland and other eastern European states which wanted to welcome you but never ever will, you are a zero point nothing real nobody in a global map to set you on a proper spot. Self delusional Chinese fascist state hiding behind Sickle and hammer.
China = 1,840 m (6,037 ft)
[2]
@China - I hope you get your importance due to what you have to offer also from human kind of perspective to the world is completely insignificant for one as was the case with nazi Germany during WWII. SHAME ON YOU !!!

https://www.9news.com.au/world/russia-ukraine-update-chinese-diplomat-blames-nato-for-conflict/4bfbdbc3-fad6-4121-b84a-f0409440c973
Top Chinese diplomat 'blames NATO' for Ukraine conflict
Urgent pleas for Russia-Ukraine peace talks
A Chinese diplomat says NATO should stick to what he claimed was a promise not to expand eastward.
In a speech, Chinese Vice Foreign Minister Le Yucheng criticised the far-reaching Western sanctions imposed on Russia after it invaded Ukraine and said the root cause of the war in
Ukraine
"lies in the Cold War mentality and power politics."
Echoing a Kremlin talking point, the Chinese envoy said if NATO's "enlargement goes further, it would be approaching the 'outskirts of Moscow' where a missile could hit the Kremlin within seven or eight minutes."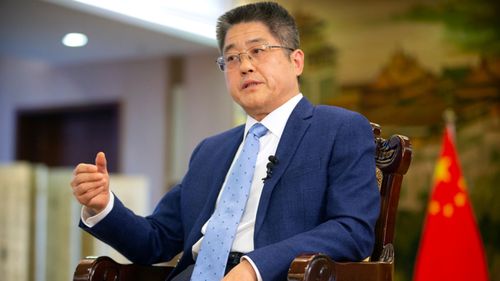 "Pushing a major country, especially a nuclear power, to the corner would entail repercussions too dreadful to contemplate," he said.
He expressed an understanding for Russian President Vladimir Putin's oft-repeated position, saying that NATO should have disintegrated and "been consigned to history alongside the Warsaw Pact."
"However, rather than breaking up, NATO has kept strengthening and expanding, and intervened militarily in countries like Yugoslavia, Iraq, Syria and Afghanistan," he said.
"One could well anticipate the consequences going down this path. The crisis in Ukraine is a stern warning."
He said Chinese President Xi Jinping in talks with US President Joe Biden on Friday urged the parties in Ukraine to demonstrate "political will and keep the dialogue and negotiation going.
The US and NATO should also have dialogue with Russia to address the crux of the Ukraine crisis and ease the security concerns of both Russia and Ukraine."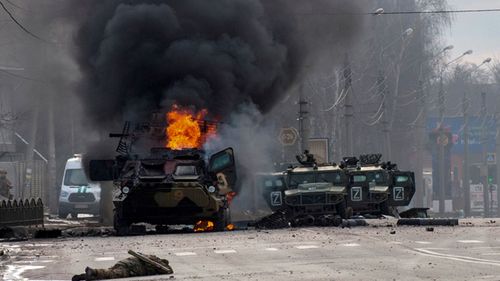 Mr Biden "described the implications and consequences if China provides material support to Russia" in his call with Chinese President Xi Jinping, the White House said.
"The President underscored his support for a diplomatic resolution to the crisis," the White House said.
The bulk of their discussion centred on the war in Ukraine, and the implications the crisis would have both on US-China relations and the "international order," a US official said.
China's vice foreign minister blames NATO for war in Ukraine
China's vice foreign minister on Saturday blamed NATO for the war in Ukraine and criticized the West's sanctions against Russia, AP reports.
Driving the news: Le Yucheng speaking at a conference in Beijing called NATO a "Cold War vestige," warning that its expansion could cause "repercussions too dreadful to contemplate," per AP.
"Sanctions against Russia are now going to such lengths that globalization is used as a weapon, even people from the sports, cultural, art and entertainment communities are not spared," he also said.
The big picture: Le's remarks come one day after President Biden and Chinese President Xi Jinping spoke about the war, with Biden describing "the implications and consequences if China provides material support to Russia," according to a White House readout of the call.
China has not publicly condemned or defended Russia's invasion of Ukraine, but Chinese officials and state media have largely put the blame on the U.S. and the West, Axios' Dave Lawler reports.