Verjetno(žal Kučana) obskovalcev letos ni bilo niti polovice od številke katero navaja RTV Slovenija...ljudje preprosto bežijo od dveh zločincev. Njun nastop v Dražgošah into navkljub

osramotitvi Slovenskega naroda in NOB pred Slovenijo in širnim svetom.

pa je težka oskrunitev narodno osvobodilnega boja Slovencev in Slovenk med drugo svetovno vojno.
Od 6000 leta 2015, na 4000 leta 2017 in zdaj praktično ničla. Milan Kučan in Borut Pahor dobro zavedajoč

(še kako dobro se zavedata svojih zločinov in boja proti Slovenski samostojnosti)

se pripadata veliko Srbskemu četniškemu gibanju to pa je bilo v nasprotju z NOB bližje Slovenski beli gardi.
https://www.rtvslo.si/slovenija/kucan-v-drazgosah-vse-vec-je-znamenj-ozivljanja-fasizma/607905
Kučan v Dražgošah: Vse več je znamenj oživljanja fašizma
Organizatorji: Prireditev organizirana v skladu z epidemiološkimi omejitvami
Ob 80. obletnici dražgoške bitke je v Dražgošah potekala osrednja spominska slovesnost. "Današnje podobe fašizma niso enake tistim iz polpretekle zgodovine. A izhodišča so enaka," je dejal slavnostni govornik Milan Kučan.


T. K. B., La. Da.
9. januar 2022 ob 08:53
Zadnji poseg: 9. januar 2022 ob 15:01
Škofja Loka - MMC RTV SLOPreberi članek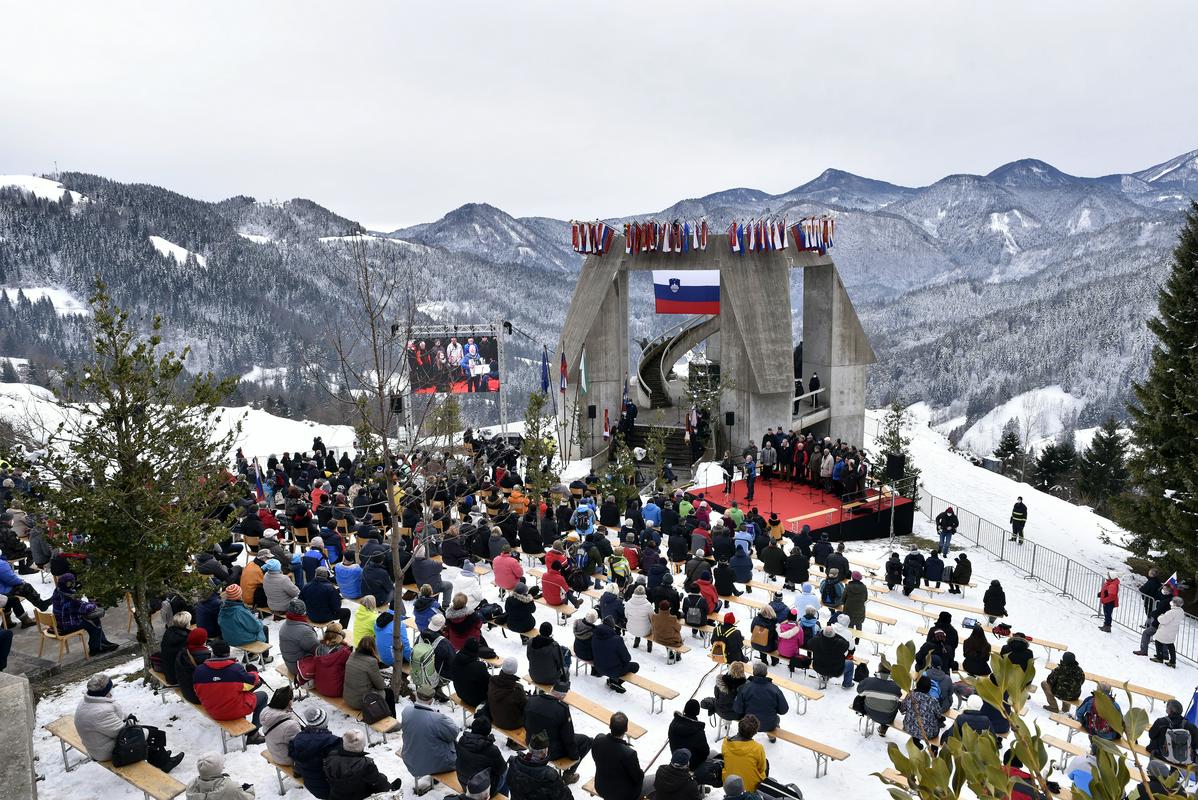 "Naš odpor je bil globoko smiseln, čeprav je bil nasprotnik v orožju močnejši. Odpor je omogočil pogajanja, ki so zagotovila mir. Mir v Sloveniji je odprl pot do njenega mednarodnega priznanja. Globoko smiselna sta bila tudi boj in žrtev Slovencev med drugo svetovno vojno. Bila sta nesorazmerno velik prispevek k obrambi človeške civilizacije pred barbarstvom, ki ga je prinašal fašizem," je poudaril slavnostni govornik in prvi predsednik samostojne Slovenije Milan Kučan.

Kučan je potegnil vzporednice z današnjim časom, ki ga zaznamuje epidemija, a se hkrati po njegovih besedah v ozadju posega v temelje, na katerih sta utemeljena sodobna demokratična družba in mednarodni pravni red. "Spodjedajo ju populizmi in nacionalizmi, protisolidarnostne suverenitetne doktrine ter egoizmi, znotraj katerih je vse več znamenj oživljanja fašizma." Kljub temu pa Kučan dovolj močnega odpora, kakršnega bi pričakoval od naroda, ki je nekoč že bil žrtev fašizma, ne zaznava.

Kot je opozoril Kučan, je fašizem prerasel v državno ideologijo na način, da je uporabil in zlorabil mehanizme demokratične parlamentarne demokracije. "Treba je povedati, kam lahko vodijo razgradnja ustavne ureditve, poskusi vladanja z odloki, izigravanje in izsiljevanje zakonov, posegi v načelo delitve oblasti, napadi na sodstvo in sodnike, na neodvisnost tožilcev in policije, na nadzorne ustanove, na svobodo tiska, na človekove pravice in dostojanstvo, kam vodijo uporaba in spodbujanje sovražnega in prostaškega govora, nespoštovanje ločitve Cerkve in države, odnos do beguncev, zloraba zgodovinopisja ter enačenje domoljubja z zahtevo po podpori sedanji vladi in politiki največje vladne stranke."

Kučan je dejal, da Slovenci prihodnost pričakujemo raztreščeni kot še nikoli do zdaj. "Razdvaja nas tudi brezobzirno razkazovanje moči sedanjih oblasti, ki v življenje ljudi sistematično vnašajo nove razdore. (...) Mirne protestnike štejejo za sovražnike. Zavračajo dialog z njimi, na njihove predloge, zahteve in oporekanja odgovarjajo s policijsko represijo."




Kučan je ob koncu poudaril, da niso dosežki tisto, ki deli in razdvaja slovensko družbo. "Razdvajajo stvari, o katerih vladajoča politika ne govori, jih pa počne. Počne jih z grobimi, nelegitimnimi in nelegalnimi posegi v ustavno pravno in socialno vrednotno tkivo družbe. Počne jih mimo volje ljudstva v imenu prikritih političnih in ideoloških ciljev: ustvariti drugo republiko, ki bo po njeni meri, v želji po t. i. premiku celotne družbene strukture v desno, tudi skrajno desno."
"Namesto samohvale potrebujemo pošteno in realno oceno tako razmer kot cene, ki jo bomo za to plačevali. Čas po epidemiji bo zahteven. Okrevanje pa dolgo in težko. Upravljanje države bo zahtevalo zaupanje in podporo državljanov, tudi odrekanja. Lažniva slika zavaja in ne omogoča okrevanja. Prav tako ne zvračanje odgovornosti za lažno sliko na prihodnjo vlado," je še sklenil Kučan.
Prireditev potekala kljub epidemiji
V Dražgošah je Kučanu prisluhnilo okoli 1500 ljudi, ki so se slovesnosti udeležili kljub epidemičnim razmeram. Organizatorji iz Zveze združenj borcev za vrednote NOB-ja Slovenije in škofjeloškega združenja so po lani odpovedani prireditvi letos kljub nekaterim kritikam sklenili, da slovesnost zaradi izjemnega pomena ohranjanja zgodovinskega spomina vseeno pripravijo.
Kot so poudarili, so prireditev organizirali v skladu z epidemiološkimi omejitvami in dovoljenjem škofjeloške upravne enote. Prireditveni prostor so ogradili in za vstop vanj pregledovali izpolnjevanje pogoja PCT. Na prireditvenem prostoru je bilo prostora za nekaj 100 ljudi, številni pa so bili še zunaj njega.
Med zbranimi na prireditvi, ki se je je tokrat sicer vseeno udeležilo manj ljudi kot v običajnih letih, so bili med drugim predstavniki različnih političnih strank, predsednik DZ-ja Igor Zorčič in predsednik države Borut Pahor, ki je poleg še nekaterih drugih k spomeniku devetim padlim partizanom in 41 pobitim Dražgošanom položil venec.
Kar nekaj ljudi se je tudi letos v Dražgoše, v katere je prispelo tudi okoli 25 avtobusov, odpravilo peš. Organiziranih pohodov je bilo sicer precej manj kot običajno. Izvedli so dva tradicionalno najdaljša pohoda, 43. pohod po poti Cankarjevega bataljona in 22. pohod čez Ratitovec, ki pa sta bila zaradi covida-19 in debele snežne odeje na Jelovici tokrat bistveno krajša, omejeno je bilo tudi število udeležencev.