Probably not even police officer in 1995, 1996 and as I heard last night on TV, Nejc Stojanovič's father was due to his violence(already certified as police officer in Slovenia) https://www.dolenjskilist.si/2022/01/14/257155/novice/dolenjska/Prvi_maturant_iz_romskega_naselja_Brezje/ in which one was incited also on behalf of Serbian visitor Aleksandar Vućič who on opportunity in 1996 stressed his last name as of Serbian origins transferred to Ljubljana even or before year 2000.
Nejc Stojanovič(appeared to me as nice kid even well aware of his father's crime against me) appeared in MK Ultra probably for the first time in 2018 when brought to Bršljin - Žabjak and center Podbreznik.
Question that appears here, however, since these people engaged in violence(SLOVENES DID TOO AND MOST OFTEN FOR TEH SAME ECONOMIC REASONS MILAN KUČAN AND BORUT PAHOR THREW THEM ON TABLE - DON'T WORRY AND WERE/ARE FAR LESS FRANK ABOUT IT - THEY MEET ME ONGOING WHILE EITHER STARING DOWN THE FLOOR MUTE) and child of an individual like this is
already a community hero, where/what future has in it for Slovenian nation as whole - BECAUSE IT WAS AMERO GERMAN 卐 卍 HOT OR COLD DIVIDE AND CONQUER GAME WHICH STARTED THE WHOLE THING.
The worst Roma violence went on against me in Slovenia - all Novo mesto regional settlements were involved in it...
The proper way(without malicious and damaging for everyone elements involved) if Pahor and Kučan truly wanted one to help Roma community was to help one establish itself economically and keep them as far as possible from crime. Pushing hatred buttons and grow community in a wrong directions, however, was/is to be expected from Pahor/Kučan. For stated reason it was important to keep me unemployed while using psychiatry to cause as much damage as possible and the opposite side(Peterle and his company) that awarded itself with white guard memorials for the cost of abuse against me just know that.
Roma community came to friendly greet me anywhere from Poland to Czech rep. and in Slovenia - were happy to see me specially in Poland and Czech republic what was quite fun for me to visit even their houses where invited....
In year 2007, Roma individual who defended me with his life from Roma violence in which police incited on behalf of Borut Pahor and Milan Kučan inside of the Roma settlement even landed inside of the hospital stabbed with knife outside of the murderous Novo mesto's police station https://www.delo.si/novice/kronika/romski-spopad-pred-vrati-novomeske-policijske-postaje.html

News is only available via cached page as Slovenian LIE MACHINERY FROM LJUBLJANA DISLIKES truth and deletes one from internet even from newspapers they own.
Romski spopad pred vrati novomeške policijske postaje
Pred vrati policijske postaje na Ljubljanski cesti se zgodil pretep med Romi. V obračunu je eden od udeležencev z nožem v ramo zabodel drugega Roma, ki so ga odpeljali na operacijo.
Objavljeno
27. april 2007 14.13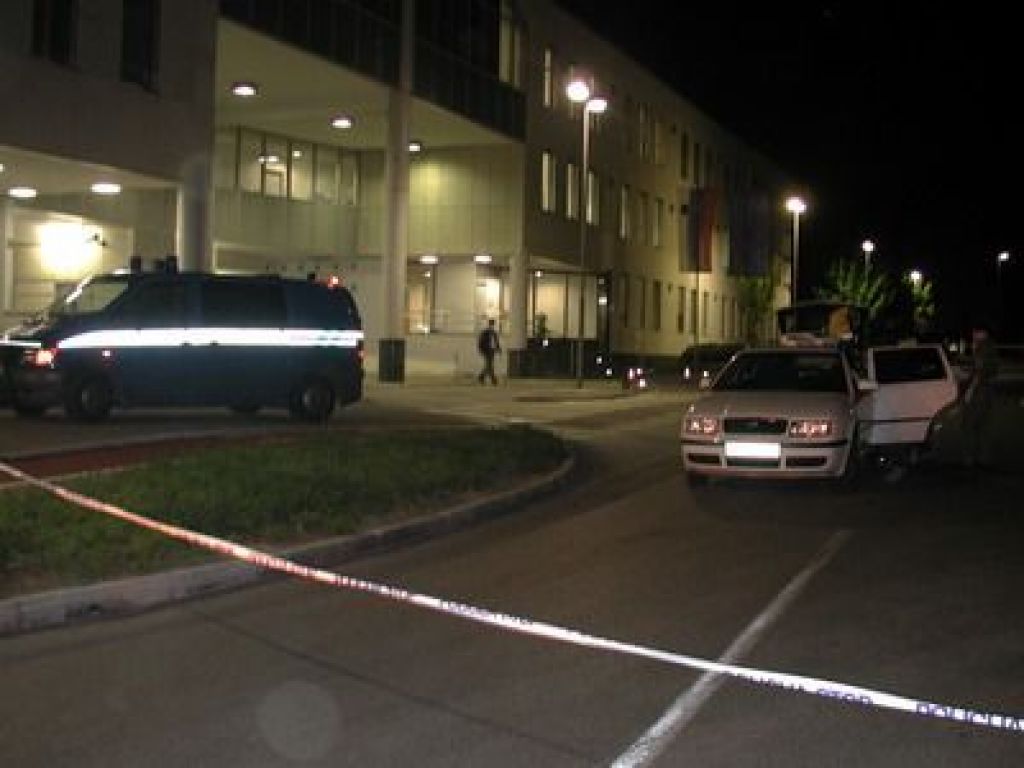 Odpri galerijo

Novo mesto – Pred vrati policijske postaje na Ljubljanski cesti se je včeraj okrog sedme sedme ure zvečer zgodil pretep med Romi. Po naših informacijah naj bi se incident začel že pol ure prej na bencinskem servisu, ki je le streljal od stavbe novomeške policijske uprave in kamor pogosto hodijo Romi. Tam naj bi Rom iz največjega novomeškega romskega naselja Brezje grozil sokrajanu, ki naj bi se zaradi tega zatekel pred vrata policijske postaje.
Kot so zapisali v policijskem poročilu, se je nato med zbiranjem obvestil nekaj minut čez 19. uro pred policijsko postajo z osebnimi avtomobili pripeljalo večje število Romov, neuradno smo izvedeli, da jih je bilo okrog 60. »Med njimi je prišlo do pretepa, pri tem pa je bil eden od udeležencev zaboden z ostrim predmetom, zato so ga z reševalnim vozilom odpeljali v novomeško bolnišnico, kjer je ostal na zdravljenju,« so sporočili iz novomeške policijske postaje. Kot je povedal eden od očividcev, naj bi Rom, ki naj bi že imel bogato kriminalno preteklost, z nožem v ramo zabodel drugega Roma, ki so ga odpeljali na operacijo. Po naših informacijah so v bolnišnico odpeljali še dva udeleženca pretepa. Tako napadeni, približno 20 let stari Rom, kot napadalec naj bi se ukvarjala z zbiranjem in prodajo železa. Kaj je bil vzrok napada, policisti ne povedo zaradi preiskave, ki še poteka.
Kot je razbrati iz policijskega poročila, so policisti in kriminalisti izsledili štiri osumljence, torej so iz kraja dogodka pobegnili, in jim odvzeli prostost: »Po zbranih obvestilih in dokazih pa bodo zoper storilce dali kazenske ovadbe zaradi kaznivega dejanja hude telesne poškodbe.« Uspeli smo še izvedeti, da je napadalec zagrozil poškodovanemu Romu, da ga bo počakal doma v Brezju, ko pride iz bolnišnice in tam dokončal obračun. Na policijski postaji nam niso povedali, kaj je bil razlog, da so štirje policisti stražili tudi pred romskim vrtcem Pikapolonica v romskem naselju Brezje. Tja smo se namreč odpravili okoli 22. ure zvečer, saj naj bi po naših informacijah ravno pod vrtcem živel osumljeni napadalec, vendar je bil v Brezju takrat vse mirno.
Cesta pred policijsko postajo, ki je bila vse od spopada zaprta, je bil ponovna odprta okrog 22.30 ure, ko so policisti začeli preiskavo še na bencinskem servisu, ki je bil prav tako predčasno zaprt.