Germany blocks Estonian arms exports to Ukraine: report
Thus placing in doubts through German made weapons utterly a pact between Ukraine and Baltic states - eastern European regions on general. Such German blunder

(not to mention oil and gas purchasing from Russia - basically financing modernization of Russian arsenal and assault on Ukrainian Crimea/Donetsk itself)

leaves a big question-mark per whether is it worth at all to acquire weapons from such ally on the first place as its meddling into foreign state affairs by the third party

(its what Germany is here)

makes more problems than good in deeper inter-diplomatic relations between foreign parties who obtain those.
BUYER BEWARE:
German made weapons are subject to special paragraph in sale or trade agreement - even subject to special paragraph concerning possible free assistance to foreign countries in need conditions if purchasing party deems is necessary - just read small INVISIBLE text written with Putin's hand on made in Germany weapons under this very news for you to understand one - WHERE REALITY APPLIES. Much much smaller Estonia too in case of need would be surprised in case of the opposite situation when Ukraine would be prohibited from offering assistance to one due to possible made in Germany weapons and I bet such invisible clauses would leave otherwise partners, traumatized regardless of whose weapons prohibited for export are made bye...
Germany blocks Estonian arms exports to Ukraine: report
Germany reportedly refused to allow Estonia to send its German-made weapons to Ukraine. Estonia, Latvia and Lithuania pledged support to Kyiv against possible Russian aggression.
Unlike the US, UK and Poland, Germany has opposed exporting weapons directly to Ukraine
Germany is said to be blocking Estonia from providing German-origin military support to Ukraine, US newspaper The Wall Street Journal (WSJ) reported on Friday.
The report comes after the US State Department gave Estonia the green light to send US-made weapons to Ukraine.
According to the WSJ report, Berlin has refused to issue permits so that the weapons can be exported to Kyiv.
It all comes as Europe and the US fear that Moscow is preparing for an invasion of Ukraine, after it has gathered 100,000 troops on the border. Russia has denied it is planning an attack but says it could take unspecified military action if a list of its demands is not met.
Germany refuses weapons deliveries to Ukraine
Although other NATO allies, including Britain and Poland, have also agreed to export weapons directly to Ukraine, the German government has so far declined to do so.
"Germany has not supported the export of lethal weapons in recent years," German Chancellor Olaf Scholz told a news conference on Friday.
Citing Estonian and German officials, WSJ reported that Berlin is applying the same principle to Estonia's arsenal because it originated in Germany.
"Hopefully we will get the approval from Germany," Kristo Enn Vaga, adviser to the Estonian defense minister told WSJ. "Estonia has shown that we want to help Ukraine in practical terms in any way we can"
German government officials have said they oppose sending weapons to Ukraine as they fear that such deliveries could push tensions higher and make negotiations more difficult.
Germany is one of the world's top arms producers and exporters, with sales increasing 21% from 2016 to 2020, according to the Stockholm International Peace Research Institute.
Baltic states pledge US-made weapons
All three Baltic states, Estonia, Latvia and Lithuania, said in a statement that they would be sending their US-made Javelin and Stinger missiles.
"In light of Russia's increase in military pressure in and around Ukraine, the Baltic States have decided to answer Ukrainian needs and to provide additional defense related assistance," the statement said.
"This aid will further enhance Ukraine's capability to defend its territory and population in case of a possible Russian aggression," it added.
"We sincerely hope that Ukraine won't have to use these weapons," Lithuanian Defense Minister Arvydas Anusauskas said.
The Lithuanian ministry said the weapons would be delivered "in the nearest future."
jcg/fb (Reuters, AFP
AND HOW EUROPA(EUROPE) STANDS WITH ISSUE IN RESPECT TO UKRAINE....
https://www.trtworld.com/magazine/is-the-us-trying-to-woo-turkiye-over-the-ukraine-crisis-53921
Is the US trying to woo Turkiye over the Ukraine crisis?
Turkiye and the US have similar views on many aspects of the situation developing between Russia and Ukraine.
The United States' decision to stop backing the controversial EastMed pipeline indicates that it wants Turkiye to focus on easing tensions that are brewing over Ukraine, experts say.
The EastMed pipeline was proposed to connect Israeli gas fields to Greek-administered Cyprus and Greece. The project was seen as Europe's answer to reducing the dependency on Russia for energy supplies.
But the 1,900 kilometre-long pipeline was expensive and required difficult negotiations as its route would have crossed parts of the Mediterranean Sea, which Turkiye claims to be its own.
Turkiye was deliberately excluded from the multi-billion dollar project, angering Turkish policymakers.
Even though the US was not directly involved, former President Donald Trump's administration lent political support to the EastMed project.
Multiple reports suggest that President Joe Biden's officials have told Israeli and Greek counterparts that Washington is no longer backing it.
The US embassy in Greece dropped any mention of EastMed from a recent policy statement and therefore rendered moot the importance of transnational electricity cables.
This development comes at a time when Russia has amassed 100,000 troops on its border with Ukraine and the possibility of war, which could drag the US into an armed conflict, has become all too real.
"I believe the US wants to end escalation in the eastern Mediterranean," says Dr Oktay Tanrisever, an international relations professor at the Middle East Technical University (METU) in Ankara.
"It has been helping Turkiye and other partners to focus more on Ukraine and the Black Sea region, where Turkish cooperation is crucial."
Ankara's relations with Washington have been tense in recent years. The US has backed the YPG, an offshoot of the PKK terrorist group in Syria.
In its more than 35- year terror campaign against Turkiye, the PKK – listed as a terror organisation by Turkey, the US, and the EU – has been responsible for the deaths of nearly 40,000 people, including women, children and infants.
Turkiye has also taken some steps that have rubbed its NATO ally the wrong way. The 2019 delivery of the S-400 missile system from Russia resulted in Turkiye's expulsion from a programme to co-develop the F-35, a new generation fighter jet.
The US had backed the alliance of Israel, Greece and Greek-administered Cyprus centred on the EastMed pipeline, to counter Turkiye's influence in the Eastern Mediterranean region, says Tanrisever.
"At the time, hydrocarbons seemed to be a priority for the United States and Israel. Now, that doesn't seem to be the case, especially after Turkiye's deal with Libya," he says.
In November 2019, Turkiye and the UN-recognised Government of National Accord in Libya, signed an agreement demarcating maritime boundaries in the Aegean Sea, which is part of the Mediterranean.
That allowed Ankara to lay claim to the part of the sea where the EastMed pipeline was proposed to pass through. It also showed President Recep Tayyip Erdogan's willingness to take a hard stance on the issue.
Russia's ability to take advantage of tensions in the Mediterranean has pushed US policymakers to change their position, says Tanrisever.
Leaders in Europe and the US are on the edge as prospects of conflict on Ukraine's border with Russia have increased.
Turkiye has called for restraint and has asked both the Ukrainians and the Russians to avoid a military confrontation.
Ankara has intensified efforts to ease tension while Erdogan is expected to speak to Ukrainian President Volodymyr Zelenskyy and Russian President Vladimir Putin in the coming weeks.
"It is a great opportunity for Turkiye to improve relations with the US," says Matthew Bryza, a former US diplomat.
"There's obviously suspicion (between the two NATO allies) because of the S-400 sales."
The US would like Turkiye to continue its military support of Ukraine, he tells TRT World.
Turkiye has sold dozens of Bayraktar drones and missiles to Ukraine. The two sides have drafted deals on naval ships, and the joint development of aircraft and engines. Turkish companies are some of the largest foreign investors in Ukraine.
At the centre of the Ukraine crisis is the Russian demand that Kiev should not be included in the NATO alliance. Russia and Ukraine share borders and Moscow does not want a hostile state on its doorstep.
Turkiye's Foreign Minister Mevlut Cavusoglu says that Ankara favours the inclusion of Ukraine and its neighbouring countries into NATO.
"The US would want to see Cavusoglu's continued strong support for NATO enlargement," says Bryza.
Turkiye also opposes Russia's 2014 annexation of the Crimean Peninsula, which is part of Ukraine.
Bryza says that there's no visible coordination between Turkiye and the US on the Ukraine crisis at the moment, as Washington is busy trying to align other allies, such as Germany and France, against Russia.
"I think [US state] secretary Antony Blinken is not thinking as creatively as he could about how Turkiye [could] be helpful in this situation," he says.
"Unfortunately, Turkiye is still seen in Washington as a problem to be managed, rather than a NATO partner."
Spain sends warships to Black Sea, considers sending warplanes
2 minute read
MADRID, Jan 20 (Reuters) - Spain has sent warships to join NATO naval forces in the Mediterranean and the Black Sea as tension in the region rises over the Russian military build-up on the Ukrainian border, Defence Minister Margarita Robles said on Thursday.
Romania and Bulgaria slam Russia's demands to move NATO troops as 'unacceptable'
Now PlayingNATO's origin expl(CNN)NATO members Romania and Bulgaria slammed Russia's demand to remove alliance troops from both countries as "unacceptable," with each arguing that the Kremlin has no right to interfere in the foreign policy decisions of other sovereign states.
The comments from both countries came just hours after Russia's Foreign Ministry confirmed that its demand for NATO to pull back troops from parts of eastern Europe included Bulgaria and Romania. The two countries are located on the Black Sea,
which analysts believe
Moscow sees as an important geostrategic buffer zone between itself and Europe.
Romania's Ministry of Foreign affairs said in a statement Saturday "such a demand is unacceptable and cannot be negotiated." Bulgaria's Ministry of Foreign Affairs urged Moscow to "to show respect to the foreign policy choice consciously made by Bulgaria." Bulgaria's ambassador to the United Kingdom, Marin Raykov, told the BBC that the Kremlin's demand is "an expression of contempt for the sovereign rights of Bulgaria to choose the sources of guarantees for national security."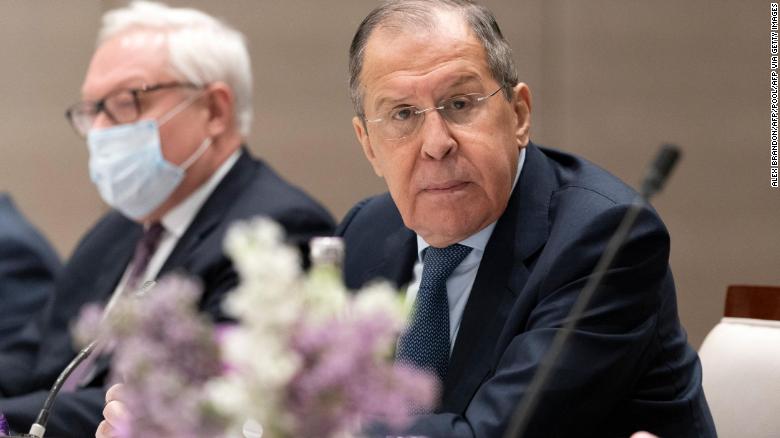 Russian Foreign Minister Sergey Lavrov listens during a meeting with US Secretary of State Antony Blinken on January 21, 2022, in Geneva, Switzerland.
Russia and NATO have been at loggerheads since late last year, when the Kremlin deployed an estimated 100,000 troops to its border with Ukraine. That military posturing has prompted fears that Russia is planning another incursion into Ukraine after invading and illegally annexing the Crimean peninsula in 2014. That same year, Moscow began supporting a pro-Russian separatist movement in eastern Ukraine that's left thousands dead.
In its statement, Romania said the NATO military presence in eastern Europe is "a strictly defensive reaction to the increasingly aggressive behavior of the Russian Federation ... which started in 2014. when the Ukrainian territory Crimea was illegally occupied by Russia."
"This behavior continues to intensify in the present, despite NATO's attempts to engage in constructive dialogue," the statement read.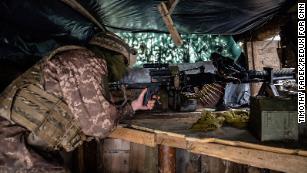 The United States and its NATO allies have repeatedly warned Russia that any movement of its troops into Ukranian territory would be met with what US Secretary of State Antony Blinken called "a severe and a united response."
Russian President Vladimir Putin has argued in recent weeks that his country is the aggrieved party, and is responding to NATO's cooperation with Ukraine and the alliance's eastward expansion since the fall of the Soviet Union -- which Russia views as an existential security threat.
Diplomats from all sides have been attempting to negotiate a peaceful settlement, though one of Russia's core demands -- that NATO withdraw foreign military forces and equipment from members of the alliance who joined after 1997 -- was quickly deemed a non-starter by Western diplomats.
"NATO allies are ready to engage in dialogue with Russia, but we will not compromise on core principles," NATO Secretary-General Jens Stoltenberg said earlier this month. "We will not compromise on the sovereignty and territorial integrity of every nation in Europe, and we will not compromise on the right for all countries to do, to choose their own path, including what kind of security arrangements they want to be part of, and will not compromise on the right for allies to protect and defend each other."