To be on a Russian terrorist list if considering Lenin alone is now one of them, is not so bad...sounds more like normal human being to me. Putko clearly lost his mind and mind is a terrible thing to waste - more for mother Russia in Putin's case ;)
Russia Adds Navalny To 'Terrorists' List As Civil-Society Crackdown Continues
January 25, 2022 09:32 GMTUPDATED January 25, 2022 20:57 GMT
Aleksei Navalny gestures while speaking via a video link from prison during a court session on December 28.
Russia has added jailed Kremlin critic Aleksei Navalny and several of his allies to its list of "terrorists and extremists" in the latest in a series of moves by the authorities to stamp out opposition to President Vladimir Putin.
The entries for Navalny and 11 associates -- Lyubov Sobol, Vyacheslav Gimadi, Georgy Alburov, Ruslan Shaveddinov, Pavel Zelensky, Lilia Chanysheva, Zakhar Sarapulov, Ksenia Fadeyeva, Yegor Butakov, Vadim Ostanin, and Andrei Fateyev -- appeared in the register of Rosfinmonitoring on January 25, putting them in the same ranks as right-wing nationalist groups and foreign terrorist organizations such as the Taliban and the Islamic State.
Many of those designated have already fled Russia.
The moves come amid an ongoing crackdown on Navalny's now-outlawed political network and civil society more broadly.
EU foreign affairs spokesman Peter Stano described the latest designations as part of "continued repression against critical voices" in Russia, while State Department spokesman Ned Price said they represented "a new low in Russia's continuing crackdown on independent civil society."
Less than two weeks ago, two other close associates of Navalny, Leonid Volkov and Ivan Zhdanov, were added to the list, which by law means their bank accounts must be frozen immediately. In addition, people on the list cannot use bank cards, take loans, or accept employment. They are frequently turned away when trying to purchase rail or plane tickets.
Sobol told Current Time that the move was not unexpected and that it "fits into Putin's logic and the general pressure that is currently being exerted against the opposition in Russia."
Terrorist Lenin....According to Putin a regular Bolshevik no statesman...what did loser Lenin knew about it all....
"Putin is designating everyone whom he doesn't like a terrorist or extremist," she added, noting that there is practically no way to have oneself removed from the list.
Volkov said he was "proud to work in our fine team of 'extremists and terrorists'."
"By devaluing the meaning of words and turning their meaning inside out, the Kremlin is digging a deeper hole for itself. It's doing all it can to make those who still believe Putin stop believing him," he tweeted.
Zhdanov said: "It's great that our super team of 'terrorists' is being joined by such great people."
Also on January 25, prosecutors appealed to a Moscow court to change a one-year suspended sentence given last August to Navalny's brother, Oleg Navalny, to a real prison term. Oleg Navalny was convicted, along with other Navalny allies, of violating pandemic restrictions by attending rallies in support of his brother.
Over the past year since Navalny returned from Germany, where he was recovering from a poison attack that almost killed him, thousands of protesters have been detained for demonstrating in support of the Kremlin critic, with many jailed.
More than half of his political coordinators have left Russia or been arrested for their activism, with some placed on wanted lists as "terrorists" or "extremists."
Violetta Grudina, the former head of Navalny's office in Murmansk, told RFE/RL on January 25 that she had left Russia for an unspecified country for fear that she would be imprisoned for purportedly violating pandemic restrictions. The same day, photographer Yevgeny Feldman, who worked for Navalny in 2017-18, posted on Facebook that he had also left Russia because of fears for his safety.
Journalists who probed the circumstances of Navalny's poisoning and cited his corruption investigations have been branded "foreign agents."
Last year, the Moscow City Court declared all organizations linked to Navalny as "extremist," preventing people associated with Navalny and his network of regional offices across Russia from seeking public office.
The ruling on his organizations also carries possible lengthy prison terms for activists who have worked with them.
Vladimir Putin(free artist), presents world his "One expensive more than expansive game for his tsarist title"....
Putin knows coming death of Russians will count in astronomic numbers if not claiming even existence of entire Russia and Belarus and its why every "crackdown" of smallest possible resistance during crucial

(UNLIMITED CASKETS AT GRAVEYARDS AND CREMATED CITIES)

hours for Russia counts to him now more than during coming conflict....
Russia Introduces Regulations To Expedite Mass Burials Of Those Killed During Military Conflicts
December 21, 2021 11:14 GMT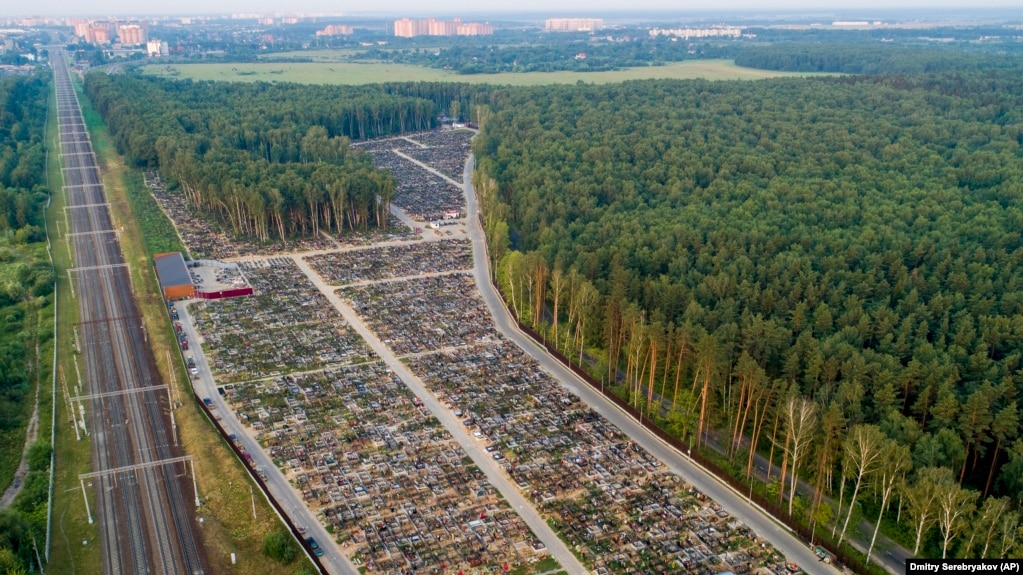 Fresh graves are seen at the Butovskoye cemetery outside Moscow, which serves as one of the burial grounds for those who died of COVID-19.
MOSCOW -- Russian authorities have published new regulations on the expedited mass burial of humans and animals who die as a result of military conflicts or noncombatant emergencies, stoking already heightened tensions that the country may be preparing to invade Ukraine.
The document -- published on the Emergencies Ministry's website on December 20 -- appears as the United States, the European Union, and Ukraine have expressed alarm over Russia' buildup of tens of thousands of soldiers near Ukraine's borders, interpreting it as a possible prelude to military action.
Russia has denied it is planning to invade Ukraine and has issued a series of demands, including direct dialogue with the United States to resolve security issues. Moscow is seeking a guarantee that Ukraine won't one day become a member of NATO.
According to the document, expedited mass burials pertain to those "killed during military conflicts or as a result of these conflicts, or, if necessary, as a result of an emergency in peacetime." The regulations will take force as of February 1, 2022.
The regulations would not allow mass graves to be located close to water supply and sewage systems, natural sources of mineral water, and rivers and lakes with water levels up to 2 meters from the land surface.
The document also says that regional authorities will be responsible for preparing and carrying out work related to mass burials.
An ongoing military conflict between pro-Russia separatists and Kyiv's armed forces in Ukraine's eastern regions of Donetsk and Luhansk has displaced more than 1.5 million people and killed more than 13,200.
Some areas of the Luhansk and Donetsk regions, commonly known as the Donbas, have been under the control of Moscow-backed separatists since April 2014.
The conflict started after Russia invaded and occupied Ukraine's Crimean Peninsula in February-March 2014.
Despite overwhelming evidence showing Russia has provided military, economic, and political support to the separatists, Moscow maintains it is not involved in Ukraine's domestic affairs.