In very short, Serbs which occupied Slovenia in greater Serbian chetnik state known as Yugoslav federation have came up with their pro Serbian underlings
(Milan Kučan - Borut Pahor, Danilo Turk and other UDBA members)
upon Slovenian independence in 1991 with plan to get one destroyed at all costs domestically and on international levels. With assassination of first Slovenian president would be
https://en.wikipedia.org/wiki/Ivan_Kramberger
, killers had plan to push forward under Serbian leadership entire group of erased from registry of permanent residents in 1992 into which they
compelled next to Serbs who refused Slovenian citizenship also Bosnian and Croat nationals thus forming against newly founded stated anti sentiment from all ex Yugoslav federation nationals under the leadership of Serbs and UDBA. Parallel to Serbian ethnic cleansing which went on on Balkans against Croats and Bosnians, in Slovenia
(Slovenia liberated itself as first after short war as country didn't border directly with Serbia - war was buffered by Bosnia and Croatia instead)
Serbs on the other hand engaged movement which would erode within next 30 years Slovenian reputation through lie used to exterminate native Slovenian population instead and even used to advantage those whom they engaged in war against on Balkans -
such was my case in which Amnesty International alone become involved in 2000 or so with personal visit personal of Princess Anne and other Britons - Buckingham palace.
Today after 27 years of my being persecuted on two continent and denied the right to exist in more than dozen countries, Serbian chetnik puppet self elected as president in Slovenia Borut Pahor again accented criminal character of Slovenia nation in benefit of Serbs through
https://www.total-slovenia-news.com/lifestyle/4298-erased-man-gets-slovenian-residency-status-27-after-being-deleted
alike claims which were used to coverup truth about us natives for the last 27 years. Pahor indeed decided to award chetnik movement and those whom he and his lackeys/ footmen forced into one
(Bosnians and Croats whom "Slovenian government" deliberately deleted as well)
with public apology at what he stated ON BEHALF OF SLOVENIAN STATE.
And there you have it - From tanks and bombs thrown on Slovenia in 1991 to firm ethnic cleaning/genocide at home and abroad for the sake of good relations with Moscow up to date in 2022.

Thus by Belgrade and Moscow

installed to Slovenian Ljubljana Borut Pahor and Milan Kučan who just recently in 2022 even demanded for Bosnian federation to be dismembered,

blend into MY 27 YEARS STRUGGLE

(reality of also other native Slovenes)

DURING WHICH I HAVEN'T EXIST

AND DURING WHICH WAS USED AGAINST ME ANYWHERE FROM FORCED UNEMPLOYMENT TO PSYCHIATRY

(police and judicial system)

as well as into reality of cleansed by Serbia Croats and Bosnians into virtual madness through which Ptin's Balkan slaughterers/butchers hope/anticipate to portray Slovenia in the name of human rights a more righteous world

(repair for injustice)

a more democratic country that became...using human rights to murder further for the sake of bigger Russian and Serbian

Lebensraum

. A regular Soviet legacy seen also in Chechnya and other Caucasus states...
SERBS IN MASSE REFUSED TO APPLY FOR SLOVENIAN REGISTRATION UPON SLOVENIAN INDEPENDENCE BECAUSE EXISTENCE OF IT WAS INSULT TO THEM JUST AS WAS/IS EXISTENCE OF CROATIA AND BOSNIA....THEIR SLOVENIAN UDBA VASSALS WHO HATED JUST AS MUCH WENT AHEAD TO PUSH IN POLL OF "DISCRIMINATED AGAINST" SINCE THOSE MISSED DEAD LINE ALSO BOSNIAN AND CROAT POPULATION WHICH HAD NOTHING TO DO WITH IT BUT WAS USED TO CLOUD THE PICTURE AND INCREASE SIZE SUPPORT FOR DESTRUCTION OF SLOVENIA WHICH TOOK PLACE SINCE.
IT WAS TRANSMITTED AT LARGE ALL OVER SLOVENIAN NATIONAL CHANNELS SUCH AS RTV SLOVENIA DURING SLOVENIAN INDEPENDENCE AND AFTER HOW SERBIAN FRACTION REFUSED AND EVEN LIFE THREATENED PRO INDEPENDENCE SLOVENES IN/ON CAMERAS WITH RELATION FOR SEPARATION OF GREATER SERBIAN CHETNIK YUGO FEDERATION AND FOR TIME LINE REQUIRING TO REGISTER ITSELF INTO SLOVENIAN REGISTRY.

I will not even go into BIG GAME ITS JUST A GAME during which numerous people were murdered and nations disappeared that these people started via Washington DC....Amnesty International representatives as well as members of group from "the erased" engaged in straight torture against me since 1995 when drugged up, hijacked, and brought from Miami USA to Slovenia. You don't thing KGB wears CIA uniforms do you...or do they !!????

BECAUSE OIL CONTRACTS WERE SEALED WITH BLOOD OF CHECHENS, SLOVENES AND MANY OTHERS !!! IT ALL CAME WITH/AT EXPENSE OF SMALLER INFDEFENSIBLE NATIONS - THE NEW WESTERN "ALLIES"
(all sold and with throats slit from behind)
.
Pahor se bo po 30 letih od izbrisa opravičil v imenu države
Predsednik republike Borut Pahor se bo v petek v svojem imenu in imenu države opravičil za nezakonito dejanje izbrisa 25.671 oseb iz registra stalnega prebivalstva.
A. S.
22. februar 2022 ob 13:24
Ljubljana - MMC RTV SLO, STA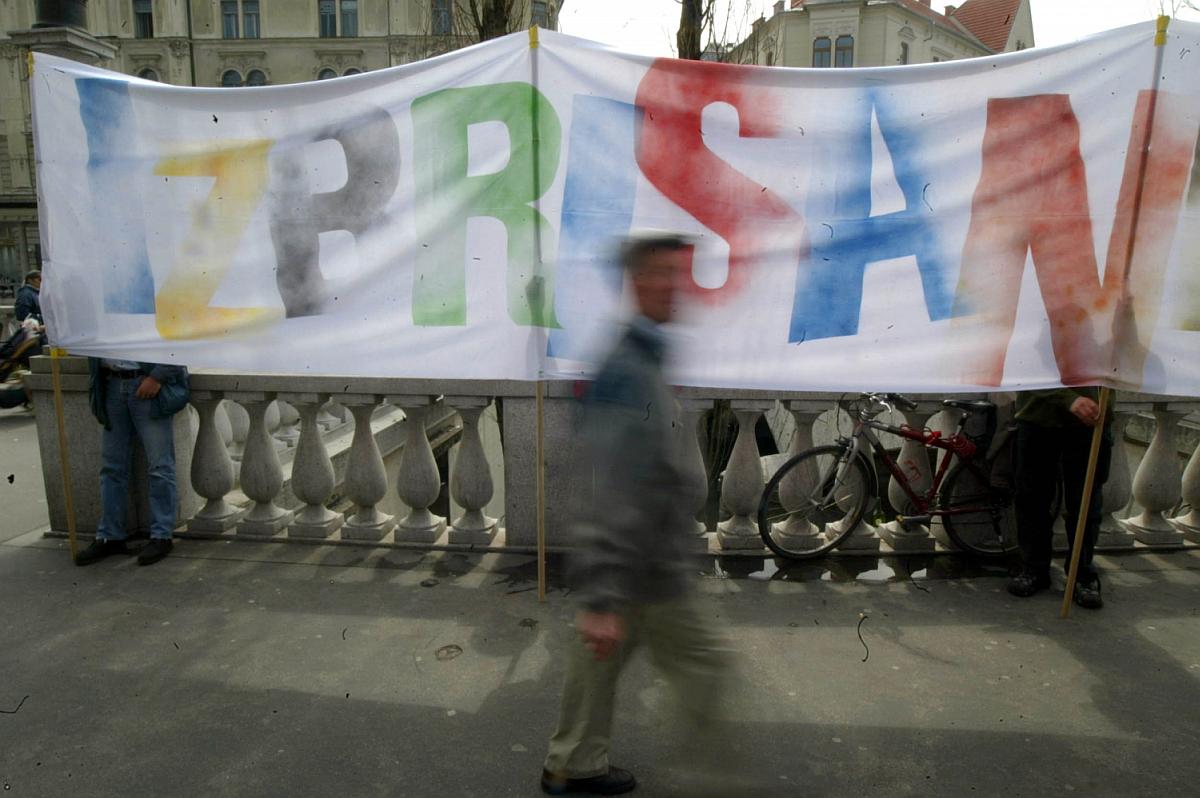 Foto: BoBo
Predsednikovo odločitev so že pozdravili v Civilni iniciativi izbrisanih aktivistov in Amnesty International (AI) Slovenije. "Vse od ustanovitve našega društva je bilo opravičilo države prioriteta našega zavzemanja. Izbris je zagrešila oblast, zato potrebujemo opravičilo v imenu države. Zame osebno bo to moralna zmaga," je zapisal predsednik Civilne iniciative izbrisanih aktivistov Irfan Beširović.
Zahteva po opravičilu je bila tudi dolgoletna zahteva Amnesty International. "Verjamemo, da bo za izbrisane opravičilo pomembno moralno zadoščenje," je dodala direktorica AI Slovenije Nataše Posel.
V organizaciji poudarjajo, da so bile posledice izbrisa strahotne, ljudje so izgubili zaposlitve ter socialno in zdravstveno zavarovanje, možnost izobraževanja, številni so bili izgnani in ločeni od najbližjih, drugi pa živeli pod vsakodnevno grožnjo izgona.
Slovenske oblasti so namreč 26. februarja 1992 iz registra stalnih prebivalcev Slovenije protiustavno izbrisale 25.671 ljudi. Ustavno sodišče je leta 1999 in leta 2003 odločilo, da je bil izbris protiustaven. Evropsko sodišče za človekove pravice pa je leta 2012 ugotovilo, da so bile izbrisanim kršene človekove pravice, in sicer pravica do varstva zasebnega in družinskega življenja in do učinkovitega pravnega sredstva ter prepoved diskriminacije.
https://www.amnesty.si/izbrisani