Hijacked from Poland in 2020, Ursula Von Der Lyen also gave her speech to me from which countries I should demand reparations(shouln't let money go to waste she referred to her

speech), and it became apparent that Thailand was of highest LONDON BERLIN interest.
Although I never ever want to set foot on your land or have anything to do with one again, I do wish people of Thailand plenty of prosperity and foremost friendship/co work with people in region and hopefully in Africa

(very much needed Asian attention right now and continent without which world will not survive)

. As for money owed, no country in Asia owes me any money including and specially Thailand.
My Bajrakityabha came in my face in Slovenia on several occasions with local

psychiatrist Peter Kapš for whom one claimed me has absolute control over me here in Slovenia as for prince Harry one claimed me that I shouldn't assume for a second that Bajrakityabha can't walk away from crime

(wake up from coma)

without scratch after I alone collapse dead or endup on emergency support.
@king Maha Vajiralongkorn - I found this one fit you best...same speed and plenty of health I wish you....many money happy years ;)
and a great transition with Thai prisoners so you can be become more like Japan....
From https://radiokrka.si/clanek/novice/videofoto-694020
VIDEO&FOTO: Pogled psihiatra na demenco
PIŠE: Radio Krka, M.K.
ČAS OBJAVE:
27.03.2019 07:52
Pogled psihiatra na demencoFoto: Radio Krka, M.K.
Predavanje Pogled psihiatra na demenco, so včeraj pripravili v Knjižnici Mirana Jarca Novo mesto. Na srečanju sta sodelovala predavatelja primarij Peter Kapš starejši, dr. med., specialist internist in Peter Kapš mlajši, dr. med., specialist psihiater.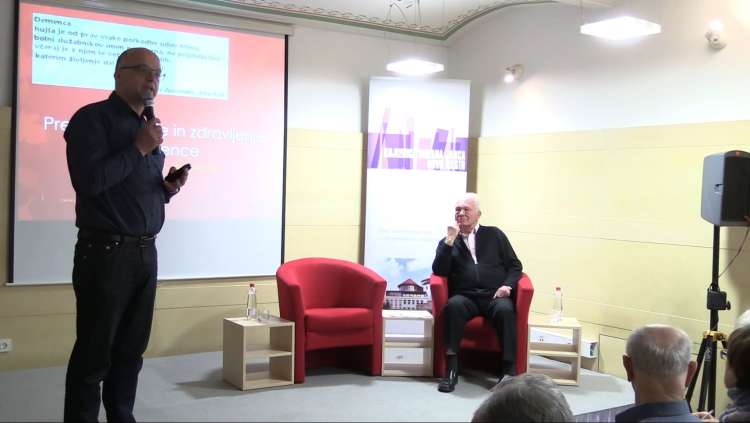 Pogled psihiatra na demenco
Foto: Radio Krka, M.K.
Peter Kapš mlajši, dr. med., specialist psihiater, je predstavil pogled psihiatra na demenco. Povedal je, kako opredelimo sindrom demence, kakšen je značilni potek bolezni, kateri so simptomi in znaki, in njihov časovni potek ter kako obravnavamo bolnika z demenco v psihiatrični ordinaciji. Razložil je tudi, katera zdravila uporabljati za upočasnjevanje razvoja spominskega upada in odpravljanje vedenjskih in psihičnih simptomov, ki se pojavljajo ob napredovanju bolezni. Nekaj besed je namenil tudi težavam, ki jih doživljajo svojci oseb z demenco.
Psihiater Peter Kapš ml.
Foto: Radio Krka, M.K.
Primarij Peter Kapš starejši, dr. med., specialist internist, pa je predaval predvsem o hranjenju v starostnem obdobju. Predstavil je pomen prehrane v starosti, zdravljenje s čebeljimi pridelki v starosti, govoril o uporabi drugih prehranskih pridelkov v starosti, s poudarkom na zdravilnih učinkih vina, mleka, čokolade itd.
THERE IS MORE THAILAND RELATED NEWS BUT I WILL STOP HERE....