I was Idi Amin and even "evil" Genghis Khan(
ALL IN BETWEEN - I WAS ALSO SLAVE OF IDI AMIN WHO ON SEVERAL OCCASIONS WAITED IN IDI'S PRISON FOR FOR IDI TO COME TO MURDER ONE - IDI AMIN'S VILLA IS INSIDE OF MY HEAD DUE TO AMMOUNT OF TIME I SPENT IN THERE AND AS I DEMANDED EVEN ONE IN AFRICAN STYLE BACK IN NOVO MESTO AT ALL COSTS OR OTHERWISE)
mostly
according to British
(also many American documentary makers who needed money and slave whom they tortured freely to see through one psychological horror that slaves suffered through time and/or disdain for lost lives/suffering that ruthless dictators/figures have inflicted upon population - these intercontinental butcheries, however, always were financed by British and covered up by CURRUPT United Nations
and its where and on what 26 years of life was wasted)
who pampered DIVIDE AND CONCQUER LIES IN THE FACES OF THOSE WHOM THEY GENOCIDED FOR CENTURIES TILL JUST ABOUT YESTERDAY
(60 YEARS AGO AS WAS CASE WITH COLONISED UGANDA)
I AM NOT A RACE TRAITOR - I AM EASTERN EUROPEAN

(NOT A WHITE BOY MUCH OR BEZOS)

. AFRICA FOR AFRICANS, ASIA FOR ASIANS, AND US/EU FOR EVERYONE MUST END NOW !!!
GERMANY HAD A SUPER HIGHE MILITARY EXPECTATIONS AGAINST SOUTH AFRICA WITH ABOVE SEEN BACE - ANGELA MERKEL GUARANTEED SUCCESS.
I WAS(DRUGGED UP) ON ABSOLUTELY EVERY NOTABLE DOCUMENRARY YOU SEE BEGINING 1995.
ONE POSITIVE THING ABOUT IDI AMAN - HE HAD EXTRAORDINARY ARCHITECTURE STYLE IF VILLA HE SPENT TIME WAS HIS WORK....I YET HAVE TO LEARN WHO MADE
ONE, BUT I HAVE NEVER SEEN SUCH A SMALL PLACE SO PLEASURABLE - BEAUTIFUL, CHARMING, ADDICTIVE. WHOEVER DESIGNED HIS BEDROOM, WINDOWS IN SORT OF OFFICE AREA WAS JUST GENIOUS. WHAT IDID AMAN DID WAS A LEGACY OF FUCKUP IN AFRICA, BUT ALL IN ALL ONE LEFT PRICELESS MARK TO HUMANITY ABOUT WHAT COLONIALISM HAVE DONE TO A HUMAN MIND LONG AFTER ONE WAS ALREADY GONE FROM AREA. IDI AMIN WAS CONFUSED, AND HEAVILY AFFRAID OF BRITISH DESPITE TOTALLY JUSTIFIED ACTIONS HE TOOK AGAINST THEM BY DEPRIVING 40.000 ASIANS
(THEY ALL HAD BRITISH PASSPORTS AND WERE AS SUCH A THREAT TO AFRICA JUST AS UNDETONATED NUCLEAR BOMB - HAD TO BE THROWN OUT AND AFRICA AS WHOLE OWES IDI AMIN FOR THAT PART OF THE LEGACY - MURDEROUS CYNICAL
HYPOCRITE
BRITONS WHO EVEN TODAY BRAG ABOUT "ASIANS" THROWN OUT OF UGANDA 50 YEARS AGO REFUSED TO WELCOME THEIR ASIAN BRITISH CITIZENS IN BRITAIN WHERE THOSE POOR INSANE BRAINWASHED SOULS IMMIGRATED AND HAVE STAGED A SUPER UNWELCOME IN LONDON AND ITS SOMETHING I MYSELF WANT TO DO VIDEO DOCUMENTARY ABOUT - ULTIMATE BRITISH RACISM PILL KNOWN AS DIVIDE AND CONCQUER)
OF THE RIGHT TO STAY IN UGANDA. HIS FEAR REVERBERATEED AT LARGE IN MASS MURDER
(CARRIED OUT STRAIGHT OUT OF PARANOIA WHICH LED ONE INTO LOSS OF INTERNAL PEACE, BUT ALSO DETERMINATION TO SIDE WITH NON COLONIAL RELIGIOUSLY AFFILIATED ISLAM RATHER THAN VATICAN)
ONE COMMITED WHICH REAL NUMBERS, HOWEVER, I DOUBT.
@UGANDANS - IT WAS YOUR WAR FOR INDEPENDENCE OF AFRICA AND ACCEPT ONE AS SUCH BY AFILIATING YOURSELF WITH CONTINENT RATHER THAN INTERNAL TENSIONS https://ausertimes.blogspot.com/2023/02/here-is-to-my-congo-brothers-and.html AND https://ausertimes.blogspot.com/2023/02/we-are-asians.html AND REAL GENGHIS KHAN OF MODERN TIMES http://ausertimes.blogspot.com/2023/03/i-already-was-god-of-thailand-entire.html
@CONGO/AFRICA - IN THOSE ECONOMIC AREAS FOR WHICH I SUGGESTED YOU TO CREATE(AREAS WHERE I SUGGESTED YOU BOOST ECONOMICALLY), MAKE SURE THAT POPULATION ADHERES TO CHINESE POPULATION CONTROL STANDARDS. NO MORE THAN TWO CHILDREN, FOR THE THIRD ONE YOU ARE TO BE MOVED OUT OF HIGHLY PROSPEROUS AREA BACK INTO SLUM...AND DO NOT INCREASE SALLARIES FOR THE COST OF POVERY IN OTHER PART OF THE COUNTRY TILL YOU SWIM OUT OF YOUR ECONOMIC SLAVERY COMPLETELLY AND TILL YOU ASSURE CONTINUOUS E CONOMIC GROWTH REGADLESS ON FOREIGN TRADE(THATS HOW MUCH YOU CAN INCREASE PAY BECAUSE ECONOMIC GLOBAL TREND VARIES WITH UPS AND DOWNS AND OFTEN TIMES CONTRACTS FROM ABROAD YOU GET ARE THERE TO CREATE FAKE ILLUSION IN YOUR HEAD WHICH AFTERWARDS IS USED TO PROVE YOU WRONG THROUGH SETS OF MAIN STREAM MEDIA LIES AND VOIDED CONTRACTS). AND ALWAYS WORK IN FIRST LINE WITH THOSE WHO SUFFERED SAME OR SIMILAR FATE AS YOU DID. ASIA IS YOUR HEAVEN MADE MATCH(MATRIMONY) AS FOR WHITES, THEY NEED TO PAY FOR GENOCIDE CAUSED TO YOU AND THEN TALK ABOUT EQUALITY AS IS THE CASE WITH SOUTH AFRICA. YOU DO HAVE THE RIGHT TO REPOSES ENTIRE STOLEN LAND THERE WHICH STILL IS IN HANDS OF COLONISERS, BUT IT MUST BE DONE THROUGH PROPER ECONOMIC AND FOREMOST SOCIAL GLOBALLY ACCEPTABLE CIVILISED ADEQUATE STEPS. THERE IS NO SUCH THING AS ORANIA IN SOUTH AFRICA - LET THEM KNOW THROUGH UNCLE SAM'S TAXATION EVICTION NOTICE PRINCIPLE(ISSUE THEM FINACIALY PENALTY AND SUMMON TO COURT - OENALTY HIGH ENOUGH TO REMIND THEM WHO THEY ARE MORALLY AND FINACIALLY)...
WESTERN MULTICULTURALISM IS A NEONAZISM/FASCISM - ITS A RIGID BASE FOR NEW TYPE OF COLONIALISM ALREADY HEAVILY ENFORCED THROUGHOUT THE WORLD. ITS NOT DEMOCRACY - ITS A TENT CITY USA - ITS A NEW GERMAN WALL ON SOUTHERN EDGES OF EUROPE USED RATHER TO JAIL AND MURDER EUROPEANS THROUGH SO-CALLED EUROPEAN COURT FOR HUMAN RIGHTS LOCATED IN STRASBOURG - EUROPOL LOCATED IN NETHERLANDS FOR THE SAKE OF UNITED STATES OF GERMANY....
BRUSSELS PARLIAMENT NOTHING MORE THAN NEW WEHRMACHT IN MUCH GREATED SCALE THAN THE ONE PRIOR TO WORLD WAR TWO AND IN TRANSITION http://ausertimes.blogspot.com/2023/03/great-year-for-american-social.html.
FROM https://abcnews.go.com/International/growing-fight-south-africa-land-identity/story?id=62280577
As Bernadette Hall looks out onto her farm, a small smile creeps onto her face.
"Not much in life is more beautiful than that, eh?" she asked.
At 51 years old, Hall is a white farmer in South Africa with expansive land to hold her cattle, corn, and pigs. She said it's what she was meant to do.
"Farming was in our bones; it was in our blood," she said. "This is our passion, this is our life."
Hall is an Afrikaner, descended from the Europeans who colonized South Africa.
"This is my home," she said.
On the other side of the country is Gary Coetzee. He, too, is a South African farmer. He, too, loves his land.
"I'm in the Garden of Eden," he said, on an afternoon drive through Robertson, about an hour outside of Cape Town.
His claim to the land is different. He's part of the Khoisan tribe, the indigenous people of South Africa who were there long before anyone else.
"This land is ancestral land, it's our land," Coetzee said. "If you take it from us, we will all die."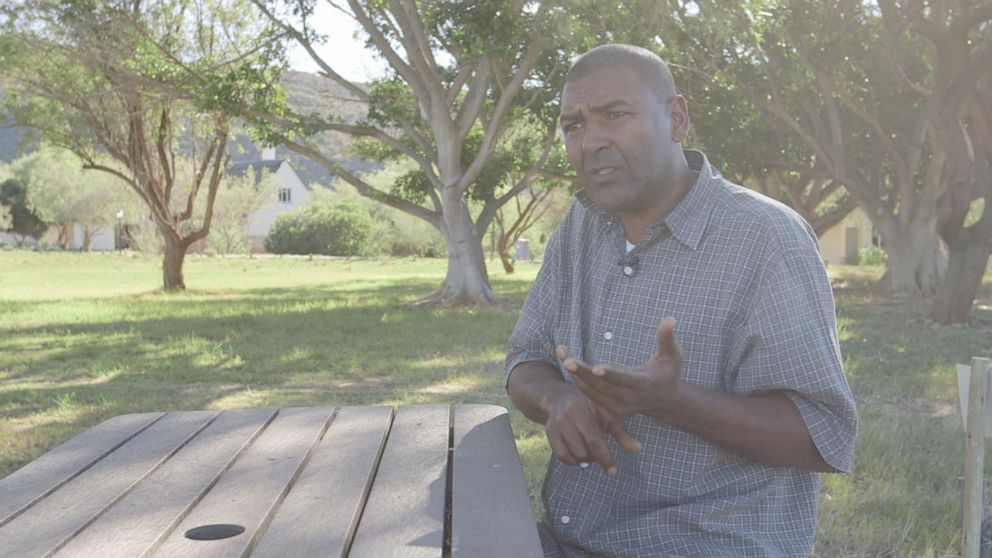 Land expropriation without compensation
This divide is part of a bitter battle in South Africa. It all revolves around a controversial governmental proposal to seize land from white farmers without paying for it — land expropriation without compensation, as it's known.
"What it means is essentially 'take land from the white people.' That's all that it means," said Moeletsi Mbeki, deputy chairman at the South African Institute of International Affairs.
Since the end of apartheid — once South Africa's system of legal segregation — the nation's leading political party, the African National Congress, has followed a "willing seller, willing buyer" model whereby the government buys white-owned farms for redistribution to black farmers.
Now, the ANC is proposing a constitutional amendment to institutionalize this model. It has been a long and drawn out process, going through several sessions of public review throughout the country, as well as parliamentary hearings.
The ANC and other parties that support the proposal say that they are doing this to right the wrongs of the country's colonialist past. Before apartheid was instituted, a 1913 law prevented people of color from holding property, a practice that continued to the end of apartheid. Black and colored South Africans were shipped off farmlands to tightly packed townships rife with poverty and violence.
Whites in South Africa own over 70% of the farm and agricultural holdings in the country despite people of color making up 90% of the population, according to a 2017 South African Department of Rural Development and Land Reform Land Audit.
"I am going through this because someone referred to the original sin that was committed in this country — the taking of land from the indigenous people of this country," Cyril Ramaphosa, South Africa's president, said last year. "We are all called upon and enjoined to heal the divisions and the pain of the past and this is a collective task."
'Where am I going to go?'
For Hall, the policy is not only unfair, it's immoral.
"Well, [this policy] wouldn't be fair. I mean, I legally bought this farm," she told "Nightline" co-anchor Byron Pitts. "I worked to be able to do that. Now you come in. You take this farm and I've got to disappear. Where am I going to go to?"
She feels her stake in her land is deeply personal; it is the land that she fought for and where her husband died.
Seven years ago, she and her husband, David, were gearing up for their day, when she saw something on the horizon.
"I saw five black men approaching," she recalled. "I said to David that they're coming in, they've got guns."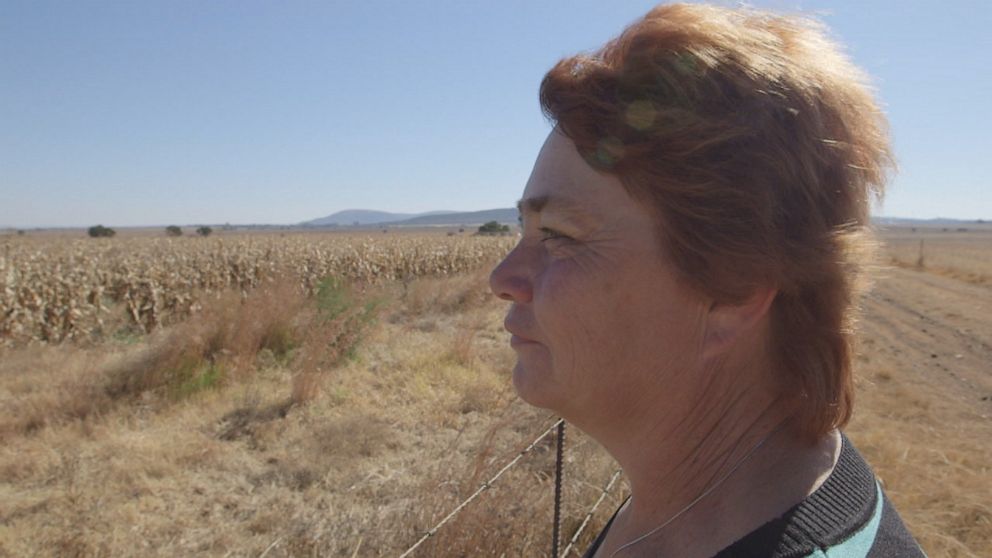 She then recounted a horrific tale. The men overpowered her and David, tying her husband up and shooting him in the head.
"Unfortunately that is something that you relive every time you talk about it," she said. "You smell the people, taste the blood. You feel the fear, you hear the voices. It's literally as if it happens over again."
She said that it took her some time not to hate all black people for what happened to her husband.
"You go through stages where you see a black face and you hate him," she said. "It's his fault, whether they are responsible for what happened or not -- but it's part of a grieving process. "
"I can't hate you for what five people came and did here," she continued. "I can't hate a whole nation for what five people did."
But she does believe that racial tensions are real and that the hatred of her race led to her husband's death.
"There is an absolute hate for white South Africans because we are seen as the people going ahead and leaving them behind," she said.
"White genocide"
Cases like Hall's have led to an international outcry that a white genocide is taking place in the country.
In Australia, at a rally in support of South Africa's Afrikaners, Senator Fraser Anning declared that "this is the start of a genocide as far as I'm concerned."
Ian Cameron, the head of community safety at AfriForum, an organization that says it protects Afrikaner rights, said that the brutality he's seen in these farm attacks justifies the term "genocide."
"I've come to the point — and maybe I'm a little bit biased because of a lot of the time that I've spent on the ground — where I don't blame people for using it in certain cases," said Cameron.
This terminology, often used by nationalist and racist sites like the Daily Stormer, seemed to be echoed by the language of President Donald Trump.
In August, he tweeted that he was asking Secretary of State Mike Pompeo to "study" the expropriations in the country.
In response, the South African government said that his tweet was misinformed.
But experts say that such terminology is dangerous.
"The narrative that is being peddled internationally, which is alarmist, is that there's a genocide against white people in South Africa," said Gareth Newham, head of the justice and violence prevention program at the Institute for Security Studies in South Africa. "And that is probably the most egregious statement because there's no data to support that whatsoever."
In fact, Newham said, farm murders are down from last year. He said that farmers, regardless of race, are more frequently targeted for violence than other groups because they live in remote areas, often with money and weapons on the property.
"Young black males are far more likely to be victims of murder than any other population group in South Africa," Newham said.
Last month, Deputy Secretary of State John Sullivan visited South Africa and met with officials after President Trump ordered an investigation.
"There's some misinformation in the United States," Sullivan said. "The issue is very complex, and I don't think it has translated well across the ocean, and been covered with the depth and the perspective that's necessary."
"My plea was for transparency in how this land reform is going to be accomplished," he continued.
'Our DNA is connected to this land'
For Coetzee, he said that attention should still be paid to what people of color in South Africa still don't have. He said that his land, for which he has the title and deed, restricted him from farming or mining on it.
"This is so unfair," he said. "I feel like I'm in prison."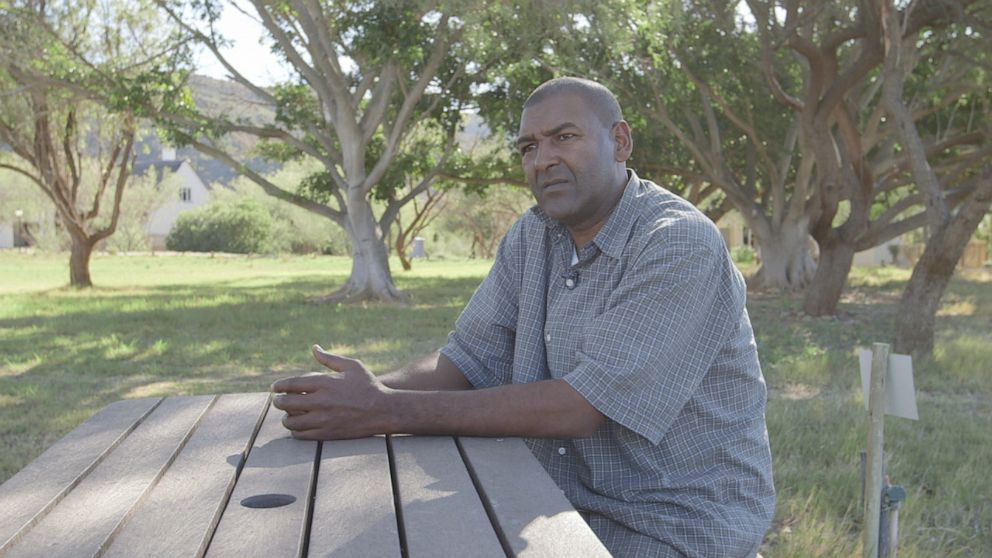 When contacted by ABC News, a spokesperson for the Langeburg municipality that oversees his land, said that Coetzee has not been prevented from farming and added that he has only submitted an application to mine. They did not comment on whether his application to mine had been approved. The municipality, according to court filings, has disputed the validity of his deed.
Zanele Lwana, vice president of the militant group "Black First Land First," said that their struggle is one for equity.
"We are black, we were oppressed and segregated and massacred on the basis that we are black and not white," Lwana said. "It cannot be that, 24 years into democracy, to be poor means to be to black and to be rich means to be white. It means there's something wrong."
For now, the National Assembly has adjourned until after elections in May and it remains to be seen whether or not the constitutional amendment will pass.
With her life on hold, Hall said, all she can do is hope.
"You've got to find the beautiful in the morning," she said. "How do you lift your head up without something to strive for?"
For Coetzee, the promise of land reform beckons.
"They take our language away, they took our culture and traditions away. They took a lot of things away," he said. "There must be a day where we say 'today it's like judgment day.'"
Conor Finnegan, Ozren Milharcic, Liezl Thom, and Sifiso Khanyile contributed to this report.