@Mr. Schallenberg - perhaps its also time to consider area where Russian nuclear bombs
could safely be storaged in neutral Austria

(near capital city Vienna preferably, so Russian "diplomats" could easily take off - due to accessibility issues)

....those would only be stored for duration of war in Ukraine off course and once danger passes, transferred safely back to Russia...Kim Jong Un

(also known as Rocket man because of his love for nukes and other ICBM explosive firecrackers)

loves you Alex - sending you

(not his Asian neighbors)

hugs and kisses to your European Austrian homeland....the thing is that same is happening in Sweden with Swedish Democrats and in Italy with Lega Nord(Giorgia Meloni https://www.bloomberg.com/news/articles/2022-09-09/italy-s-right-set-for-landslide-win-in-latest-polls-before-vote) soon I suspect Donald Trump and all this as great as is for Putin is just a very bad news for all of us....
Top Austrian Diplomat Considers Idea Of Total Visa Ban For Russians To Be Mistake

(news reported by Pakistani news agency just because Pakistan and India still exist)
VIENNA (UrduPoint News / Sputnik - 09th September, 2022)
Russia
remains a part of the European culture and the idea of introducing a total ban on the issuance of visas to Russians is a mistake, Austrian Foreign Minister Alexander Schallenberg said on Friday.
WHAT NEW NIKE SIGN LOOKS LIKE INCORPORATED IN FLAG ON THE RED BACKGROUND.....
GET IT AT EBAY NOW FOR JUST FEW BUCKS....CANDLE IN THE MIDDLE OF IT REMINDS OF FIRECRACKERS WHICH IS A BONUS ADDED TO "JUST DO IT"

(ITS LIKE SAYING "THANK YOU FOR DO IT TO YOURSELF" IN A VERY POLITE CULTURAL WAY)

...
"It is important ...
to follow a sense of proportion and not go too far. It would be a complete stop of entry for all 144 million Russians," Schallenberg said in an interview with the Wiener Zeitung newspaper.
Austria with its history is well acquainted with Russian realities, the minister said, adding that "the geography does not change, Russia remains part of the history and European culture."
LAUGHING IN NORTH KOREA IS PROHIBITED PER NIKE UNLESS IS FOR PUBLIC EXECUTION OF SOMEONE...
OR IF PUTIN COMES TO VISIT....
Ukraine war: North Korea supplying Russia with weapons, says US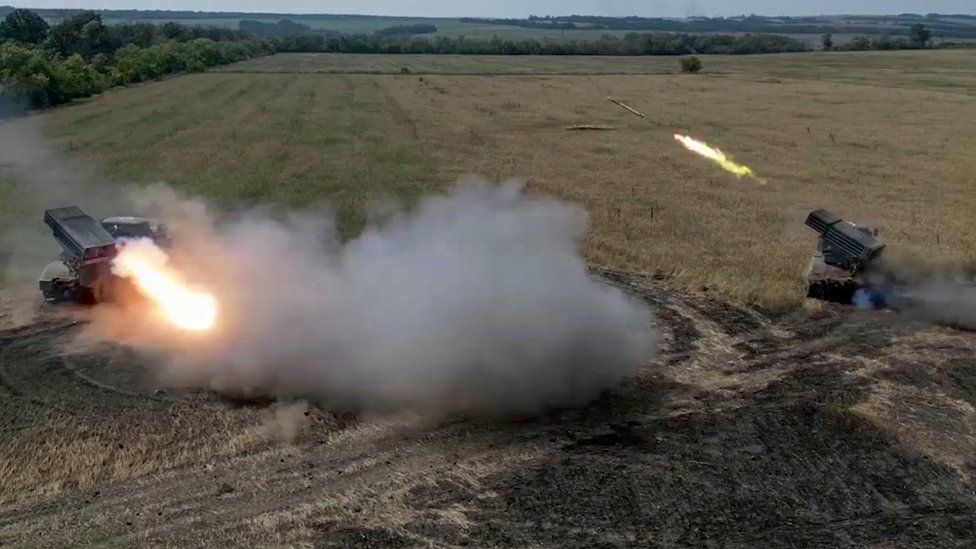 Russia has been forced to buy military hardware from North Korea as sanctions squeeze Moscow's ability to supply its military, the US says.
A US official revealed Moscow is the process of purchasing millions of rockets and artillery shells from Pyongyang for use in Ukraine.
And they said that Russia could be forced to buy additional North Korean weaponry as the war dragged on.
Buying from North Korea is a sign of "severe supply shortages", they added.
The intelligence was first reported by the New York Times. Ukraine's defence ministry tweeted a mocking response to the report, saying that it showed "Soviet weapons" had "exhausted their potential".
Kim Jong-un's regime has blamed the US for the conflict and accused the West of pursuing a "hegemonic policy" that justified Russia's use of force.
Last month, North Korea recognised the independence of Russia's two proxy statelets in eastern Ukraine - the Donetsk and Luhansk People's Republics - and vowed to deepen its "comradely friendship" with Moscow.
Russia's Vladimir Putin said the two countries would expand their "comprehensive and constructive bilateral relations", according to Pyongyang state media.
Broad economic sanctions have done little to damage Russia's income from energy exports, according to Finnish think tank the Centre for Research on Energy and Clean Air.
SOMEWHERE IN AUSTRIA AND IN ORIGINAL AUSTRIAN LANGUAGE....CRACKER WILL BE AT JUST ABOUT ANY TIME NOW !!!
But the US thinks export controls and sanctions are affecting the Russian military.
Last week, officials in the Biden administration told US media that the first shipments of Iranian-made drones had also been delivered to Russia.
US intelligence officers believe that Russian operators have travelled to Iran to receive training on the Mohajer-6 and Shahed series weapons.
But they told reporters recently that many of the drones had been beset by mechanical and technical problems since delivery.
Iran has officially denied delivering weapons to either side of the conflict, but in July US National Security Advisor Jake Sullivan said Tehran was planning to supply Moscow with potentially hundreds of drones for its war in Ukraine, some with combat capabilities.
In other developments in Ukraine on Tuesday:
New Russian missile strikes have been reported across the country, with a fuel depot set on fire in the Kryvyi Rih area in central Ukraine. In a photo posted by the governor of Dnipropetrovsk region thick black smoke could be seen billowing from the depot. It was attacked with two missiles on Monday evening, Valentyn Reznichenko said, adding that there was no immediate information about casualties
In the north-eastern city of Kharkiv, a woman's body was found after a strike destroyed the upper part of a block of flats, local authorities said
Russian-backed separatists controlling Donetsk said parts of the eastern city had been shelled by Ukrainian government forces on Tuesday, with one civilian wounded.
JUST FUNNY INSANE MEMORIES....
HOW CHARLES MADE PERFECT IDIOT OUT OF HIMSELF IN SLOVENIA AND EVEN IN BRITAIN WHERE ONE IMPORTED MILAN KUČAN'S GIFTS SUCH AS HAYRACK AND BEEHIVE WITH SLOVENIAN BEES
...THEY IN RETURNED IDIOT
(for making himself look idiot)
A FAVOR WITH EVEN GREATER FAVOR AND CALLED ONE AS KARL ALREADY BACK IN 2000....AT MY SURPRISE
(even more so since
Carl XVI Gustaf of Sweden was "KAREL")
AND MY DISGUST THAT ONE LANDED AS LOW....
HE RETURNED SINCE BUT ONLY WITH SILICONE MASKS OVER HIS FACE WHICH HE DARED TO TAKE OFF ONLY IN PRIVACY AND ITS WHAT I CALL IDIOT
(self disgraced man in his own denial)
. FUNNY RELATION AS MILAN KUČAN
(STOUNCH SUPPORTER OF XI JINPING, KIM JON UN, VLADIMIR PUTIN)
WOULD WANT NOTHING MORE IN THIS WORLD THAN TO USE ONE FOR TARGET PRACTICING. YET HE DECIDED TO STEP IN HIS SHOES -
DID SO FOR NO LESS THAN 28 YEARS - HAVE LOST EVERY CREDIBILITY ONE COULD LOOSE IN SOMEONE'S EYES. 28 YEARS.
PRINCE WILLIAM CLAIMED WOULD VISIT ME IN A LATE FALL ONCE AGAIN, BUT I WILL TELL YOU RIGHT NOW PAL - IT WOULD BE YOUR GRAVEST MISTAKE EVER. YOU ARE LUKASHENKO/PUTIN KUČAN

(WORSE)

IN MY EYES AND I AM NO LONGER UP FOR SALE...YOU ALREADY KNOW HOW IT ALL ENDED FOR LUKASHENKO AND HIS BODYGUARDS IN 2003....YOU ARE SON OF "KAREL" FOR THEM AND LESS THAN NOBODY FOR ME.
Leta 1998 je kralj Karel III., takrat še kot prestolonaslednik princ Charles, obiskal Slovenijo. Sprejel ga je predsednik republike Milan Kučan, ki je takrat princa pozdravil kot prijatelja in filantropa, zaželel pa mu je vse najboljše ob bližajočem se abrahamu.
FOTO: Blaž Samec, Delo
Slovesne večerje na gradu Brdo se je udeležilo okrog 50 slovenskih uglednih kulturnikov, znanstvenikov, gospodarstvenikov in politikov, zaslužnih za tesno sodelovanje med Slovenijo in Veliko Britanijo.
FOTO: Blaž Samec, Delo
Britanski prestolonaslednik se je gostitelju zahvalil za čudovit izlet po Sloveniji, predvsem v hribih, ki so mu še posebej pri srcu, ter dejal, da je med kratkim obiskom dejansko spoznal, da je Slovenija »ena najbolj neodkritih skrivnosti v Evropi«.
Obiskal je ljubljansko tržnico s takratno županjo Viko Potočnik. FOTO: Igor Modic, Delo
Pred večerjo je predsednik princa obdaroval z velikim čebelnjakom z 10 poslikanimi panjskimi končnicami. Podarjeni čebelnjak z vso potrebno opremo naj bi se takrat pridružil slovenskemu kozolcu, ki ga je imel princ na posestvu Highgrove. Predsednik Kučan pa je od princa dobil v dar posebno prenosno uro z ornamenti (carriage clock).
ALSO AT HIGHROVE....
Prince Charles in the garden at Highgrove in June 2021 (Image: Getty Images ) HAS A 150 POUNDS PERFUME TO SELL YOU....
Moji prijatelji Slovenci , medju njima Miro Cerar, Ivo Daneu, Milan Kucan i ostali pjevaju neke drage pjesme… pic.twitter.com/L1KnnLjJKY

— Bogdan Tanjevic (@BogdanTanjevic) January 19, 2022
IN ZMAGALI SO😂😂😂😂😂😂😂😂😂