IN POLAND, MY CASE PRODUCED GERMAN MINORITY OF TWO MILLION...WHILE CONGRATULATED BY GERMANS ON ISSUE, THESE GERMAN MINORITY SPRANG TO LIFE DUE TO WHAT THEY OBSERVED WENT ON...THEY OFTEN ALIGNED THEMSELVES WITH SOMETHING THAT WAS FAR CLOSER TO THEIR DAILY STRUGGLE THAN POLISH POLITICIANS WHO LOST TOUCH WITH

REALITY(violence Kaczynski and his students Andrzej Duda and Morawiecki produced for all the wrong mischievous lies reasons was a overwhelming - Germans should congratulate Duda and Morawiecki instead....Kaczynski is who created German minority in Poland just as Milan Kučan raised statues across Slovenia dedicated to homeguards)....SAME THING WENT ON EVERYWHERE ELSE ON WHAT SMART POLITICIANS FROM ALL OVER THE EASTERN EUROPE FIGURED

(rather than admit crime - the co called opposition never ever existed on first place)

WOULD BE BEST TO INTERCONNECT AND COOPERATE ON ISSUES INDIFFERENT FROM ISSUES SOVIET UNION RAN DURING OCCUPATION OF EASTERN EUROPE AND THEY DID LEAVING PEOPLE BEHIND AS GOOD AS DEAD....OUT . THEY SAT THEM

(Morawiecki/Duda)

ATOP OF COMING WAR IN UKRAINE TO PROTECT CRIME - FOR TRUTH THAT HOPEFULLY IN THEIR ROTTEN MINDS THAT NEVER WOULD BECOME RECOGNIZED....ITS NOT COINCIDENCE WE SEE ANDRZEJ DUDA AND MORAWIECKI RUNNING POLITICS IN POLAND TODAY

(they replaced Kaczynski brothers and were involved in crime since 1995)

....
PREFERABLY TRY TO JUST LISTEN AUDIO BECAUSE THIS IS NOT A LOVE SONG.
Note - I don't give a shit about what I look like. I am in no position to look like a doll from Buckingham palace or any of adventurers from Hollywood who posed around here completely out of touch with reality. The insaner I look like, the more it resembles MK Ultra crime and circumstances around one as those were/are. What matter s here is that job gets done and I somehow survive horror ordeal !!!
@MORAWIECKI - HERE IS YOUR DOPPELGANGER FROM UNITED STATES OF AMERICA INVOLVED IN CASE SINCE 1996 IF NOT 1995...HE WILL CONFIRM EVERYTHING STATED ON HERE IF ONE IS WILLING TOO....REMEMBER HIM !!?????
100% POLISH ELDERLY LADY AS SEEN ABOVE

(HERO OF UPRISAL IN WARSAW AND EVEN AUSCHWITZ INTERN SURVIVOR)

WAS INVOLVED IN MK ULTRA - SHE REALIZED DURING MK ULTRA THAT WHAT HITLER COULDN'T FINISH DURING WWII, MORAWIECKI/ DUDA AND THEIR MENTOR KACZYNSKI COULD IN INDEPENDENT POLISH STATE....SHE ALONE https://dorzeczy.pl/kraj/343429/nie-wiem-jakie-traczyk-stawska-ma-uklady-z-niemcami.html CAME UNDER THE RADAR AFTER I COMPLIMENTED HER ON HER BEAUTY....GERMAN GOVERNMENT SHOULD CONGRATULATE KACZYNSKI FOR TURNING POLLACK AGAINST POLLACK - CREATING CIVIL WAR IN POLAND ....LADY IS A TROOPER AND I WOULD LOVE NOTHING MORE THAN FOR POLAND TO GO IN HER STEPS HAND IN HAND WITH OTHER EUROPEAN NATIONS INTO THE FUTURE....SHE SHOULD HAVE BEEN A POLISH PRESIDENT AND THE ONE MEETING GERMANS IN RESPECT TO
REPARATIONS...GERMANS INVOLVED IN CASE GOT TO KNOW HER AND BELOVED HER FOR HER "SPRING OF THE NATIONS" VIEWS....
@British royals - you financed many projects like mine for world to see itself in you as much as possible

(in everything if only possible as non publicity as you stated me alone is the worst that can happen to one)

. Well, in my case mental hospital and your lies/hatred substituted your place in me. Loss of American citizenship and nightmare in my native little country will remain memory on all your whereabouts pertaining to my case. I pity nation that tolerates

(praises one with/as kingdom)

such brazen criminal even self destructive in certain terms family clan.
When it all started in 1995, you didn't even dare to present to international participants as royals...remember !!???? Americans had to force you with Putin and foreign governments for you to accept enough self confidence to move forward with issues such as

"mine, I, I am, prince, Queen. want, you will, I am worth etc."

...you were little shy Charles and little shy princess Anne...and then you "grew and knew"

(with my turning back to all the humiliation and pain you caused and even used to pass your knowledge about torture unto your progeny)

as prince William stated me last in my face, "then price will be different". REMEMBER !!????? WELL, I DO....YOUR PROJECTS YOU....BUT YOU ARE UNWORTHY OTHER THAN TO BE LISTED AS NIGHTMARE IN THIS ONE. ALL FOR YOU NO MORE !!!!
YOU DARED TO EVEN THREATEN ME IN RESPECT TO UKRAINE AND NEW WAR ON BALKANS AGAINST CROATIA
(SLOVENIA AS FINAL DESTINATION)
IF I WOULDN'T SIDE WITH YOU DESPITE NOTHING BUT BETRAYAL/BACKSTABBING AGAINST ME....I SAW AND SEE THOUGH REAL YOU. FOR YOU WAS JUST A BUSINESS, BUT YOUR BUSINESS WERE LIES AND YOUR LIES MURDERED FOR NO LESS THAN 28 YEARS.
THEY SURE THREATENED WITH PUTIN IF I SOMEHOW WOULDN'T STEP THEM IN WELCOME....THEY SURE THREATENED WITH RAGE ON GLOBAL AND AGAIN I WOULD BE GUILTY FOR IT ALL....
THERE WAS NOOOOO SUCH THING AS UNITED KINGDOM IN 1995, 1996, 1997....BECAUSE BRITISH ROYALS HAD SUCH A LOW SELF CONFIDENCE THAT THOSE DIDN'T DARE TO USE OTHER THAN GREAT BRITAIN AS TERM TO DESCRIBE THEIR LOCATION....NOOOO SUCH THING TILL THEY WERE ADVISED BY FOREIGN MOSTLY AMERICAN PSYCHOLOGISTS AND GEOPOLITICAL EXPERTS ON WHAT APPROACH TO TAKE TO AGAIN SEAT IN CROWN CHAIRS AS ROYALS....@CHARLES/ELISABETH/ANDREW/ANNE ETC, - REMEMBER WHO MADE YOU !!??????
TIME AND DATE WHEN PUBLISHED
"Jestem w szoku". Była więźniarka Auschwitz odpowiada Traczyk-Stawskiej
Dodano: 9 września 2022, 11:58
45
129,5251173 53
Nie wiem, jakie Wanda Traczyk-Stawska ma układy z Niemcami i jaki ma interes w tym, co mówi – uważa Barbara Wojnarowska-Gautier, była więźniarka KL Auschwitz. 

Kanclerz Niemiec Olaf Scholz odrzucił polskie żądania wypłaty reparacji za straty poniesione w czasie II wojny światowej. W wywiadzie dla portalu tygodnika "Wprost" weteranka powstania warszawskiego Wanda Traczyk-Stawska oświadczyła, że zgadza się z Scholzem.
– Próba skłócenia nas z Niemcami, napuszczania nas na nich, jest taką bzdurą, że nie mieści się w głowie. Nikt jakoś nie pamięta, ile w czasie komuny zrobili dla nas Niemcy. Ja doskonale to pamiętam – stwierdziła Traczyk-Stawska, dodając, że "oburza" ją to, co "robi PiS".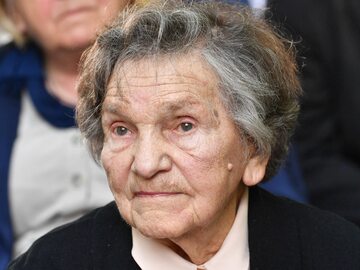 Była więźniarka Auschwitz reaguje na słowa Traczyk-Stawskiej
Jej stanowiskiem w sprawie reparacji rozczarowana jest Barbara Wojnarowska-Gautier, była więźniarka niemieckiego obozu koncentracyjnego Auschwitz-Birkenau i ofiara nieludzkich eksperymentów medycznych prowadzonych przez Josefa Mengele.
"Jako były więzień, dziecko, które trafiło do Auschwitz z Powstania Warszawskiego jestem w szoku czytając wypowiedź Pani Traczyk-Stawskiej dotyczącą odszkodowań wojennych od Niemiec. Nie wiem jakie pani Traczyk-Stawska ma układy z Niemcami, nie wiem jaki ma interes w tym co mówi" – napisała Wojnarowska-Gautier w oświadczeniu przesłanym do redakcji tygodnika "Solidarność".
Jej zdaniem wypowiedzi Traczyk-Stawskiej są "szkodliwe i antypolskie". "Ta pani szkodzi ocalałym z Powstania Warszawskiego. Szkodzi nam wszystkim, w tym ocalałym polskim więźniom niemieckich obozów koncentracyjnych i ich rodzinom, szkodzi robotnikom przymusowym" – czytamy.
"Pani Wando Traczyk-Stawska, proszę mówić w swoim imieniu i dziękować choćby na kolanach, a nawet całować ich po rękach. Ale proszę nie mieszać do tego innych. Nie skłócać Polaków w sposób absolutnie skandaliczny – oświadczyła była więźniarka Auschwitz.