@China - Thats what you do when you INVEST IN WAR FINANCIALLY and at the same time support nuclear threats of aggressor on fully sovereign nation.
I hope United States(NATO) returns favor to China via Taiwan and arm one accordingly if Chinese occupation of Philippine Spartley Islands which took place is still not priority big enough...
China's Spending on Russian Energy Climbs to Record $8.3 Billion - Total outlay since the invasion of Ukraine is now $44 billion
ByAiling Tan
September 20, 2022 at 7:10 AM GMT+2
Increase last month included a record haul of Russian coal
China's spending on Russian energy products hit a record $8.3 billion last month, as the world's top importer continues to expand its reliance on Moscow for overseas supplies of crude, oil products, gas and coal.
The haul for August was 68% higher than a year ago and included a record amount of coal, according to Chinese customs figures on Tuesday. It brings the total over the six months since Russia's invasion of Ukraine to nearly $44 billion, an increase of 74%.
First Thing: Putin threatens nuclear retaliation in escalation of Ukraine war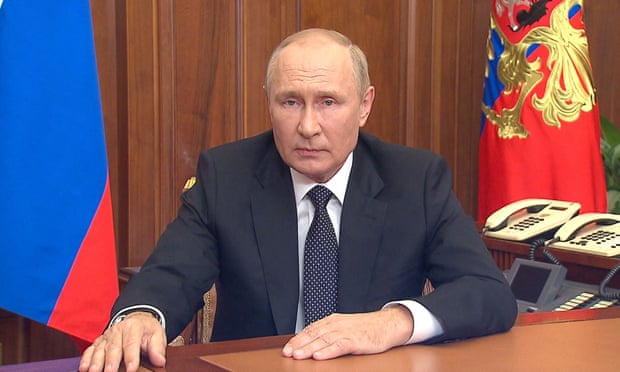 Russian president announces partial mobilisation and makes threats on west, saying 'we will use all the means at our disposal'. Plus, the Hollywood sign gets a facelift
Good morning.
Vladimir Putin has announced a partial mobilisation in Russia in a significant escalation that places the country's people and economy on a wartime footing.
The president also threatened nuclear retaliation, saying Russia had "lots of weapons" to reply to what he called western threats on its territory and added that he was not bluffing.

In a highly anticipated televised address, Putin said the "partial mobilisation" was a direct response to the dangers posed by the west that "wants to destroy our country" and claimed the west had tried to "turn Ukraine's people into cannon fodder".
"Military service will apply only to citizens who are currently in the reserve, especially those who have served in the armed forces, have certain military professions and relevant experience," he said.
UPDATED ON SEPTEMBER 22TH, 2022
YOU CAN SHARE MY BLOG THE AUSER TIMES ANYWHERE IN THE WORLD,
BUT WITHOUT PERMISSION TO MODIFY ANY OF MY CONTENT OR CHARGE FOR ANY OT ITS CONTENT
You can FREELY post and share for free anywhere in the world, but without the right to charge for content or modify blog posts

(or to add whatever is not mine to one)

in any way. With my being cut even from healthcare for which mother is paying out of her own pocket to look legitimate as possible

(with so many royals writing their own memoirs for so many years already without releasing single one)

, I figured out is in my best interest to share here seen with you world.