Mr. Malvagna who presented himself as a the one siding with Russian Serbian side its how presented himself as , BUT
WAS BEBE'S LONG LONG TIME FAN

(WAS NOT CAPABLE TO GET HIS EYES OFF Rexha)

, appears was not intentionally throwing phone at her...
@Rexsha as for black eye - Yes, still. Stay Albanian. Never be ashamed of yourself. Its more than about your origins or nationality - its about paying respect to yourself and if you can't do even this, you don't even exist.
She is of Albanian origins just as Mr. Kurti who called today members of Serbian community to equality participate on Kosovo. Mr. Kurti

(Kosovo prime minister)

was involved in MK Ultra since time when one became a Serbian prisoner during war for Kosovo and got to see me in person during his imprisonment in his Serbian prison where Serbs also brought me...
After Hitting Bebe Rexha With Phone During Concert, Arrested Fan Appears To Change Story About Why It Happened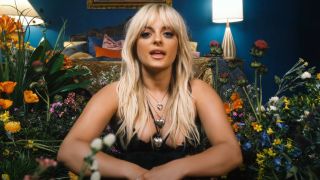 (Image credit: Bebe Rexha's YouTube channel.)
At concerts, singers will occasionally grab a phone from someone in the first few rows so they can snap a fun selfie. Normally, it's a safe handover. However, at a Bebe Rexha concert, a fan decided to throw his phone at the singer, and he hit her in the face. Now, Todd Spodek is claiming that his client Nicolas Malvagna wasn't trying to hurt Rexha by throwing his phone, he just wanted to get a fun photo with the pop star.
Bebe Rexha was hit in the face with the phone, and now she has a black eye and stitches. Following the situation, Nicolas Malvagna was arraigned "on misdemeanor charges of harassment and assault," per NBC News. The Manhattan D.A. claimed that he said he was trying to see if he could hit the singer with his phone "because it would be funny." Now, it appears his reason has changed as his lawyer told TMZ the following:
The lawyer also explained that his client regretted what he did and wishes the "Meant to Be" singer a quick recovery.
In videos posted on social media of the moment, like the one from Barstool Sports, you can see Rexha get hit and then kneel down to her knees presumably in a lot of pain. People off-stage quickly rushed to her side to see if she was OK. The phone seemed to really hit her hard, and it definitely left a mark as she posted an update on her Instagram about her black eye:
SERBIAN MILOŠEVIĆ'S STILL REMANING POLITICIAN GOT FOR HIS SHIZO
MONO
LOGUE RELATED TO HIJACKING OF POLICE OFFCERS FROM KOSOVO WHOM OTHER THAN SLOVENIAN PRESIDENT MUSAR.....
Gervala: Kosovski policajci kidnapovani dok su ručali
Ministarka spoljnih poslova i dijaspore Kosova Donika Gervala rekla je danas na osnovu informacija šefa Kancelarije za vezu Kosova u Beogradu Jetiša Jašarija posle njegovog razgovora s pripadnicima Policije Kosova pritvorenim u Kraljevu, da su oni "kindapovani dok su ručali unutar teritorije Kosova".
Ona je na zajedničkoj konferenciji za novinare s premijerom Kosova Aljbinom Kurtijem rekla da se Jašari na po 15 minuta sastao sa svakim od trojice pritvorenih policajaca.
"Danas je otete policajce posetio ambasador Jetiš Jašari, šef kancelarije za vezu u Beogradu. Poseta je obavljena u pritvorskom centru u Kralevu, gde se nalaze pod optužbom za nedozvoljeno posedovanje oružja. Sastanci su održani u razmaku od 15 minuta", rekla je ona.
Gervala je navela da je svaki od trojice policajaca "opisao događaj od trenutka hapšenja do izlaska pred sudiju za prethodni postupak".
Njih je 14. juna oko 12.30, dok su ručali, rekla je Gervala, "iznenada opkolilo 15-ak lica za koje se kasnije ispostavilo da su pripadnici snaga bezbednosti Srbije i naoružanih ljudi koji su ih napali i razoružali, a potom i opkolili".
Gervala je prenela da je "gospodin Sefa (jedan od pritvorenih) naglasio da su neki od ovih pripadnika pucali u vazduh kako bi izazvali paniku među policajcima i otežali im otpor".
Prenela je da su "posle otmice prvo su poslati u Rašku, a onda su, oko sat kasnije, druge snage došle i poslale ih u Beograd".
Gervalla je dodala da su tokom 48-časovnog pritvora izjavili da nisu fizički maltretirani, ali da im nije dato dovoljno hrane "odnosno nije im dato više od parčeta hleba".
"Sada su smešteni u odvojenim prostorijama, jedan po jedan, a nemaju pristup ni televiziji, ni bilo čemu drugom. Šem Mustafa je saopštio da mu i dalje nedostaju osnovni lekovi koje redovno koristi i to otežava njegovo uzdravstveno stanje. Rečeno im je da će u petak moći da ih posete članovi porodice", rekla je Gervala.
BLOG DOWNLOAD UPDATED ON JUNE 23rd, 2023
YOU CAN SHARE MY BLOG THE AUSER TIMES ANYWHERE IN THE WORLD, BUT WITHOUT PERMISSION TO MODIFY ANY OF MY CONTENT OR CHARGE FOR ANY OT ITS CONTENT
You can FREELY post and share for free anywhere in the world, but without the right to charge for content or modify blog posts

(or to add whatever is not mine to one)

in any way. With my being cut even from healthcare for which mother is paying out of her own pocket to look legitimate as possible

(with so many royals writing their own memoirs for so many years already without releasing single one)

, I figured out is in my best interest to share here seen with you world.