Brittney Gringer acted on behalf of US Government as Russian crime tentacle for at least 10 years(since 2012 if not earlier) - Russian "penal colonies" if I can name them as such were involved in crime against me since 1996 when I found myself hijacked(since) from sunny Miami Beach Florida all over Russia(all the way to far Vladivostok for what I also have physical proofs as I audio recorded Russian crew


involved in MK Ultra since 1995 which gave me green light for here stated - not everything I have published as some things at least for now are best kept aside). Most frequently, my destinations were prions and mental hospitals with occasional penal colonies - Gringer repeatedly death threatened with Russians in respect to "Penal Colony" which instead I would be the one finding myself in and herself released. It was inside of our house and in presence of American diplomats such as JOE BIDEN

(American communist version of capitalism)

.
As far as South Africa, Russia knew REPEATED FARM KILLINGS AND OBVIOUS AS WERE SEEN CONSTITUTIONAL RIGHTS VIOLATIONS https://ausertimes.blogspot.com/2022/09/its-just-popular-song-sand-during.html AGAINST white South African minority would trigger my interest - nobody doubted I campaigned or would campaign for Ukraine during repeated coming


Russian genocide on one, so they brainwashed foreign government with how WAR ON UKRAINE WILL BE USED BY WEST AS A LEGACY OF WHITE SUPREMACY AGAINST WORLD - WHEN I JOIN BLACK LIVES MATTERS' GRINGER STEERING RACIAL HATRED ON BEHALF OF RUSSIA WITH LATEST ISSUES CONCERNING SOUTH AFRICA WHICH ACCORDINGLY WITH JOE BIDEN'S INSTRUCTIONS I HAVE DELIBERATELY IGNORED, IT BECOMES CRYSTAL CLEAR ALSO ABOUT WHO JOE BIDEN WAS IS AND HIS DEMOCRATIC PARTY WHICH SO FAR TO BE HONEST HAVEN'T DONE MUCH IN DEFENSE OF UKRAINE. MOST OF UKRAINE REMAINS TO NOW A DATE STILL IN HANDS OF RUSSIANS WITH NOTHING MORE THAN 6000 SQUARE KILOMETERS FREED TERRITORY WHICH BIDEN NEGOTIATED WITH VLADIMIR PUTIN. ITS A SPECIAL OPERATION NOT WAR AFTER-ALL - SPECIAL OPERATION IN THE NAME OF "DENAZIFICATION" - AM I RIGHT PUTIN/ MEDVEDEV/ LAVROV AND GRINGER !!????? HOW ABOUT YOU JOE BIDEN !!????
HOWEVER, THE PROBLEM IS BAR FAR FAR GREATER SO I WILL STOP HERE FOR NOW...ACCORDING TO US DEMOCRATS AND REPUBLICANS, TO DEFEND UKRAINE AND TO KEEP WORLD TOGETHER IN TACT AGAINST COMMON ENEMY - JANUARY SIXTH WAS ALSO NECESSARY AND FOR WHICH SAKE DURING ABDUCTION FROM POLAND IN 2019 AND 2020, I WAS SEATED RIGHT NEXT TO NANCY PELOSI AS WELL AS NEXT TO CHUCK SCHUMER WHEN HIJACKED - BOTH REHEARSED WHAT THEY ANTICIPATED WILL BE ATTACK ON CAPITOL BUILDING WHICH AFTERWARDS TOOK PLACE IN 2021 OR PLAYED TOGETHER WITH REPUBLICANS ON SLOVENIAN SERBIAN RUSSIAN "PARANOID SCHIZOPHRENIC CARD" WITH WHICH THEY HAVE LABELED ME IN 2013...
JOE BIDEN CRIED ABOUT HOW UKRAINIANS IF READING THIS AND NOT ONLY THE REST OF THE WORLD, NO LONGER WOULD WANT TO SUPPORT US BECAUSE THAT AS BIDEN CLAIMED THEY WOULD LEARN HOW THEY WORK AGAINST THEMSELVES - FACT OF THE MATTER IS THAT HIS CRYING CREATED A BIIIIGGGG FUCKUP ON INTERNATIONAL STAGE AND IT DIDN'T APPEARED TO ME AS INNOCENT DURING MK ULTRA AT ALL - WHOLE THING APPEARED TO ME AS IF ONE INSTRUCTED INTERNATIONAL SOCIETY TOGETHER WITH RUSSIANS ON HOW TO SEE THE WHOLE THING RATHER THAN TO SOLVE ONE IN FAVOR OF ONE...FOR THAT MATTER TOO, I THINK JOE BIDEN IS AS HOLLOW AS SPACE...NONETHELESS, BIDEN IS NOT AND NEVER WILL BE MY PRESIDENT. AS MUCH AS OBAMA WAS/IS A BLACK SUPREMACIST, JOE WAS/IS A REGULAR NOBODY - WOULD LIKE TO SAY IRISH COMMUNIST, BUT HIS SON IS BILLIONAIRE JUST AS JACK MA https://ausertimes.blogspot.com/2022/10/filthy-amero-chinese-lie-or-how-poor.html GREW OUT OF NOWHERE....
GENOCIDE IS GENOCIDE....IF ITS AGAINST WHITES IS JUST AS GENOCIDE AS AGAINST ANY OTHER RACIAL GROUP. I CERTAINLY AM NOT BLACK BILLIONAIRE KANYE WEST WHO IS CAMPAIGNING AGAINST JEWS IN THE NAME OF WHITE GENOCIDE - HIS CONNECTIONS TO MOSCOW ARE ONE OF THE STRONGEST AMONG HOLLYWOOD PLAYERS IN UNITED STATES OF AMERICA...GO CHECK WHO KANYE WEST IS TO UNDERSTAND WHAT GOES ON THESE DAYS....RUSSIAN PROPAGANDA MACHINERY BROKE THROUGH EVERY PORE OF HUMAN LIFE IN THIS GLOBE WHEREVER YOU ARE LOCATED...ITS JUST THAT I AM AWARE OF ON AND HAVE PROVEN MY CASE AS FACTUAL BY IDENTIFYING NUMEROUS PEOPLE FROM ALL OVER THE WORLD.
BLACK ETHICS FROM UNITED STATES OF AMERICA OF TODAY GO DIRECTLY AGAINST VALUES WHICH ALLIES FOUGHT FOR ON BEACHES OF NORMANDY DURING WWII...RUSSIAN CHINESE AGGRESSION, HOWEVER, IS 100% IN LINE WITH AGENDA OF ADOLF HITLER AND HIS TEACHER JOSEPH STALIN....Britney Gringer is a powerful American made Vladimir Putin's asset https://ausertimes.blogspot.com/2022/10/i-can-tell-you-russian-killer-viktor.html during worst times people of Ukraine faced - worse even than what Holodomor did to them...
Kanye West NEVER EVER MISSED A SINGLE MEETING WITH VLADIMIR PUTIN IN SLOVENIA - KANYE WEST WAS EXCELLENT FRIEND WITH LOCAL NOVO MESTO POLICE DIRECTOR JANEZ OGULIN WHO ANTICIPATED WILL HOST ONE RIGHT HERE INSIDE OF THIS HOUSE DURING HIS THYRADE IN RESPECT TO WHITE GENOCIDE FOR WHICH SAKE KANYE WEST IMPORTED ME EVEN TO HIS AMERICAN ELEMENT... KANYE IN MY EYES APPEARS DECIDED WILL TAKE FROM WHERE TRUMP LEFT HIS SUPPORTERS

(in the middle of the nowhere - place known as "Pampa")

- TWO ARE FRIENDS AND BOTH WERE ARE FRIENDS WITH VLADIMIR PUTIN.....OCCUPIED IN 2022 UKRAINIAN AREA REMAINED IN HANDS OF PUTIN, REMAINS IN NINE MONTHS AS LARGE AS

109 THOUSAND SQUARE KILOMETERS - STILL AS OCCUPIED

...FROM IRAN TO SOUTH AFRICA AND AGAINST YOU IN CASE YOU DIDN'T KNOW WHO/HOW WHY WITH ISANE AMERICAN POLITICS WHICH NO ONE KNOWS ANY-LONGER WHO PAYS WHO TAKES !!!! WORLD DOESN'T HAVE PROBLEM WITH "GENOCIDE", SOME HOWEVER DID AND CONTINUE TO HAVE ALSO AND PERHAPS EVEN FOREMOST IN UNITED STATES OF AMERICA.
THE NEONAZIS IN USA ARE A PROBLEM, BUT THE BIGGEST
(MUCH GREATER)
PROBLEM ARE THOSE WHO CREATE THEM !!! WORLD CAN'T AND WILL NOT REMAIN BLIND FOR MUCH MORE AS IS IN SOUTH AFRICAN CASE "INJUSTICE"...I WAS THREATENED WITH NEVER RESOLVING MY CASE IF I ONLY WOULD MENTION ANYTHING AS STATED ABOVE....DEATH THREATENED VIA UNITED NATIONS INSIDE OF UN AND IN SLOVENIA WHERE THEY VISITED AS WELL AS VIA AMERICAN POLITICS WHICH INVOLVED OFTEN EXTREMIST FROM WORLD OF SPORTS, HOLLYWOOD, POLITICIANS...DEATH THREATENED FOR OVER TWO DECADES BY CHINESE GOVERNMENT WHOSE INTENTIONS IN RESPECT TO NEW WORLD ORDER ARE CLEAR.
MORE THAN WAR ON UKRAINE AND TAIWAN....HERE IS HOW IT WORKS...
WHAT VLADIMIR PUTIN WANTED ME TO WRITE ABOUT TO STEER WORLD'S ATTENTION

(OFF COURSE SINCE KGB DEMONSTRATED ME UNDER MK ULTRA TORTURE TO WORD AS NAZI SUPPORTING UKRAINE, AND WE HAVE THE SO CALLED RUSSIAN "ANTI NAZI" OPERATION IN UKRAINE)

FROM UKRAINE TO SOUTH AFRICA...
AND WHAT BLACK SOUTH AFRICAN GOVERNMENT DID, DOES, ON OWN BEHALF WITH TOTAL APPROVAL AND WITH GREAT GRATITUDE OF RUSSIAN KGB

(VLADIMIR PUTIN - REAL SECRET OF HOW VLADIMIR PUTIN WAS SO SUCCESSFUL GETTING ABOARD MANY AFRICAN COUNTRIES)

VIA WAR IN UKRAINE THANKS TO WHAT I EXPLAINED ABOVE...AS FOR MYSELF, I WOULD
HAVE DONE THE SAME FOR OTHER NATIONALITIES AND RACES I'VE COME ACROSS INCLUDING CHINESE

(ABSOLUTELY - CHINESE ALONE, IN FACT, ARE SEVERELY DISCRIMINATED AGAINST IN RUSSIA - WANT TO TALK ABOUT TADJIKS OR CHECHENS !!??? HOW ABOUT KAZAKHS OR AZERBAJANIS...UZBEKS OR TURKMENISTANIS !!???? WHO IS SENT TO DIE ON UKRAINIAN FRONT-LINES !!????)

...WILL NOT LEAVE BEHIND EMPTY EYES WHICH THEY MET ME DURING VISITS TO SOUTH AFRICA IN SO CALLED WHITE SQUATTER CAMPS WHERE BROUGHT TO POSE

(to demonstrate impotence in eyes of people - brought with idea to kill even hope for life in them)

INFRONT OF THEM - ITS A GROWING PROBLEM WHICH WILL HAVE TO BE SOLVED SOONER THAN LATTER/ ONE WAY OR ANOTHER....I HOPE FOR BILLIONAIRE KANYE WEST TO EVENTUALLY GET ARRESTED BEFORE HIS ESCAPE TO RUSSIA(I ACCENT BILLIONAIRE) !!! AS FOR JANUARY 6TH - I TOO WILL BEGUN TO LOOK CLOSER INTO MATTER....MORE THAN DEMOCRATS AND REPUBLICANS

(TWO SIDES ON THE SAME COIN)

, I AM INTERESTED IN TRUTH WHY YOU HAD ME DRUGGED UP UNDER MK ULTRA IN THOSE TUNNELS IN 2019 AND 2020....AS IF MY LIFE WAS NOT RUINED ENOUGH ALREADY BY US CONSTITUTION AND BILL OF RIGHTS !!!
Its what black hatred have opportunistically used even on behalf of Russian KGB...hand is washing hand, but United Nations as such CAN'T EXIST !!!
IRAN WAS PREPARING ITSELF FOR WAR WITH UKRAINE NO LESS THAN 20+ YEARS - DRONES WERE THE #1 IRANI ASSET FOR COMING RUSSIAN WAR ON UKRAINE....
THE COMMON INTERESTS VLADIMIR PUTIN HAVE FOUND WITH CERTAIN FIGURES HAVE DRAWN WORLD OVER THE EDGE - STRAIGHT INTO WW3...
Vreselijk! 3 Plaasmoorde in Zuid-Afrika in minder dan een week tijd: niemand doet iets /
Horrible!
3 Farm murders in South Africa in less than a week: nobody does anything
Er gebeuren verschrikkelijke dingen in Zuid-Afrika. Decennia geleden waren de ogen van de internationale gemeenschap altijd gericht op dat land omdat de slachtoffers van wanstaltig, racistisch geweld de donkere medemens waren. Maar tegenwoordig zijn de slachtoffers blank. En dus interesseert niemand het.
De zogenaamde Plaasmoorde blijven maar doorgaan in Zuid-Afrika. Dit zijn moorden die gepleegd worden op blanke Zuid-Afrikanen, vrijwel altijd gepleegd door dónkere Zuid-Afrikanen die gedreven worden door racistische motieven.
Theo de Jager deelt nu informatie dat in de afgelopen week - of minder dan een week eigenlijk - maar liefst 3 blanke Zuid-Afrikaanse 'boeren' vermoord zijn. "Alle aanvallen waren extreem gewelddadig en behelsden marteling." De slachtoffers: Gideon van Swart (52 jaar oud), Frans Venter (68 jaar oud) en Jesse Coleman (72) jaar oud.
Terrible things are happening in South Africa. Decades ago, the eyes of the international community were always on that country because the victims of disfigured, racist violence were dark fellows. But today the victims are white. And so nobody cares. The so-called Plaasmoorde continue in South Africa. These are murders committed against white South Africans, almost always committed by black South Africans driven by racist motives. Theo de Jager now shares information that in the past week - or less than a week actually - as many as 3 white South African 'farmers' have been murdered. "All attacks were extremely violent and involved torture." The victims: Gideon van Swart (52 years old), Frans Venter (68 years old) and Jesse Coleman (72) years old.
We've had 3 farm murders in less than a week, all of them marked by brutality and torture. Gideon Swart (52) was from Watervalboven, Frans Venter (68) was from Kroondal and Dr Jesse Coleman (72) was from Delmas pic.twitter.com/TIF6oK2xwt

— Theo de Jager (@TheoDJager) September 28, 2022
Een oproep van de redactie: door de coronacrisis, de energiecrisis, de inflatiecrisis ´én de koopkrachtcrisis heeft DDS het ontzettend lastig. Wij willen alles gratis leesbaar houden voor iedereen, waardoor we voor onze inkomsten afhankelijk zijn van reclame. Maar bedrijven hebben financiële zorgen, en hebben dus niet veel te makken. Daar merken wij de gevolgen ook van. Vandaar onze oproep aan u, onze lezers: steun ons alsjeblieft! Via het betrouwbare Nederlandse BackMe-systeem kunt u maandelijks óf eenmalig doneren. Doe dat alstublieft, en help DDS in de lucht te blijven!
En weet je wat nou zo raar is? Je hoort de mainstream media én het partijkartel hier nooit over. Niemand in de normale Haagse politiek die dit interessant vindt. Alleen FVD (Simone Kerseboom) en de PVV (Martin Bosma) zeggen hier iets wat van. Alle andere partijen raken de Plaasmoorde niet eens aan. Want ach. De slachtoffers zijn toch maar blank. Dus wat boeit het?
A call from the editors: due to the corona crisis, the energy crisis, the inflation crisis and the purchasing power crisis, DDS is having a very difficult time. We want to keep everything readable for everyone for free, so that we depend on advertising for our income. But companies have financial concerns, so they don't have much to worry about. We also notice the consequences of this. Hence our appeal to you, our readers: please support us! You can donate monthly or once via the reliable Dutch BackMe system. Please do, and help DDS stay afloat!
And you know what's so weird? You never hear about this from the mainstream media and the party cartel. No one in normal Hague politics who finds this interesting. Only FVD (Simone Kerseboom) and the PVV (Martin Bosma) say something about this. All other parties don't even touch the Plaasmoorde. Because oh well. The victims are white after all. So what does it matter?
Eight killed in farm attacks since 'Kill the Boer' judgment - Pieter Groenewald
Pieter Groenewald |
30 September 2022
Wave of farm attacks and murders in the weeks after court allows singing of "Kill the boer"
30 September 2022
Just more than a month after the Equality Court ruled on 25 August (last month) that the struggle song "Kill the boer" does not amount to hate speech, a wave of farm attacks and murders is sweeping through South Africa.
Since 26 August, eight people have been murdered and many more have been injured in another six separate attacks.
According to the police's official crime figures, twenty-two people were murdered in farm attacks during the first six months of this year. Twelve in the first quarter and ten in the second.
These figures indicate that the number of murders has increased sharply over the past five weeks. (A complete list can be found at the end of this statement.)
In the most recent incident, Mr Ettienne du Toit (53) from Sterkspruit near Nelspruit was presumably murdered yesterday (29 September).
It appears that he was bludgeoned to death while he was busy working at the water pumps.
Many of the victims' injuries serve as evidence of the excessive violence and brutality of the attacks.
In his ruling in the Equality Court in Johannesburg, Judge Edwin Molahlehi said that in his opinion, there is not sufficient evidence to prove that singing the song amounts to hate speech.
This stands in stark contrast to the fact that the Human Rights Commission (HRC) had already declared the song to be hate speech in 2000, on request of the FF Plus.
In addition, a 2003 police report found that statements by politicians incite people to violence, and that it is one of the causes of farm attacks and murders.
The FF Plus is convinced that inflammatory statements and songs do indeed incite people to violence and murder. There is also no doubt that the "boer" referred to in the song means white people.
Farmers in the country have been massacred for decades, but government simply refuses to declare it a priority crime, despite constant pressure from the FF Plus and others.
What is playing out here is a human tragedy, and the ANC will be brought to book for it.
List of farm murders and attacks:
Farm murders:
1) 26 August 2022
Pieter van der Westhuizen
Between Zeerust and Groot Marico.
2) 5 September
Niko Steenkamp (60)
Northam
3) 6 September
Marthiens Richter (68)
Murdered, and his wife, Elna, was seriously injured.
Thabazimbi
4) 15 September
Victor Janse van Rensburg (60)
Caretaker of farm owner.
Kouga
5) 21 September
Fran Venter (68)
Rustenburg
6) 23 September
Gideon Swart (52)
Waterval-Boven
7) 27 September
Dr Jessé Coleman (72)
Delmas
8) 29 September
Mr Ettienne du Toit (53)
Nelspruit
Farm attacks:
1) 7 September
Farm wife stabbed and worker attacked.
Leandra
2) 9 and 10 September
2 farm attacks.
Lilyfontein/Brakfontein in East London
3) 14 September
Johan Hattingh (76) shoots and kills two assailants.
Sundra, Mpumalanga
4) 23 September
3 farm workers wounded.
Alldays, Limpopo
5) 24 September
Wilna Reid (43)
Robbed.
Randfontein
6) 24 September
Elderly woman attacked and seriously injured.
Klerksdorp
Statement issued by Dr. Pieter Groenewald, FF Plus leader, 30 September 2022
END, BUT NOT QUITE....HERE IS WHO WANTS TO GIVE YOU HIS OWN STORY ABOUT GREAT ESCAPE...IS IN NEED OF RACIAL HATRED - ATTENTION FROM THOSE WHOM ONE MARKED AS NAZIS....
FROM https://www.bbc.com/news/world-africa-63395322
Ukraine war: South Africa row over Russian superyacht's arrival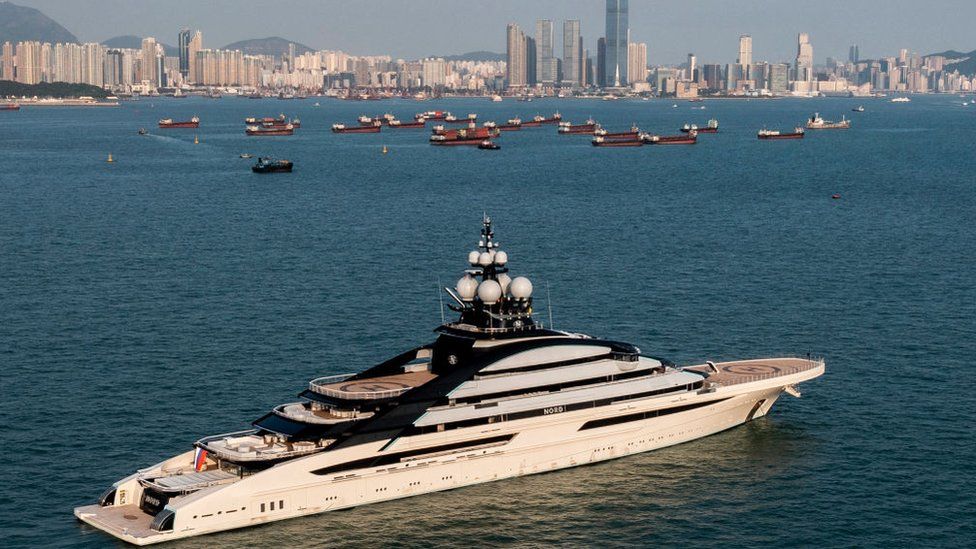 South Africa's government insists it will allow a Russian oligarch to dock his superyacht in Cape Town, despite calls from the city's mayor to bar it.
The vessel, which is on its way from Hong Kong, belongs to Alexei Mordashov, an ally of Russia's Vladimir Putin who has been sanctioned by the EU and US.
The South African government says it is not bound by the sanctions.
But Cape Town's mayor says he has a "moral duty" to oppose Russia's "unjust war" and has vowed to block the yacht.
Mayor Geordin Hill-Lewis is a member of the opposition Democratic Alliance, which has urged the government to seize the 465ft (141m) yacht.
It is not clear how Cape Town officials plan to stop the vessel - called The Nord - from docking.
A spokesman for President Cyril Ramaphosa said: "South Africa has no legal obligation to abide by sanctions imposed by the US and EU."
"South Africa's obligations with respect to sanctions relate only to those that are specifically adopted by the United Nations," the spokesman, Vincent Magwenya, noted.
Accusing Mr Geordin Hill-Lewis of "grandstanding", he added: "Municipal governments have no legal control over the country's borders."
Hong Kong's government recently offered similar justifications when refusing to prevent the entry of the $521m (£472m) superyacht, with Chief Executive John Lee saying the city would be accountable to UN sanctions.
Western countries and their allies have imposed sanctions on more than 1,000 Russian individuals and businesses in response to Russia's invasion of Ukraine.
Mr Ramaphosa's government has so far avoided directly criticising Russia, abstaining in several UN votes that have expressly condemned the war. Pretoria has also called for a negotiated settlement to end the conflict.
On Monday, Mr Geordin Hill-Lewis wrote on Twitter that there could be "no place in our city for accomplices to, and enablers of, Putin's war".
"Our country's foreign policy conduct in relation to Russia's illegal, imperialist war has been nothing less than shameful," he added in a further statement. "Here is an opportunity to correct some of those errors of judgement and stand up for what is clearly right."
The luxury yacht is expected to arrive in Cape Town in the next few weeks, it is not known how long it will be allowed to stay.
Prior to the war, Mr Mordashov was Russia's wealthiest man. The 57-year-old built a fortune of some $29.1bn (£25.92bn) through his steel and mining company Severstal.
Early in the conflict he was targeted by extensive Western sanctions because of his links with Mr Putin. But the billionaire says he is not involved in Russian politics.
Mr Mordashov has already lost one of his smaller vessels, the Lady M, to Western sanctions after it was seized by Italian police in March.
But The Nord is believed to be his biggest yacht. Forbes magazine describes it as one of the world's most extravagant boats.
Shortly after the outbreak of the conflict in Ukraine, the yacht - which features two helicopter pads, a swimming pool and a cinema - left the Seychelles for the far-eastern Russian port of Vladivostok. The move was seen as a bid to avoid the fate of the Lady M.
But experts say owners like Mr Mordashov face serious issues finding international ports capable of maintaining superyachts. Most are in Europe, where the vessels would be instantly seized.
END AND HERE IS WHAT PRECEDED RUSSIAN CRIME IN SOUTH AFRICA AND FOR WHAT I STATED WILL HAVE ABOVE CONSEQUENCES....
From The Auser Times https://ausertimes.blogspot.com/2022/09/its-just-popular-song-sand-during.html and was published on Thursday, September 1, 2022
ITS JUST A POPULAR SONG SANG DURING VIOLENCE OUTBURSTS, AND "WHITE GENOCIDE" NOTHING MORE THAN DANGEROUS MYTH: 'Kill the Boers' song is not hate speech, rules South African court
IF YOU REMEMBER JANUARY'S

(THIS YEAR IN 2022)

BURNING OF Original copy of the former Afrikaans national anthem "Die Stem van Suid-Afrika"

("The Voice of South Africa")

ALONG WITH "the part of the PARLIAMENT building's historic section, which was completed in 1884, its not difficult for you to understand who was/is all behind crime bellow and what its goals were/are concentrated https://ausertimes.blogspot.com/2022/01/original-copy-of-former-afrikaans.html
'Kill the Boers' song is not hate speech, rules South African court
"Shoot the Boers, shoot, shoot" are lyrics from a popular song used by radical Black groups in South Africa
August 30, 2022
Economic Freedom Fighters leader Julius Malema, left, speaks to the press outside the Constitutional Court in Johannesburg, South Africa, Thursday, March 30, 2017. (AP Photo/Themba Hadebe)
The Equality Division of the Supreme Court in South Africa has ruled that the song "Kill the Boers" was not a case of "hate speech." The hateful song, which celebrates the killing of Dutch settlers in South Africa, is protected by freedom of expression and must be left to the political debate within society, according to the court.
The song says, among other things, "The cowards are afraid. Shoot the Boers, shoot, shoot." The case was brought before the court by the organization AfriForum, an advocacy group for the minority White population living in the country, reported the South African news portal IOL.
EFF wants to dispossess Boers in South Africa
In particular, the AfriForum group accused the left-wing Economic Freedom Fighters (EFF) party under its president, Julius Malema, of playing the song at their rallies and thus calling for violence against the Boer population, which is the term used for the Dutch population in the country. One of the political goals of EFF is the expropriation of large White landowners. However, according to the court, AfriForum could not prove that the song's lyrics were intended to harm people despite the line: "The cowards are afraid. Shoot the Boers, shoot, shoot."
EFF criticized the organization, stating that AfriForum was trying to give the impression that there was a "White genocide" in the country. In addition, AfriForum is based on a "racist narrative," they said, according to which all Black people are irrational and therefore willing to kill because of a song.
"The attempt by the racists to erase the cultural element of the liberation struggle in South Africa has failed miserably," emphasized EFF spokesman Sinawo Thambo.
Since the end of apartheid, Black gangs have repeatedly murdered White farmers and their families in South Africa. Often, the victims are raped or tortured before being murdered. Their goal is to drive the Boers out of the country and transfer their land holdings to Blacks.
South Africa is beset by crime and features one of the highest rape rates in the world. An estimated 115 rapes occur every single day, and that figure has remained more or less consistent for the last 10 years. Murder and violence are also endemic, leaving many Whites and Indians scared to travel outside their gated communities. Blacks are the biggest target of crime in the country, as they make up the vast majority of the population, but Whites are often seen as being either wealthy or legitimate targets due to apartheid, making them targets for crime.
UPDATED ON MARCH 12TH, 2022