WHERE WILL JONES GET 1.5 BILLION USD !!?????

WHAT IS THE DIFFERENCE BETWEEN WHAT HE OWNS

(owns not owes)

AND $1.5 BILLION USD !!????

CASE BLOWN OUT OF PROPORTIONS KNOWN AS SENSATIONALISM - ABSTRACT JUSTICE - WHICH ALWAYS WERE USED TO PROMOTE WHATEVER SOCIETY REJECTED LONG LONG AGO. AMERICAN JUSTICE SYSTEM IS JAMMED BY BRITISH ROYALS AS MUCH AS IT GETS AND ONLY OPTION HAS LEFT IS A FAILURE. FUTURE OF AMERICA IN HANDS OF POLICE

(whatever one is pleased to produce as a proof)

NEVER WAS THE CASE IN US, BUT IT BECAME THROUGH THIS VERY CASE TO WHICH THEY DEMANDED FROM ME TO REFER AS MK ULTRA.
DISGUISED IN RIGHT AND LIBERAL....SETTING THEMSELVES ON FIRE
(SELF SABOTAGING)
ON BOTH SIDES OF THE POLITICAL SPECTRUM....
One third of Canadians fine with prescribing assisted suicide for homelessness
Roughly the same number told a poll they were fine with approving MAID for someone whose only affliction was poverty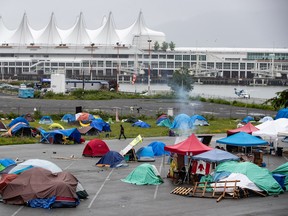 One third of Canadians are apparently fine with prescribing assisting suicide for no other reason than the fact that the patient is poor or homeless.
The results were contained in a recent Research Co. poll probing just how comfortable Canadians were with the current state of the country's MAID (medical assistance in dying) regime.
Starting in March 2021, Canada became one of only a handful of countries to legalize assisted suicide even in instances where a patient does not have a terminal illness. Ever since, a Canadian can be approved for MAID simply for having a "grievous and irremediable medical condition."
Research Co. found that 73 per cent of poll respondents favoured the current regime, and only 16 per cent opposed it.
Pollsters also found not-insignificant numbers of Canadians who favoured assisted suicide in cases where no medical condition of any kind was present.
This Canadian woman wanted assisted suicide for depression. Then ketamine saved her
If a Canadian's only affliction was "poverty," 27 per cent said they would be fine with legalizing that person's access to MAID. Another 28 per cent pegged "homelessness" as an appropriate bar to qualify for MAID.
And 20 per cent of respondents were fine with MAID being handed out to anybody for any reason. In other words, one fifth of respondents agreed with the sentiment "medical assistance in dying should always be allowed, regardless of who requests it."
Notably, these most absolutist supporters of assisted suicide were pretty evenly distributed among age groups, regions and even political demographics: 20 per cent Conservatives, 20 per cent of NDPers and 22 per cent of Liberals were in the "always be allowed" camp.
One of the more controversial aspects of MAID has been a number of high-profile cases in which Canadians with serious illnesses opted for death only after years of failing to obtain proper medical care. The Research Co. poll found a slim majority of respondents who were fine with this, too; 51 per cent endorsed "inability to receive medical treatment" as sufficient reason for an assisted death.
It's not the first time that a poll has found significant numbers of Canadians willing to expand MAID well beyond its original purpose as a form of euthanasia for the terminally ill.
In February, an Angus Reid Institute poll similarly found 61 per cent of Canadians favouring the country's current MAID regime.
Canadian comfort with MAID may explain why it so quickly has become more widespread and liberalized than in almost any other jurisdiction offering legalized assisted suicide.
Canada is notable for its relative lack of checks on the procedure: MAID can be approved and administered by nurse practitioners whereas most countries require the approval of a physician. Canada is also experiencing a skyrocketing rate of MAID deaths well beyond anything experienced abroad.
While only 2,838 Canadians opted for assisted suicide in the first full year of legalized MAID after it became legal in June 2016, as of last count in 2021 that had risen to 10,064 — an increase of 32.4 per cent over just the year before.
The practice of referring or recommending assisted suicide has also spread well beyond the traditional boundaries of the health-care system. Notably, MAID is routinely practised within the Canadian prison system, despite similar measures proving deeply controversial in Belgium, a pioneer in assisted suicide legalization.
Nevertheless, a majority of respondents to both polls did show hesitancy when it came to Canada's eventual plan to extend assisted suicide to citizens whose only underlying condition is mental illness.
Just 31 per cent of Angus Red Institute respondents thought it was a good idea. Among Research Co. respondents, 43 per cent backed MAID for the mentally ill against 45 per cent who did not.
MAID for the mentally ill was supposed to become legal in March, but in one of the only instances of Canada pulling back on its rapid expansion of assisted suicide, that date was ultimately pushed forward into 2024 in order to "prepare for the safe and consistent assessment and provision of MAID in all cases."
The Research Co. poll surveyed 1,000 adults online between April 22 and 24. The data was statistically weighted according to Canadian census figures and Research Co. says the margin of error is plus or minus 3.1 percentage points, 19 times out of 20.