Cancer and kidney cysts are TWO totally different issues. You can consume fat with cysts but not cancer as an example...
FOOD POISONING OR WHATEVER THEY USED INSIDE OF THE HOUSE DURING MK ULTRA WAS SO BAD, THAT I PROTESTED WITH ONE OF THE PRODUCTS DEMONSTRATED IN MY FACE AS POISONOUS WAS THIS EXACT KETCHUP. I AM ASSUMING THEY
REACTIVATED
(PRINCE CHARLES CLAIMED ACTIVATED CANCER)
VIA SEVERE POISONING OR EVEN INJECTIONS KIDNEY CYSTS.
THE MAN YOU SEE BELLOW WAS INVOLVED SINCE 1995 AND WAS ONE OF THE STRONGEST PEOPLE I HAVE EVER SEEN. SLIM/SLENDER AND DYNAMIC MORE LOOKED LIKE A LAWYER TILL AT LEAST 2002. HE WAS ONE MY MOST PREFERRED PEOPLE INVOLVED IN MK ULTRA - I , HOWEVER, BELIEVE NOW MAN WAS AND IS A PERSONAL INSURANCE OF NOW KING CHARLES FOR CRIME AGAINST ME SPONSORED BY NONE OTHER THAN QUEEN ELISABETH. I HAD NO CLUE ABOUT EVEN WHO HE WAS WHENEVER DELIVERED TO HIM DURING MK ULTRA AND ONE CLAIMED WILL DO IT

(STUFF HIMSELF WITH FOOD USED TO GROW CYSTS ETC.)

FOR ME AND BY BRITISH ROYALS INTERPRETED SINCE THERE WAS NO CHANCE IN THE UNIVERSE WITH SO MANY PEOPLE INVOLVED

(MORE THAN A MILLION WITH GOOGLE AND MEDIA TOTRALLY COVERED WITH THEM - NUMEROUS DYEING AND MANY SUFFERING FROM CANCER AS BRAINWASHED UNDER MK ULTRA)

FOR ME TO IDENTIFY REAL CAUSE OF HEALTH PROBLEM INVOLVED ON TIME - INTERPRETATED TO ME THAT IF FOR NOTHING ELSE, HE WOULD BE USED TO DEMONSTRATE HOW LONG A PERSON CAN LIVE WITH CYSTS REMOVED WHICH IN THIS CASE WERE LIVERS AND WHAT WOULD BE USED AT MY BENEFIT WHEN SUBJECTED TO SURGERY WHICH RATHER IS TOTALLY INSANE BAR CRAZY SHIT STRAIGHT OUT OF NOW kING CHARLES'S GARDEN....F**** BULL.
POOR GUY STATED TO
ME IN

2018
WHEN HIJACKED FROM POLAND I CITE,
"BOB, I CAN'T TAKE IT ANY LONGER I MUST GET IT DONE NOW"
AND I WAS LIKE FOR GOD SAKES HELP THIS MAN...CHARLES DEMANDED ONE TO GO TO INDIA TO GET IT DONE WHAT RATHER SHOOK ME EVEN MORE.
@kING CHARLES - YOU BETTER TELL WHO SIGNED THE PAPERS FOR YOU TO BE OUTSIDE !!! ITS NOT ABOUT CERTIFIABLE IN YOUR CASE AND YOU REFERRED TO ME AS, BUT OTHER ISSUES. I WANT TO KNOW WHO SIGNED PAPERS FOR YOU TO BE OUTSIDE. WHO ALLOWED YOU TO COME OUT CHARLES !!????
Man from Windsor to have 'record-breaking' kidneys removed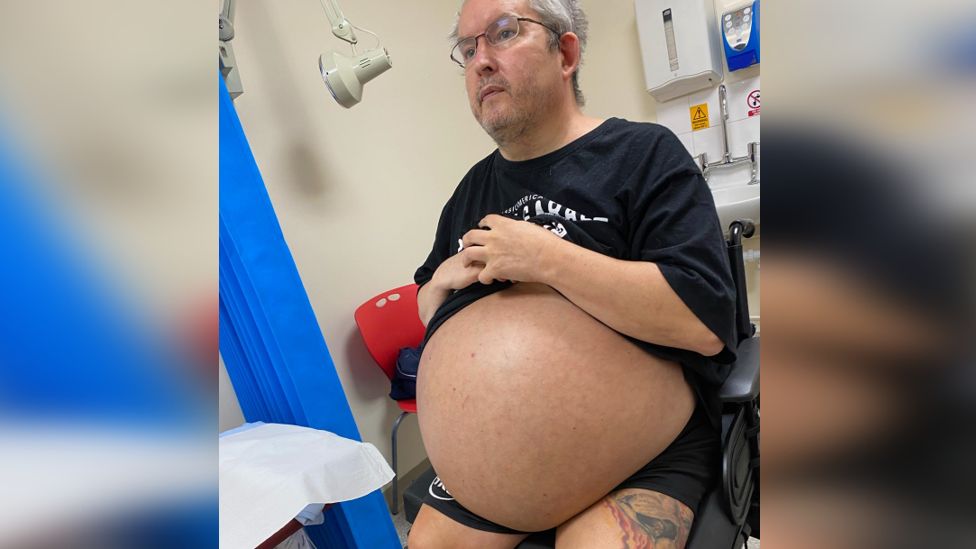 A man is preparing to have both his kidneys removed after they enlarged to a potentially "record-breaking" size.
Warren Higgs, 54, from Windsor, has polycystic kidney disease (PKD) that causes small fluid-filled sacs called cysts to develop in the kidneys.
He said his kidneys had grown so large they could kill him.
Mr Higgs has been speaking about his condition in an attempt to raise funds for an electric recumbent tricycle to use following his operation.
The father-of-one said his inherited condition first became an issue for him at the age of 35 when it caused an aneurysm leading to a debilitating stroke that left him paralysed on his right side.
But five years ago his kidneys started to grow up to their current size - five times bigger than they should be, according to his doctors.
The former accountant said: "Mine are extreme. They just grow continuously.
"Considering your kidneys are meant to be the size of a clenched fist, mine are massive.
"They're crushing my lungs, crushing my stomach, and I know they've just done a recent scan and they're crushing my heart now.
"It's horrible because I can't move. I can't breathe. You just cant do anything."
His last scan showed his left kidney to be 42cm (16ins) by 27cm (10.6ins), and his right kidney to be potentially record-breaking at 49cm (19.2in) by 28cm (11in).
He said doctors believe his kidneys could weigh three-times more than a kidney believed to currently be the heaviest in the world - a 7.4kg (16.3lb) kidney removed in India.
@kING CHARLES - DO YOU HAVE ANY LIKE THIS IN GREATER THAN GREAT BRITAIN !!????