Will also charge you with use of directed energy weapons to cause deliberate harm to tortured foreign and domestics US citizen - whom US government have turned via human experimentations on one into cancer patient.
@Joe Biden - you have cancer no !!???? Or you forgot to have one !!???
JOE BIDEN HAVE TOGETHER WITH TRUMP INSISTED ME TO PAY SPECIAL ATTENTION TO FUTURE CHINESE ORIGINS ROBERT HUR AS PER TWO WOULD USE ONE TO HIDE THEIR CRIME BEHIND ASIAN GOVERNMENTS WHICH CONSEQUENTLY AGAIN IF NOT ACCORDIBNGLY TO TRUMP BIDEN TASTES, WOULD RESULT IN A
"NO NO NO"
TO ME.....
MR. ROBERT HUR WAS INVOLVED IN MK ULTRA FOR QUITE SOME TIME BUT CAN'T GO INTO EXACT DETAIL ABOUT ONE'S PREESENCE - MY GUESS WOULD BE 2006 AND WAS PRESENTED TO ME BY BOTH MK ULTRA MASTERS JOE BIDEN AND DONALD TRUMP....FIRST BY JOE BIDEN IN 2006 AND THEN TRUMP AS THE REST OF AMERICAN ADMINISTRATION BECAME DESPERATE WITH I CITE,
"THAT ONE TAT ONE YEAH YEAH TAKE HIM TO HIM I TOLD WAAAHWAWAWAWAWA...TAKE HIM TAKE ARE YOU SIRE I TALKED I TOLD LALALA!!!!!"
<== DEPARTMENT OF WILD LUNACY SUPPORTED BY VIOLENCE RAN BY U.S. ATTORNEY GENERAL MERRICK GARLAND AAAAAAAAAAA AAAAAAAAAA HELP ME I AM INSANAAAANNEEEEEEEEEE AAAAAAAAAAAAAAAAAA
U.S. ATTORNEY GENERAL MERRICK GARLAND'S DEPARTMENT IN 2008 WAS A DEPARTMENT OF FOCKING LUNACY. CHAOS AND TOTAL INCOMPETENCE....IDIOT RAN INTO IDIOT LIKE ON A PICKNICK NOT AT WORKPLACE....FRIENDLY IS FRIENDLY, BUT LIES FILLED ENTIRE BUILDING WHEN I WAS BROUGHT UP SHACKELED WITH DRUGS IN THERE....
ROBERT HUR "REALISED"

(DIDN'T REALISE SHIT, HE WOULDN'T EVEN LET ME SPEAK MY MIND TO ONE)

, I AM A RACIST FOR NOT LIKING HIM BEFORE I OPENED MY MOUTHS TO TELL HIM THAT HE SHOULD BE IN FACT BOSS OF
MERRICK GARLAND AND OTHER AINCOMPETENT ANIMALS....AS HE CONTINUED THAT ITS WHAT HE HEARD THIS FROM OTHERS, IT MADE NO SENSE FOR ME TO EVEN TRY TO COMMUNICATE ANY FURTHER....
UNITED STATES OF FASCIST AMERICA !!!!
TO USE DIRECTED ENERGY WEAPONS ON A CANCER PATIENT WHOM YOU HAVE CAUSE CANCER FOR THE SAKE OF HUMAN EXPERIMENTATIONS AND TO ENGAGE GLOBAL POLITICAL AUDIENCE IN CRIME

(GENOCIDE AND ITS HOW YOU GERMANS, BRITONS GAINED ATTENTION - AMERICA WAS GOOD TO YOU)

, IS A NO NO
U.S. ATTORNEY GENERAL MERRICK GARLAND....YOU WILL END LIKE NOODLE ON MY MENU PERSECUTION PLATE. SUKI SUKI
@UNITED STATES OF AMERICA - YOU TRIED TO USE OTHER RACES AND ETHNICITIES TO EXCUSE YOUR MINDLESS CRIME AGAINST ME AS I POINTED OUT IN TWO VIDEOS SEEN ON THIS PAGE AND YOU WERE TRYING TO HIDE YOUR FASCIST FACE BEHIND THOSE WHO HAVE NOTHING TO DO WITH ONE....THIS FURTHER CONSTITUTES FOR DIRECT HATRED IN ONE PUSH WHOM YOU HAVE AT THE TIME UP-TO-DATE SUBJECTED TO LIFE UNDER IMPOSSIBLE LIVING CIRCUMSTANCES. NAZISM FASCISM AND FINALLY PRODUCT AS TERRORISM WHICH YOU HAVE ANTICIPATED WOULD DEVELOP OVER THE COURSE OF TORTURE....
Special Counsel Named to Probe Classified Documents Found at Biden Office, Home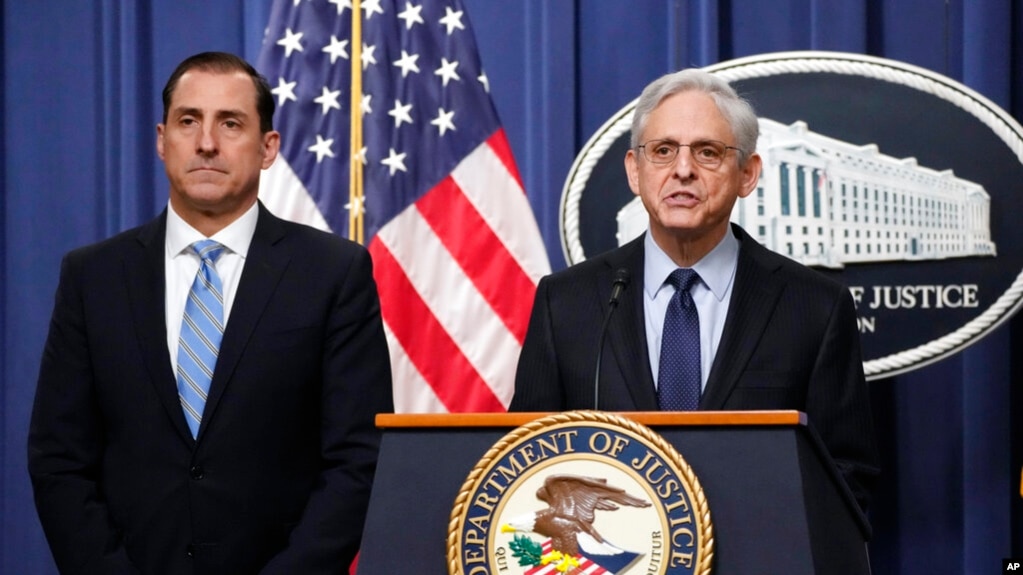 Attorney General Merrick Garland speaks during a news conference at the Department of Justice, Jan. 12, 2023, in Washington, as John Lausch, the U.S. attorney in Chicago, looks on.
U.S. Attorney General Merrick Garland on Thursday named a special counsel to investigate how classified government documents ended up being stored at a former Washington office of President Joe Biden and at his Wilmington, Delaware, home.
Garland, the top U.S. law enforcement official, selected career prosecutor Robert Hur, a former lead federal prosecutor in the eastern state of Maryland, to conduct the probe. Hur also served as a high-ranking Department of Justice official during the administration of Biden's immediate predecessor, Republican Donald Trump.
Garland's decision followed his earlier appointment of special counsel Jack Smith to conduct a similar investigation of Trump. For months, the former president balked at turning over sensitive classified documents to the National Archives and Records Administration as required by U.S. law when he left office two years ago and had them shipped to Mar-a-Lago, his oceanside retreat in Florida, where he lives.
Garland told reporters at the Justice Department that Hur's appointment "underscores for the public the department's commitment to both independence and accountability for particularly sensitive matters."
Some Republicans had called for Garland to name a special counsel to investigate the Democratic president.
New House Speaker Kevin McCarthy, at a news conference in the U.S. Capitol, said, "I think Congress has to investigate this. I do not think any American believes that justice should not be equal to all."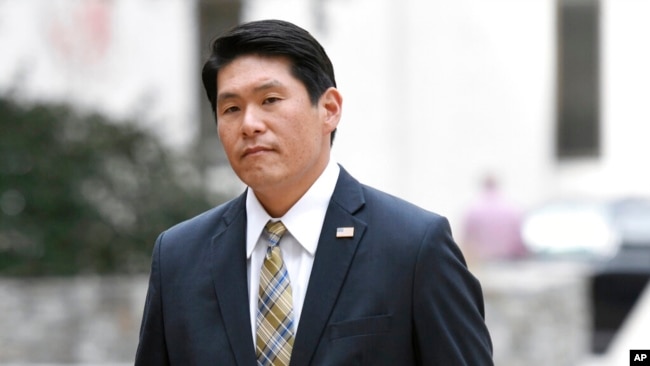 FILE - U.S. Attorney Robert Hur is pictured in Baltimore on Nov. 21, 2019. On Jan. 12, 2023, Hur was appointed to investigate the presence of documents with classified markings found at President Joe Biden's home and at an office in Washington.
As special counsel, Hur, 49, will have more independence than a normal federal prosecutor to investigate Biden's handling of the classified documents as he left the vice presidency in early 2017, but ultimately will answer to Garland.
Document discoveries
Two sets of classified documents linked to Biden have been discovered. They include about 10 at the Penn Biden Center for Diplomacy and Global Engagement, a Washington research group Biden helped create after his eight years as second-in-command to then-President Barack Obama. Another collection was discovered at Biden's Wilmington home, with all but one of the documents in the garage. The other document was found in an adjoining room.
Biden's personal lawyers immediately turned over all the materials to the National Archives, which is responsible for storing and preserving presidential records.
Biden's case contrasts in significant ways with the investigation of Trump's handling of classified documents. Trump left Washington in early 2021 with hundreds of classified documents, eventually relinquishing some of them after demands from the archives, while the FBI collected dozens of others last August in a court-approved search of his office, a storage area and other rooms at Mar-a-Lago.
Garland initially named John Lausch, the top U.S. attorney in Chicago and a Trump appointee, to look at Biden's cache of documents. Garland said Lausch a week ago recommended that a special counsel be named.
GERMANS DEMANDED A WAR BETWEEN MYSELF AND PARENTS - CLAIMED ME NOTHING IN RESPECT TO HUMAN RIGHTS I CITE,
"NOTHING IN RESPECT TO ASSISTANCE TO YOU TILL YOU CONDEMN AND DISTANCE YOURSELF AWAY FROM PARENTS AS WE WILL NOT SUPPORT SOMEONE WHO IS UNSURE ABOUT WHO THOSE CLEARLY RUINED AND CONTINUE TO RUIN ONE'S LIFE...EITHER YOU OR PARENTS, BUT NOT BOTH"

.....
FIRST SLOVENIAN PRESIDENT INVOLVED IN CRIME MILAN KUČAN HAD TO ATTEND ENGLISH SPEAKING CLASSES TO MATCH SOMEWHAT CAPABILITIES OF OTHERS WHO ATTENDED MEETINGS IN SLOVENIA....NOW KING CHARLES MADE UNCONDITIONAL SUPPORT FOR ONE ANOTHER AGREEMENT ON BEHALF OF PUTIN WITH KUČAN IN 1998.
CRIME ON BEHALF OF PUTIN WENT ON VIA KUČAN ALL THE WAY THROUGH SEVERAL PRESIDENTS ENDING WITH

BORUT PAHOR AND NEXT NATAŠA PIRC MUSAR

- KUČAN MENTORED BOTH, BUT OPPOSITION FROM KUČAN SUCH AS JANŠA/PETERLE WAS EVEN WORSE - MORE CORRUPT...MORE MURDEROUS IN FORM OF MISLEADING PUBLIC ON OPPOSITION ISSUES WHILE USING EXACTLY SAME KUČAN TACTICS - METHODS.
CRIME UNDER BORUT PAHOR WENT INTO HOSPITALISATION OF FATHER INTO EXTREME WHICH WAS USED TO REPLIACTE UPON MY RETURN FROM POLAND FATHER'S FUTURE ISSUE DEMONSTRATED TO ME UNDER MK ULTRA TORTURE WHEN SLOVENIAN GOVERNMENT BEGUN TO CONDITION ME VIA FORCED LONG TERM UNEMPLOYMENT FUTURE INABILITY TO PAY BILLS...WAS FURTHER USED TO DETER ME FROM PERSUING POSSIBLE EMPLOYMENT AS TO BRAINWASH WHICH DEMANDED FROM ME TO RATHER BECOME FATHER'S HOME CARER THAN JOB FOR SAME AMMOUNT OF MONEY AND TO FURTHER DRIVE ME INSANE VIA ISSUES WHICH PSYCHITRISTS AND POLICE HAVE USED FATHER FOR PRACTICALLY ON HIS DEAD BED WITH IDEA TO OBTAIN ANY RECATIONS OR STATEMENS FROM ME WHICH WOULD GIVE THEM THE ABILITY TO PREVENT MY INVESTIGATION OF SLOVENIAN POLICE INVOLVED IN CRIME PROCEDURE.