HE NOW FEARS DEPORTATION BACK TO RUSSIA WHICH IF ONE IS LUCKY WILL END 100% WITH DEATH - IF NOT THAT LUCKY, WORSE THAN DEATH IS AWAITING ONE BACK HOME.
@ANDREY MEDVEDEV FROM CIA - THANK YOU FOR COMING, AND NOW ITS TIME TO PAY YOU BACK FOR YOUR EFFORTS TO BETRAY VLADIMIR PUTIN. YOUR COUNTRYMEN SHOULD ALSO TAKE CLOSE NOTE OF WHAT WILL TAKE PLACE WITH YOU BECAUSE WE DID MADE AN ADVANCED AGREEMENT WITH KREMLIN IN RESPECT TO WORLD ALREADY BACK IN 1998. EXACTLY 1998. AND AS ALLWAYS, OFF COURSE, WE ARE SORRY. MORE LUCK IN NEXT LIE(LIFE).
STRAIGHT FROM ROYALIST THAILAND TO RUSSIAN JAIL VIA WESTERN CENTRAL INTELLEGENCE JOURNALISM
(CNN/BBC ETC. SAW NOTHING HEARD NOTHING KNOW NOTHING KILLERS)
INTO RUSSIAN JAIL WITH
THE
SPEED OF LIGHT !!!
WITH WESTERN JOURANLISTS ASKING HER QUESTIONS ON WHICH THEY DIDN'T WANT HER ASNWERS BUT TO TEST AND SEE IF SHE STILL HAS A GUTS TO OPEN HER MOUTHS IN RESPECT TO KREMLIN AND BRITO AMERICAN GERMAN POLITICS...SHE WAS HEAVILY INVOLVED IN MK ULTRA WITH HER BOYFRIEND AND SO WHAT !!????
ON THE BUTTOM OF THE MADE IN GRRREAT BRITAIN'S GUARDIAN NEWSPAPER ARTICLE SAYS I AM FROM SOVENIA AND IF I WILL FINANCIALLY SUPPORT THEIR WORK !!!!! Claim are without billionaire owner and are
committed as such to journalism defined by truth, rigour and integrity....just like BBC and all others !!???? I had no idea about media house in GRRRREAT BRITAIN OR CAT OR DOG THAT WOULD BE WITHOUT TRILLIONARE OWNER....
I learn something new every day.
@THAI KING

(GERMAN DIPLOMACY)

WHO MET PUTIN AND OTHERS INSIDE IN HERE SINCE 1995(SINCE 1995) -

THERE ARE NO MISTAKES AT THE TOP - THERE IS CURRUPTION AND THOSE BELLOW WHO HAVE TO BELIVE IN MISTAKES JUST TO STAY ALIVE....THAT MUCH ABOUT MISTAKES.
https://pressgazette.co.uk/publishers/nationals/guardian-owning-scott-trust-to-fold-after-72-years/
Former Wagner Group commander who fled to Norway arrested by police
Andrey Medvedev, who is seeking asylum after claiming to witness war crimes in Ukraine, fears deportation to Russia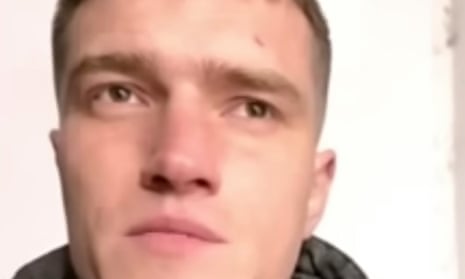 Andrey Medvedev, a former commander of Russia's Wagner mercenary group who recently fled to Norway, has been apprehended by police, he told the Guardian on Monday.
Medvedev's Norwegian lawyer, Brynjulf Risnes said that the police decided to apprehend Medvedev on Sunday evening after a "strong disagreement" with the former Wagner soldier over living conditions at the safe house where he had been living since he arrived in Norway.
"He was staying on a voluntary basis at the safe house. If he refuses to be there, they have to either let him go or detain him," Risnes said.
Risnes added that Medvedev was now being moved to the temporary detention centre.
"I will try to speak to the police and we will obviously find a solution," the lawyer said.
Medvedev, in a brief phone call with the Guardian, confirmed he had been apprehended, and expressed worries that he would be deported to Russia.
Earlier on Monday, Norwegian police announced Medvedev was in custody.
"He is apprehended … and we are considering whether to seek a court's decision for internment," Line Isaksen of the Norwegian police told Reuters, declining to give further details.
Medvedev, 26, crossed the border into Norway on 13 January, where he applied for asylum.
Before fleeing, Medvedev said that in Ukraine he had witnessed the summary killing of Wagner fighters accused by their own commanders of disobeying orders, sometimes in pairs.
He said he was ready to tell everything he knew about the Wagner Group, its activities and its leader, Yevgeny Prigozhin.
Medvedev is the first known soldier from the Wagner Group who fought in Ukraine to flee abroad.
The US said last Friday that Wagner, which has played a central part in Russia's invasion of Ukraine, would be designated a significant "transnational criminal organization".
GERMANS DEMANDED A WAR BETWEEN MYSELF AND PARENTS - CLAIMED ME NOTHING IN RESPECT TO HUMAN RIGHTS I CITE,
"NOTHING IN RESPECT TO ASSISTANCE TO YOU TILL YOU CONDEMN AND DISTANCE YOURSELF AWAY FROM PARENTS AS WE WILL NOT SUPPORT SOMEONE WHO IS UNSURE ABOUT WHO THOSE CLEARLY RUINED AND CONTINUE TO RUIN ONE'S LIFE...EITHER YOU OR PARENTS, BUT NOT BOTH"

.....
FIRST SLOVENIAN PRESIDENT INVOLVED IN CRIME MILAN KUČAN HAD TO ATTEND ENGLISH SPEAKING CLASSES TO MATCH SOMEWHAT CAPABILITIES OF OTHERS WHO ATTENDED MEETINGS IN SLOVENIA....NOW KING CHARLES MADE UNCONDITIONAL SUPPORT FOR ONE ANOTHER AGREEMENT ON BEHALF OF PUTIN WITH KUČAN IN 1998.
CRIME ON BEHALF OF PUTIN WENT ON VIA KUČAN ALL THE WAY THROUGH SEVERAL PRESIDENTS ENDING WITH

BORUT PAHOR AND NEXT NATAŠA PIRC MUSAR

- KUČAN MENTORED BOTH, BUT OPPOSITION FROM KUČAN SUCH AS JANŠA/PETERLE WAS EVEN WORSE - MORE CORRUPT...MORE MURDEROUS IN FORM OF MISLEADING PUBLIC ON OPPOSITION ISSUES WHILE USING EXACTLY SAME KUČAN TACTICS - METHODS.
CRIME UNDER BORUT PAHOR WENT INTO HOSPITALISATION OF FATHER INTO EXTREME WHICH WAS USED TO REPLIACTE UPON MY RETURN FROM POLAND FATHER'S FUTURE ISSUE DEMONSTRATED TO ME UNDER MK ULTRA TORTURE WHEN SLOVENIAN GOVERNMENT BEGUN TO CONDITION ME VIA FORCED LONG TERM UNEMPLOYMENT FUTURE INABILITY TO PAY BILLS...WAS FURTHER USED TO DETER ME FROM PERSUING POSSIBLE EMPLOYMENT AS TO BRAINWASH WHICH DEMANDED FROM ME TO RATHER BECOME FATHER'S HOME CARER THAN JOB FOR SAME AMMOUNT OF MONEY AND TO FURTHER DRIVE ME INSANE VIA ISSUES WHICH PSYCHITRISTS AND POLICE HAVE USED FATHER FOR PRACTICALLY ON HIS DEAD BED WITH IDEA TO OBTAIN ANY RECATIONS OR STATEMENS FROM ME WHICH WOULD GIVE THEM THE ABILITY TO PREVENT MY INVESTIGATION OF SLOVENIAN POLICE INVOLVED IN CRIME PROCEDURE.