The problem with royal body shaming was that she repeated above stated to me over million times since her marriage to Mike Tindall who claimed me I never ever will make alive through ordeal.
Behind Zara Tindall's goodness of words regarding her repeated,
"Go enjoy and be yourself"
were rotten and half rotten eggs at home which mother brought from neighbors....the sale which psychiatrist Peter Kapš have made it with police using perhaps three times completely rotten eggs for which one instructed to smell them and compare smell with what frequently were half rotten eggs - you
bet rotten eggs smelled way worse than half rotten eggs all brought from neighbor
(mother till month ago refused to purchase much cheaper home grown eggs from Hofer store - eggs for which Slovenian Novo mesto police have threatened also have stamps that will print on those - switch them with half rotten or rotten)
if somehow I buy them. Eggs highly recommended by prince Charles(now king) as ultimate cure for my mysterious health problem. I am not laying to you when I tell you for last two years at least and likely in Poland where I would purchase huge amounts of eggs as instructed to keep them on the side
(POLLACKS KNEW ABOUT SO CALLED SLOVENIAN HALF ROTTEN JOSEPH INSTITUTE https://www.ijs.si/ijsw/JSI EGGS AND HAVE C,AIMED HOW THEY WOULDN'T DO SUCH THING UNDER MK ULTRA, SO EGGS 99% MOST LIKELY WERE ROTTEN)
, eggs were rotten to degree that those at times looked as jellyfish but every one of them had a strange sour smell not as strong as rotten eggs, but nothing any human would want to eat or have on his menu - stank, however, became acceptable till I purchased somehow eggs in the store....make no mistake, police did planted half rotten eggs also in boxes of eggs which I brought home from Hofer store for which criminals knew would be the one with lowest cost for eggs....Go enjoy and be yourself specially when I think about cancer...when I think about what prince William insisted me how cancer cells eventually will turn immortal....when I think about verbal attacks/insults I got during lunch time from mother, problems they cooked with police...HOUSE WAS
(AND IS VIA SYSTEM KNOWN AS CAMERAS VS MICRO CAMERAS SYSTEM)
VIDEO MONITORED IN BIG BROTHER STYLE WITH WHENEVER I WOULD START. Eggs not allowed to be purchased in stores....neighbors only !!! VILLAGE PEOPLE. Food and atmosphere so toxic that I begun to eat trash food rather than food purchased in the store - at times
(TO GAIN TRACTION)
with nothing but eggs inside the fridge with my little knew that those were poisonous as well. With what mother claimed was rotten discounted chicken purchased in the stores which she sampled me accordingly with MK Ultra scenario by preparing a broth out of home grown chicken which she purchased from local market exactly accordingly with MK Ultra scenario
(one removed cancer symptoms in a big way, but question remains what was in there)
.
SMELL OF THE EGG WHEN COMPARED TO EGGS FROM NEIGHBORS WAS VERY VERY GOOD
(DOESN'T MEAN WAS GOOD)
, BUT WHY INVOLVE CRIME FROM MK ULTRA BRAINWASH IN FOOD PRODUCTS PURCHASED INSIDE OF THE STORES !!???? POLICE OFFICER INVOLVED IN CITROEN CAR SALE CLAIMED ME SUCH EGG WHICH WOULD APPEAR IN REAL LIFE IS NOT BAD THAT EVERYTHING THATS ITS NORMAL - WELL, SHE IS NOT AND THIS WHOLE THING IS BEYOND TOXIC. MURDEROUS AS IT GETS.
The Jožef Stefan Institute eggs to which Slovenian government with neighbors have referred to as were eggs just rotten enough to consume and not get seriously sick . neighbors Redek who planted with mother crime were involved in one since 1995 and have earned through crime market for sale of products as well as I anticipate financing for farming - I know so because I know people who engaged in crime from Bled and have brokered farming crime for foreign companies....they were in this house as well and I was at their place

(guaranteed me faith indifferent from Kučan)

.
RETURN FROM POLAND AND POLAND ALONE WERE DESIGNED TO FOREMOST MURDER ONE PSYCHOLOGICALLY - BRAIN KILL ONE
(TURN ONE INTO MENTAL PATIENT)
JUST AS PRINCE CHARLES STATED, I WILL GET TO SEE YOUR FACE ONCE AGAIN
(WILL CAREFULLY RECORD ONE DURING DEPARTURE TO POLAND AS TO CRIMINAL CLAIMED CREDIT ALSO TO WEIGHT LOSS THROUGH POLAND WHICH I COMMENCED ON MY OWN IN SLOVENIA IN 2017)
AND THEN YOU WILL BE WASTED...BRITISH ROYALS MANAGED TO CAUSE NERVOUS BREAKDOWN TO DEGREE OF MY GAINING WEIGHT OF OVER 100 KG NO LESS THAN THREE TIMES OVER COURSE OF 28 YEARS AND DROPPING ONE THROUGH EXTREME HARDSHIP YOU WITNESSED BACK TO 70 EVEN 65....BRITISH ROYALS TOOK CREDIT FOR CRIME
(WEIGHT LOSS - THERE WOULDN'T BE ONE WITHOUT THEIR PRESENCE AS THERE WOULDN'T BE EXTRA WEIGHT ON FIRST PLACE)
THROUGH SET OF CRIME CREATED AGAINST ME IN UNITED STATES OF AMERICA - NOT ONLY IN SLOVENIA....THEIR MINDSET WAS CONCENTRATED TO MURDER WITH EXTREME TOXICITY IN THE NAME OF HELP....THEY REPRESENTED SOLUTIONS TO PROBLEMS THEY CREATED AND THE NUMBER OF PROBLEMS CREATED IS IMPOSSIBLE TO COUNT.
@British royals - Milan Kučan assisted you truly great. You mutual cooperation is worth of admiration from my end.
LET ME FINISH WITH FAMOUS BRITISH ROYALS KING CHARLES
(YOU FUCKING MURDEROUS STALINIST TYRANT)
EXCELLENCE SAYING,
"NOBODY CONSIDERS YOU WHEN YOU PLACE US NEXT TO YOUR NEWS"
....
Mike Tindall reveals wife Zara's 'biggest worry' over I'm A Celebrity appearance
The rugby player is married to the King's niece
Speaking from Australia, Mike said: "We have some work out here so if it got to the end then hopefully, she'd be able to come out. Zara told me to go and be myself, which is all you can be. She said to go enjoy and be yourself."
Mike and Zara – the late Queen's granddaughter - have been married since 2011 and together share three children, Mia, eight, Lena, four, and one-year-old Lucas.
He added: "Zara's biggest worry is how loud I am when I eat. She will be very happy if someone comments about how loud I breathe when I eat because it's always a point that she brings up. When your nose has been mangled as much as mine it is just a by-product."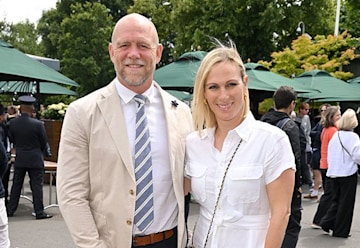 The rugby player is married to the King's niece Zara
Of getting his wife's blessing to appear on the show, Mike said: "Zara gets it and supports it – with both our careers, she goes away competing for weeks at a time and I always went on tours for three, four weeks in the summer, so our relationship has always been built to deal with that and we're good at compartmentalising and finding ways to deal with it."
On Monday, good friend James Haskell – who took part in the 2019 series – appeared on Good Morning Britain and spoke about Mike's support group.
Asked by Susanna Reid whether Zara will be travelling to Oz to cheer on her husband, James replied: "Yeah, yeah, I think she'll be out there. Hopefully!"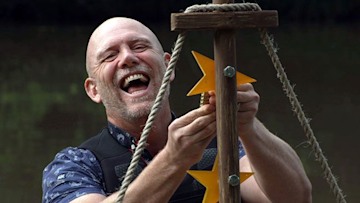 Mike fetching gold stars on the I'm A Celebrity launch
Fans of the show will no doubt be hoping for some insider information when it comes to the royal family. But according to James, that's very unlikely to happen.
Asked if Mike will mind what he says, the former rugby star replied: "Yes, I think so. You always do. "But Mike's quite a private guy anyway," he continued. "I think he's part of one of the most famous and best families in the world..."
HOW ROYAL PRELUDE INTO UPGRADED CRIME WHICH TOOK PLACE IN 2022 TOOK OFF IN 2021....THE LAST FATHERS' DAY AS THEY REFERRED TO CRIME(hospitalization of my father) AT BUCKINGHAM PALACE AS....
AND BLAH BLAH
MY ONLY MESSAGE TO ROYALS

(THEY ACCOMMODATED RUSSIANS AND SERBS IN INTERNATIONAL CRIME AND IN VIOLENCE SINCE 1995 TO DEGREE THEY ANTICIPATED I WOULD TURN INTO BROKEN PATHETIC RUSSIAN SERBIAN LOVING LOSER)

- ROYALS WHO ANTICIPATED I WOULD TURN MYSELF INTO ENEMY OF HIS OWN PEOPLE BY FLIRTING WITH ENEMY EVEN WITHING HIS STATE

(MILAN KUČAN - PAHOR - FAJON <= THIS IS WHOM THEY RESCUED)

AND CLAIMING ME ON THE SIDE THEY SIDE WITH ME FOR SO LONG TILL I WOULD CEASE TO EXIST SPIRITUALLY THEREFORE MENTALLY AND PHYSICALLY - IS A SONG REALLY ABOUT YOU MIGHTY BRITISH ROYALS....YOUR YOUTH, YOUR STRENGTH, YOUR NUMBERS....BUT ALSO ABOUT MYSELF - I WHO DID EXISTED AND WILL CONTINUE TO EXIST DESPITE YOUR ENDLESS STALINIST SAW NOTHING, HEARD NOTHING, KNOW NOTHING GAME.
YOU ARE NOT MY PROBLEM - I HOPE YOUR PEOPLE
(YOU ARE NOT MY PROBLEM)
, HOWEVER, FUCK YOU TOO. AND YOU CONTINUE TO EAT YOUR HEALTHY EGGS THROUGH WEIGHT LOSS....
BRITISH ROYALS PREFERRED ME VS PUTIN ACCORDING TO BRITISH ROYALS....
THAT WAS FOR AS LONG AS OIL RAN INTO THEIR POCKETS - IF NATO SOMEHOW DEFEATS PUTIN WHICH I DOUBT WILL HAPPEN AS ALL I SEE IS WHAT THEY NEGOTIATED WITH ONE ANOTHER

(with Russian partner)

, MY TURN FOR "LOVE" WOULD COME....




ROYALS HAD CHANGE OF HEART SO MANY TIMES

(ONE INVOLVED FIRM ASSASSINATION ATTEMPTS)

THAT I SOMEHOW DECIDED TO STAY ON MY OWN "TOUGH LOVE" RIVER BANK....nobody likes to be financially controlled - nobody likes anyone to peek in his pocket even less for one to be forced into poisoned food. This was NOT about financial independence as British royals bullied with.....it was foremost about weight loss

(school for graveyard)

.
ROTTEN EGGS NEWS WAS PROTECTED BY BRITISH ROYALS IS DEATH - FROM CHARLES IS MOTHER TO FATHER IN 2021 - DON'T EVEN MENTION ROTTEN EGGS IN CASE YOU CARE FOR YOUR MOTHER WAS THE BRAINWASH....ROTTEN EGGS GAME AND LAST FATHER'S DAY....AND PHOTOT AS YOU SEE HERE FOR WHICH KING CHARLES CLAIMED ME WILL BE SEEN MORE AND MORE FREQUENTLY IN CASE OF REAL DEATH OF QUEEN ELISABETH....PRINCE PHILLIP DISAPPEARED AT HIS AGE 99 ASKING ME OVER COURSE OF YEARS WHAT MY FAVORITE NUMBER IS
(HE KNEW WAS 99 DUE TO MY BIRTH AND YEAR OF NATO BOMBING ON BALKANS)
.
SADISTIC - MURDEROUS AS IT GETS AND WITHOUT ABSOLUTELY ANY HUMAN CONSCIOUS. I HAD NO IDEA WHY THEY HATED ME SO MUCH OTHER THAN MY BEING A PROOF OF THEIR WHEREABOUTS AND CHARACTER.
As the British royal family continues to mourn the loss of patriarch Prince Philip, they've found solace in his "very peaceful" passing, a source exclusively reveals in the new issue of Us Weekly.
Buckingham Palace confirmed on Friday, April 9, that the Duke of Edinburgh died at his and Queen Elizabeth II's Windsor Castle residence. He was two months away from his 100th birthday. Though it's been a difficult few days since Philip's death, his loved ones are doing their best to stay strong.
"The whole family got a lot of comfort in knowing that he and Her Majesty got to be together in the sanctuary of Windsor Castle," the insider adds.
Philip's final moments were filled with his favorite things, unlike his February hospital stay, which he found "inordinately boring." The former naval cadet returned home from King Edward VII's Hospital in March following "successful" heart surgery.
"Spending time with Elizabeth, communicating with other loved ones, reading and relaxing in his home environment meant everything to Philip," the source says.
The queen, 94, and Philip welcomed four children — Prince Charles, Prince Andrew, Princess Anne and Prince Edward — after tying the knot in November 1947. The royal couple also shared eight grandchildren and 10 great-grandchildren.
Following her husband's death, the monarch reached out to grandsons Prince William and Prince Harry to break the news. The Duke of Cambridge, 38, and his younger brother, 36, were "devastated" to learn of Philip's passing — even though he had been ill recently — and have each paid homage to their beloved grandfather with emotional statements.
"You will be sorely missed, but always remembered — by the nation and the world," Harry wrote on Monday, April 12, in a touching tribute from him, pregnant Meghan Markle and their 23-month-old son, Archie. "Meghan, Archie, and I (as well as your future great-granddaughter) will always hold a special place for you in our hearts."
The Duke of Sussex recently returned to England ahead of Philip's funeral, which will take place on Saturday, April 17. Due to the coronavirus pandemic, the service will be a more intimate affair. As she continues her eight-day mourning period, the queen is "keeping herself busy" with plans for the memorial and has shown "remarkable resilience" for her family — and for the rest of the nation.
"Her mantra has always been to stay positive during tough times, dig deep and carry on the best she possibly can," the insider explains. "She reasons that Philip would hate it if she sat around moping for the rest of her years, and his extraordinary life and legacy is one that deserves to be celebrated and remembered fondly with every sense. He would have wanted her to look after herself first and foremost instead and she intends to do her best."
For more on how the royal family is coping with Philip's death, watch the video above and pick up the latest issue of Us Weekly, on newsstands now.