I have lost 28 years on idiot show and struggle, but others who served best to their abilities in great button missing Rotenburg show appears weren't much better off either....its THEM(and who) and those of us who "do not know"....Paul was involved in MK Ultra case along with many of his even lost friends, and I do love to learn more about it....Paul knows prince Andrew from up very close is how
(missing friends before went missing even blamed me, so I am extremely curious)
...
'I Fought for My Country and Lost 15 Friends to Suicide'
PAUL MINTER
ON 11/19/22 AT 4:00 AM EST
From the age of around eight, I remember watching television programs about soldiers and I liked the idea of being part of a group, doing something arduous, and pushing my limits. I was hooked on the idea until I joined the military in 2003. I was 16 years old.
I enjoyed life in the army straight away. As a child, I had built up how hard being a soldier would be in my imagination, but I flourished quickly and really enjoyed it. I loved being part of a team, getting down to the nitty-gritty, and pushing my boundaries. We were constantly traveling the world and doing loads of different sports. It was a lot of fun.
My first tour was in Afghanistan as a 20-year-old gunner in 2006. Later, I became a reconnaissance soldier and completed four additional tours; three more in Afghanistan and one in Iraq.
Serving in the army
During my 18 years in the army, I survived two bomb blasts. The first was a rocket-propelled grenade (RPG) attack during my first tour, where, unfortunately, four people died. The remaining three soldiers in my unit had to fight our way out of the ambush.
It was a terrible experience and a very sad one, but we didn't have time to reflect on what happened. We knew what we were there for. We had an hour to go and get a new vehicle, then we were back on the ground fighting again. There was never time to think about our experiences.
The second attack was an improvised explosive device (IED) where, once again, unfortunately not everybody survived. I was fortunate to come back unscathed on both occasions, but they were very difficult experiences.
Although we hear a lot of bad things about those tours, I believe good also came from them. Our unit helped thousands of people during that period; girls into school and women into politics and sports. You could see the change happening at the time. It's good to think we were part of it.
I was an adult and knew what was expected of me as a soldier. However, as a member of the armed forces, I believe the military is great at getting you battle-ready and into that warrior mindset, but not as good at bringing you back down again.
I noticed quickly after returning from Afghanistan that I was a lot more aggressive, frustrated, and easily triggered than before I went away.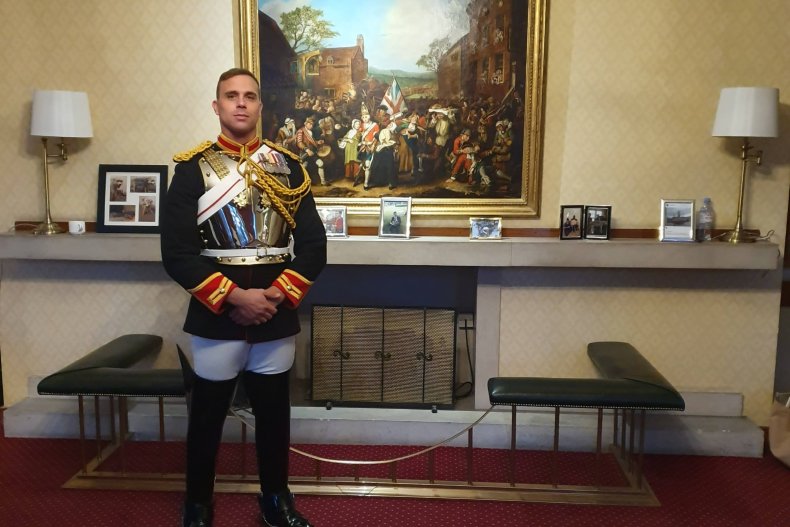 Paul struggled with his mental health during his time in the military. He was medically discharged with PTSD in November 2020.PAUL MINTER
Struggling with mental health

I absolutely did not feel that I could speak to other soldiers about these feelings. I would say for the first fifteen years of my service, I had never even heard anybody speak about mental health or depression. I was naive and oblivious to the concept.

I think I pushed a lot of my negative feelings aside. I thought they were something that would pass and that I was in control of them. Sometimes I masked them by drinking or going out. Especially in the armed forces, you're with a big group of people on a daily basis, so it's easy to disguise your feelings and pretend they're not happening by getting caught up in morale and having a good time with friends.

After my fifth tour, I struggled badly with paranoia, anxiety, and then depression. I didn't feel I was getting the help I needed while I was in the armed forces, so it was something I tried to work on myself. I found different methods of coping with my emotions and it was something I wanted to continue doing, but I didn't feel I could do that within a military environment.
His death was the catalyst for me eventually leaving the armed forces in November 2020, when I was medically discharged with PTSD. I wanted to do something to help those who were still struggling and try to prevent more people from taking their own lives.
I came up with the idea of setting up a mental well-being charity. I wanted to find like-minded people to help me, so I approached three friends, George Dagnall, Simon Moloney, and Adam Carrier, who I thought would be just as passionate and willing to do the right thing, not for themselves, but for the beneficiaries.
They were all on board right away and in November 2020, we started to go through the process of setting up a charity called Head Up, which aims to raise mental health awareness for members of the armed forces and military community. We became a full non-profit charity as of August 2021.
For the first year after founding the charity, speaking about my own mental health was very difficult, for many reasons. It would often make me feel pretty dejected for quite a long time. But the more you open up, the more normal it becomes; it no longer seems like a weakness
Mental health is something we all have, whether it's good or bad. It's something we can all strengthen and improve, just like physical health. Every single person may struggle with their mental well-being at some point, but there's lots of help out there and people you can talk to.
I highly recommend to anyone struggling with their mental health to speak about their experiences, even if it's just to themselves first. I find a very good way of speaking to other people about personal issues is walking or running while talking, so it's not so intrusive.
My own mental health is something I've had to continuously work on, but I think everyone does. There is no such thing as a quick fix, it's a lifestyle change and improvement. For me, it's all about finding techniques that work, and continuing to pursue those methods all the time.
Life is full of ebbs and flows, so when we are on a bit of a downward spiral, we need to have the tools in our kit to make us feel better again.
Running 5,000 miles for charity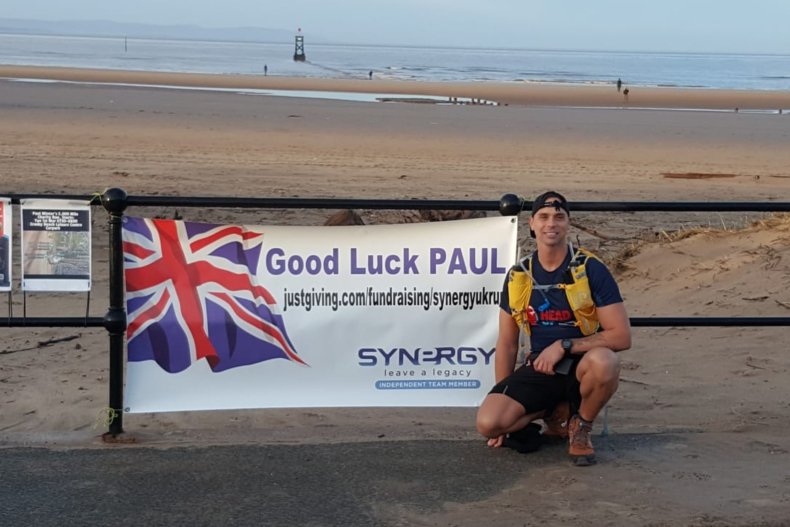 Earlier this year, Paul ran over 5,000 miles in a marathon across the coastlines of England, Scotland, Wales, Northern Ireland, the Isle of Wight, and the Isle of Man, in 218 days.PAUL MINTER
The charity is currently working to create a positive mindset retreat, where anyone in the armed forces can go for seven days, completely free of charge, to just learn different ways they can improve their mental well-being and resilience. The charity is not directly involved in working with the British military, but we hope to change that once the retreat is up and running.
Earlier this year, I ran over 5,000 miles across the coastlines of England, Scotland, Wales, Northern Ireland, the Isle of Wight, and the Isle of Man, in 218 days. I wanted to help promote the charity and get us some funding.
I began the run on March 1 and finished on October 4. Unfortunately, during that seven-month period, I lost another four friends to suicide.
Trying to put my own feelings aside, because there are a lot of family and friends involved, that is now fifteen members of the armed forces—who were, at one stage, very confident, proud people—who felt they could not continue anymore.
It was terrible, but in my eyes, the only thing I can do from here is to use my energy to push forward with the charity and try to help as many others as I can who may be in the same position.
Raising awareness of male mental health
I think having niche days like International Men's Day, to raise awareness of mental health issues among males, is so important. I believe men often find it particularly difficult to talk about their mental health. You can argue different points about why that may or may not be, but the fact is the suicide rate among men is higher than it is among women in the U.K.
I feel men are not typically as emotionally open as women are. So the more we, as a society, can stand up and talk about these issues openly, the more it encourages others to believe they can do it as well.
I love it when a male celebrity or sports player, specifically someone in a more masculine environment, stands up and says: "Yes I struggle or have struggled with my mental health."
It really does help people to realize they are not alone and they don't have to endure this alone. It's something we all go through, it's not just one specific group of people.
When people are struggling to ask for or get help with their mental health, I would encourage them to research positive mindset, whether that be through YouTube,
Google
, or books; find different tools and ways of coping.
In my view, there's no greater strength than taking control for yourself. It's the most difficult thing to do when you're in a bad place, but it's incredible to know that you were the person that helped make yourself better.
There are lots of different organizations and charities out there that can help people, whether they be national or local. I encourage people struggling with their mental health, even if they're feeling good at this time, just to get in touch with them, so that they know who to turn to and what help is available if a time comes when they need it.
Paul Minter is the founder, a trustee, and a full-time volunteer of Head Up charity. He served for 18 years with the Household Cavalry Regiment including five frontline tours of Afghanistan and Iraq.
All views expressed in this article are the author's own.
As told to Newsweek associate editor Monica Greep.
If you have thoughts of suicide, confidential help is available for free at the National Suicide Prevention Lifeline. Call 1-800-273-8255. The line is available 24 hours every day. Beginning July 16, dial 988 on your phone to be automatically connected to the Lifeline.
SOMEONE IS FUMING SOME(NO)WHERE, BUT WHAT DO THEY KNOW....