Russia alone was/ is/ and will remain pigeon shit compared even to disarmed Ukraine. Just so West will not confuse world with lies on "sanctions" and military assistance and whatever assistance to Ukraine...as far as sanctions, it can be clearly seen that single Putin's "confiscation"(more free gifts for Romanovs - and off course its because Putin is smart, not
And 200.000 is a shit number for a country as large as Britain...


because of Londonian sand in eyes of world) of Western jets https://fortune.com/2022/03/15/russia-planes-foreign-owned-leasing-putin-confiscate-theft/ on Russian territory paid him off greatly when compared to confiscated boat junk from his oligarchy...whole thing is a sand in the eyes of global community - foremost Ukraine. UKRAINE DEMONSTRATED WITH LITTLE HELP ON HOW ONE MANAGED TO BIT INTO THE GROUND

(OR AT LEAST HELD BACK)

ENTIRE RUSSIAN AND BELORUSSIAN MILITARY - COMBINE 150 MILLION RESIDENTS REGARDLESS OF TECHNOLOGY AND EVERYTHING ELSE WEST SUPPLIED RUSSIA WITH...THIS IS NOT TINY FINLAND FIGHTING USSR NOR TINIER CHECHNYA A RUSSIA WITH VICTORY OUTCOME AS BOTH HAVE ACCOMPLISHED, BUT UKRAINE BEATING UP ALL THE OIL AND MINERAL CONTRACTS GRANTED RUSSIA BY WEST OVER THE COURSE OF 27 YEARS...FROM LONDON TO WASHINGTON DC/BERLIN, WE HAVE SEEN A REGULAR DISGRACE AND NONE GREATER THAN IN DENMARK, SWEDEN, AND FINLAND WHICH EVEN DARE TO GESTURE SPLIT PUBLIC OPINION ABOUT NEED TO JOIN NATO...ITS A SCORN FOR HUMANITY

(HUMAN DIGNITY)

WHAT NATO DEMONSTRATED WORLD IN RESPECT TO UKRAINIAN REQUEST TO GET AT LEAST SKIES PROTECTED ON OWN SOIL IF NOT ACCEPTING ONE ALREADY IN NATO AND ASSISTING WITH TOTAL DETERRENCE OF RUSSIAN AGGRESSORS ON UKRAINIAN TERRITORIES/SOVEREIGNTY. GLORY TO UKRAINIAN NATION - INDEED DURING WAR FOR OWN EXISTENCE DEFENDING EVEN THOSE IN EUROPE WHO DON'T DESERVE TO CALL THEMSELVES EUROPEANS, BUT DEMAND EQUAL AND GREATER PROTECTION FROM WORLD THAN WHAT NATO OFFERS TO NATO MEMBER STATES.
JUNK YACHTS FOR YOU AND NEW JETS WORTH 10 BILLION DOLLARS FOR RUSSIA - WESTERN SANCTIONS WAY TO GO...

Russia sets plan to steal $10 billion worth of foreign planes held in the country
Russia has paved the way for domestic airlines to appropriate hundreds of foreign-owned planes trapped in the country, after foreign registries suspended certification of planes leased by Russian airlines.
Russian airlines currently operate about 515 foreign-owned planes, with a total of around $10 billion. Airlines often lease planes from foreign owners to expand capacity quickly without needing to raise the capital to buy planes themselves. But due to sanctions imposed by the EU, foreign jet lessors are being forced to cancel contracts with Russian airlines.
After nullifying contracts, however, jet lessors have few means to get their planes back from Russia—and even less chance of doing so following Russia President Vladimir Putin's latest maneuver.
On Monday, the Kremlin passed a law that allows domestic airlines to register foreign-owned planes in Russia, creating a veil of legality for domestic operators to continue flying foreign-owned aircraft after jet lessors cancel their contracts. The government will also grant airworthiness certificates to foreign-owned planes, which certify that a plane has been fully maintained and is fit to fly.
Bermuda and Ireland—where many foreign-owned planes in Russia are registered—said last week they would suspend all airworthiness certificates for Russian-operated planes. Bermuda's civil aviation agency said Saturday that sanctions meant the agency was "unable to confidently approve these aircraft as being airworthy." Russia's new law will allow Russian airlines to substitute foreign airworthiness certificates with ones issued by Russia.
But Russia's jet grab will clear the formerly foreign-owned planes to fly domestic routes only. Earlier this month, Russia's airspace regulator recommended that Russian airlines with foreign-owned planes halt their international flights to prevent their planes from being seized abroad. That same day, Russian airlines PJSC Aeroflot and S7 Airlines halted all their international flights, except for flights to Russian ally Belarus.
Keeping foreign-owned planes in the air will create a divergence between maintenance and flight records held by the lessors and the actual state of the plane. These records are critical to ensuring a plane can then be leased to other airlines—if lessors get the planes back.
"Unless you have those records, the aircraft is virtually worthless," said Quentin Brasie, CEO of ACI Aviation Consulting, to the New York Times.
Russian airlines might also strip the hijacked jets for spare parts to spruce up the rest of their fleet, after Boeing and Airbus both suspended operations in the country. On Thursday, a spokesperson for Russia's aviation authority reported that Chinese suppliers were refusing to ship aircraft parts to the country, too, constraining supplies further.
A plane that's a hodgepodge of various parts would likely present a nightmare for lessors by preventing them from presenting regulators with a full picture of a plane's airworthiness—if they ever retrieve their planes from Russia.
INDEED, BUT THERE ALREADY ARE OVER 3 MILLION UKRAINIANS THAT RUSSIA MADE HOMELESS AND ARE SCATTERED ALL OVER THE EUROPE WITH HUGE UKRAINIAN TERRITORIES NEWLY OCCUPIED !!!

https://www.ukrinform.net/rubric-ato/3430058-russias-losses-over-13500-personnel-404-tanks-81-planes-95-helicopters.html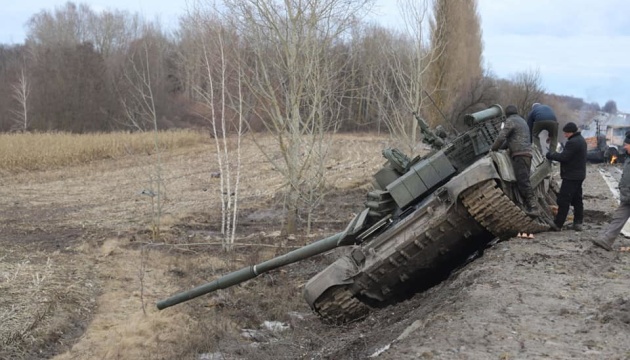 Russia's losses: Over 13,500 personnel, 404 tanks, 81 planes, 95 helicopters
From February 24 to March 15, the combat losses of the Russian aggressor totaled about 13,500 personnel.
The General Staff of the Armed Forces of Ukraine posted the update on losses on Facebook.
In addition, the enemy lost 404 tanks, 1,279 armored combat vehicles, 150 artillery systems, 64 MLRS, 36 air defense units, 81 aircraft, 95 helicopters, 640 vehicles, 3 ships/boats, 60 fuel tanks, 9 UAVs of operational and tactical level.
Data are being updated. The calculation is complicated by the high intensity of hostilities.
On February 24, Russian president Putin declared war on Ukraine and launched a large-scale invasion. Russian troops shell and destroy infrastructure, conduct massive shelling of residential areas of Ukrainian cities and towns using artillery, MLRS, and ballistic missiles.
Martial law was imposed in Ukraine and general mobilization was announced. Ukraine repels Russian invaders.
'Pure genocide': civilian targets in Mariupol 'annihilated' by Russian attacks
Deputy mayor of southern Ukrainian city says people living in 'medieval conditions' after week of continuous shelling
Speaking via a blurry video connection, the deputy mayor of Mariupol painted a grim picture of life and death on Wednesday inside his besieged city.
Russian forces surrounded Mariupol a week ago. They have been shelling it "continuously" ever since, Sergiy Orlov said, in a call with the Guardian and other foreign media.
"They have used aviation, artillery, multiple rocket launchers, grads and other types of weapons we don't even know about. This isn't simply treacherous. It's a war crime and pure genocide," he said.
He added: "Vladimir Putin means to capture Mariupol whatever the human cost."
By way of evidence, Orlov reeled off a list of civilian targets he said had so far been "annihilated". They included numerous residential houses, Mariupol's 600-bed maternity hospital No 9, the main administration service building, and the city's giant Avostal metallurgical factory – once the workplace for 11,000 people.
He said 1,170 people had been killed. On Wednesday, municipal workers buried 47 victims in a mass grave.
"We couldn't identify all of them," Orlov said. The message from Moscow was chillingly clear, he suggested: "Putin intends to destroy Ukraine so he can have Ukraine without Ukrainians."
Putin's goals, he said, were proceeding at a terrifying pace. The city has spent the last eight days without heat, power, gas, or electricity. Russians parked up in tanks and armoured vehicles on Mariupol's coastal outskirts had bombed all 15 power lines, Orlov said. On Monday, they blew up the gas connection.
"We sent a team of workers to repair the line. The Russians immediately shelled them. They had to leave," he said.
Consequently, the city's 400,000 residents were living in freezing "medieval conditions", unthinkable in what was until two weeks ago a modern and "flourishing" city, with busy cafes and restaurants.
"The only way civilians can cook now is on open fires. People are fighting over firewood. They are happy that it's cold and snowing. Snow means they have something to drink."
"A six-year-old girl died of dehydration," Orlov continued bitterly. "This is Europe, in 2022. How can that happen?" He added: "A lot of districts are devastated. They are dropping half-tonne bombs from the sky."
"It's medieval:" Russian shelling destroys Mariupol children's hospital
Russian shelling in the port city of Mariupol has killed at least 1,170 people and destroyed a children's hospital that also housed a maternity ward, Deputy Mayor Sergiy Orlov said Wednesday.
Driving the news: The city is under "continuous Russian shelling," Orlov said, adding that at least 47 people have been buried today in a mass grave. "It's medieval," he added, the Guardian reports.
Get market news worthy of your time with Axios Markets. Subscribe for free.
"Putin is intent on having Ukraine without Ukrainians. It's pure genocide. The attack being waged by Russia isn't simply treacherous. It's a war crime," Orlov said, per the Guardian,
State of play: Mariupol has been surrounded by Russian forces for days and a "humanitarian crisis" is unfolding in the city of 430,000, AP reports.
An attempt to evacuate civilians and deliver food, water and medicine through a designated evacuation corridor failed, with Ukrainian officials saying Russia's military breached the pledge.
What they're saying: Ukrainian President Volodymyr Zelensky on Wednesday again urged leaders to impose a "no-fly zone."
"Direct strike of Russian troops at the maternity hospital. People, children are under the wreckage. Atrocity! How much longer will the world be an accomplice ignoring terror?" Zelensky said on Telegram.

"Close the sky right now! Stop the killings! You have power but you seem to be losing humanity."