This man was involved in MK Ultra since 1996/1997. He first came to Slovenia with idea to live here in early 2000s...his mentor and the one who brought him in here was no other than Vladimir Putin - his sponsors were/are Milan Kučan as #1, Borut Pahor and even Austrian(Germany) state as no one dared to object Kučan/Pahor(Putin) in the face of torture against me in which man alone got involved. Both, Italians and Germans became early on buyers of his field gadgets and one was assisted from rear, front, left and right. Milan Kučan and Borut Pahor dedicated one special status known as
"discriminated against by Slovenes alone"
by setting me into scenario who had up to date at age 50 nothing other from Slovenia but free psychiatric institutionalization - no right to job no right other than to be tortured.
Slovenia - a chicken shit state
(the so called "Slovenian" voters)
ran by their owners UDBA
(Belgrade/Moscow)
. The so called "Slovenske novice" is a Serbian newspaper in Slovenian language distributing malicious lies about and against chicken shit natives
(REPULSED WITH FACT THAT THOSE WHO ACTED AGAINST INDIVIDUAL SO HE WOULD OBTAIN STATUS OF VICTIM EVEN IN SLOVENIA WAY BEFORE RUSSIAN MASSACRE IN UKRAINE, ACTED ALSO AGAINST ME WHOM SLOVENES REFERRED TO AS "ALIEN")
.
PUTIN DOESN'T OBJECT HIS HENCHMEN TO NOT CONDEMN ONE ABROAD

(why should he when he alone knows who one is - supporting Putin at this point abroad means condemnation against yourself from whole world and that is what KGb doesn't require for their people)

...BUT WHEN YOU MENTION ME EVEN HOW YOU WERE DISCRIMINATED IN SLOVENIA WITH IDEA TO BRING ABOUT YOUR MENTORS AND SPONSORS ON MY LIST OF FRIENDS - I SAY ONE SINGLE ONE OF YOU IS TOO MANY IN HERE.

UHHH, "INVENTOR" THREATENED HOW ONE WILL LIVE TO GERMANY ETC...ALL I CAN SAY TO ONE IS, LONDON WOULD AWARD YOU MORE.

THERE WAS AND IS MORE SLOVENIAN IN MILOŠEVIĆ/KARAĐIĆ/ ŠEŠEŠLJ/ PUTIN/ ARKAN THAN WHAT WAS AND IS IN AVERAGE SLOVENIAN...
And he didn't "fled" from Russia - he immigrated in style with everything ready nice dandy well prepared ahead for his arrival to Slovenia from occupied Ukraine - Crimea. Was/is everything but refugee...I WAS BROUGHT INTO HIS WORKSHOP AT TIMES BY VLADIMIR PUTIN PERSONALLY OR HIS CLOSEST KGB ASSOCIATES TILL 2002/2003 WHEN UKRAINIAN INTELLIGENCE LEARNED ABOUT IT...BY PUTIN ALONE IF YOU UNDERSTAND MEANING OF HERE WRITTEN

(on at least two/three occasions)

...
RUSSIAN DELEGATION RAN BY PUTIN, BEGUN TO EVALUATE SLOVENIAN DOMESTIC AND EUROPEAN MARKET AS PER WHAT COULD BE BUILT IN RUSSIA OR BY RUSSIANS

(in addition to mineral oil/gas exports)

AND PROMOTED WITHING PUTIN'S CIRCLE IN EUROPE IF I REPEAT WORDS, "WE ALSO SCANNED AT HOME IN RUSSIA FOR PEOPLE WHO WOULD BE SUITABLE FOR SUCH TASKS" OF WHICH ONE WAS INDIVIDUAL AS SEEN HERE...THATS ALL
Both of them were involved with elderly gentleman much more.
Fled from Russia and invented a tractor without a chauffeur
In 2014, when Russian President Vladimir Putin first demonstrated his global appetites and misinterpreted the Crimea, he left his homeland, with numerous technological solutions, equipment, challenges and knowledge that Kanil was realized in us, in his new and obviously permanent refuge . "We knew where this leads to the history of the state. We did not want to stay under the control of the regime. "Mikhail Kostkin felt the sediment in the nest of the growing Putin's empire, his knowledge and innovations that hugged the products" all from the Earth to the universe "did not want to subjugate the consequent interests, perhaps the production of deadly weapons. The cradle of his goals became Slovenia, "I feel here at home". He settled in Logatec, and in Vrhnika began to write the story of Russian-Slovenian inventors. When he first knocked on the door of agricultural experts, wholesale looked at him and pasted him the label "Crazy Rus", after three years from the beginning of the inventive route on our floor, it was all astonishing with his electrical product, the gigantic robot of the tractor size, called Slopehelper, which It automatically performs work in orchards and vineyards. In Russia, he has already developed an autonomous vehicle for rescuers, firefighters, foresters and an army, and it was upgraded together with an agricultural robot. He found an investor, gathered on a bunch of technologists and other assistants from all over the world, in his workshop, literally the world in small, also Belaruses, Ukrainians, Turks, and in three, four years created an innovative gadget with Slovenian technology, emphasized , develop arrivals. In order to minimize this agricultural wonder, in the laughter, the "Bzzs" voice is eliminated, it is a hearing-friendly appliance, "like a bee," only that the giant, but versatile, as a bug that can work in a field 24 hours a day. A tractor without a chauffeur.
It would be too complicated by all technological and electronic processes in the clutch robot, which they have already tested in the orchards of the Agricultural Institute of Slovenia, in vineyards in Vipava and in orchards in Posavje. Its advantage, in addition to agility and autonomy, is also the green energy produced from electricity, it has lithium batteries that allow autonomy of up to 14 hours, and they can be filled at home, they can even create a whole stand-alone cell that will be over The day was powered by solar energy, and at night it was active. Their goal is green Agriculture, the robot is a substitute for the tractor, with which the farmer must at least twenty in the field, in a vineyard or orchard, and pollutes the environment with fuel; Their "technology also completely eliminates the use of herbicides", as the robot daily removes the weeds, and the presence of a person is not necessary in operation. The robot is water management, using the mobile application, the path of operation that is won and repeated independently. Doing work that more people should have or would spend a farmer for many days. While the robot works alone, the farmer can dedicate his time to other tasks and development. Also, workforce, are primarily affected by cooperatives that process larger areas, it is becoming less, although trend turns in the last years - people return to earth. But as it shows in the future, with a robot back to nature.
Slopehelper performs everything from mulching, interlacing, spraying, mowing, soothing soil to pruning. The upgrade, which is just before the end, will also take care of the autonomous harvest of apples. What about the issue of security, depending on the dimensions, weight and caterpillares, allowing movement along the steep terrain, and the speed of movement 10 km per hour, it is important what happens if the child finds or some other random databite, Even the animal. "The machine is powered by an electric low voltage aggregate, which is completely safe, as it immediately stops when an obstacle appears before it. It is detected with the help of Radar, but also mechanically on touch. "For a lie, we can compare it with robotic vacuum cleaners. Of course, it is preferable to work in areas larger than 15 hectares, and they are completely enthusiastic about it Italians they are already using, and Austrians are smaller in Slovenia. "Responses are incredible, as it really is very simple. It can manage it even a twelve-year old. "In Logatec, a factory is growing, where mass production will begin. The robot has a built-in weather station, which can precisely record and compare weather phenomena through years of use.
The issue of food, especially in the light of the current war situation, is what is especially interested in our interlocutor Mikhail Kostkina. A topic that is increasingly concerned with Europe. "What's happening is just the beginning. Russia is one of the larger food producers and will not starve. The lack of food will feel Europe, "the inventor is sure, which, due to the rising aggression, is increasingly skeptical for our common future. "Russia is in exactly the same position, as Germany in the 1930s. 90 percent of people are there against the war, we would be happy to leave the country. There are many experts who want to leave. At this moment, Europe helps this crazy monsters, Putin's regime creates a terrible military machine. Financial reserves and human resources in the country are exceptional. It's painful. I have friends in Russia, relatives. Europe should take their resurses, but not concentrate them in Russia. The future of Europe is bad. "
Pribežal iz Rusije in izumil traktor brez šoferja
Pribežal iz Rusije in izumil traktor brez šoferja
Inovator in podjetnik Mikhail Kostkin je ob napadu na Krim zapustil državo in s svojim znanjem prebegnil k nam. Njegov avtonomni robotski stroj že dela v vinogradih in sadovnjakih.
Leta 2014, ko je ruski predsednik Vladimir Putin prvič pokazal svoje globalne apetite in neusmiljeno anektiral Krim, je zapustil domovino, oprtan s številnimi tehnološkimi rešitvami, opremo, izzivi in znanji, ki jih je kanil udejanjiti pri nas, v svojem novem in očitno stalnem pribežališču. »Vsi, ki smo poznali zgodovino države, smo vedeli, kam to pelje. Nismo želeli ostati pod nadzorom režima.« Tudi Mikhail Kostkin se je počutil utesnjenega v gnezdu rastočega Putinovega imperija, svojega znanja in inovacij, ki so objemali produkte »vse od zemlje do vesolja«, ni želel podjarmiti zavojevalskim interesom, nemara izdelavi smrtonosnega orožja. Zibelka njegovih ciljev je postala Slovenija, »tukaj se počutim doma«. Ustalil se je v Logatcu in na Vrhniki začel pisati zgodbo rusko-slovenskega izumiteljstva. Ko je prvič potrkal na vrata kmetijskih strokovnjakov, so ga debelo gledali in mu prilepili etiketo »nori Rus«, po treh letih od začetkov izumiteljske poti na naših tleh pa je vse osupnil s svojim električnim izdelkom, gigantskim robotom velikosti traktorja, imenovanim Slopehelper, ki samodejno opravlja dela v sadovnjakih in vinogradih. V Rusiji je že razvil avtonomno vozilo za reševalce, gasilce, gozdarje in vojsko, pri nas je vse skupaj nadgradil s kmetijskim robotom. Našel je investitorja, zbral na kup tehnologe in druge pomočnike z vseh koncev sveta, v njegovi delavnici je dobesedno svet v malem, tudi Belorusi, Ukrajinci, Turki, ter v treh, štirih letih izdelal inovativen pripomoček s slovensko tehnologijo, ki so ga, poudari, razvili prišleki. Da bi čim bolj nazorno opisal to kmetijsko čudo, v smehu izloči glas »bzzz«, je do sluha prijazen aparat, »kot čebela,« le da orjaška, a vsestransko zmogljiva kot žuželka, ki lahko dela na polju 24 ur na dan. Traktor brez šoferja.
Preveč zapleteno bi bilo popisati vse tehnološke in elektronske procese v drobovju robota, ki so ga že preizkusili v sadovnjakih Kmetijskega inštituta Slovenije, v vinogradih na Vipavskem in v sadovnjakih v Posavju. Njegova prednost, poleg okretnosti in avtonomnosti, je tudi zelena energija, ki jo pridobiva iz elektrike, vgrajene ima litijeve baterije, ki omogočajo avtonomijo do 14 ur, polni pa se jih lahko kar doma, načrtujejo celo izdelati povsem samostojno celico, ki se bo čez dan napajala s sončno energijo, ponoči pa bila aktivna. Njihov cilj je zelena agrikultura, robot je nadomestek za traktor, s katerim mora kmet na sezono najmanj dvajsetkrat na polje, v vinograd ali sadovnjak in pri tem onesnažuje okolje z gorivom; njihova »tehnologija tudi povsem izniči uporabo herbicidov«, saj robot dnevno odstranjuje plevel, prav tako pri delovanju ni nujna prisotnost človeka. Robot je voden na daljavo, s pomočjo mobilne aplikacije se začrta pot delovanja, ki jo osvoji in ponavlja samostojno. Opravi delo, ki bi ga sicer moralo več ljudi ali pa bi zanj kmetovalec porabil celo več dni. Medtem ko robot deluje sam, pa lahko kmet posveti svoj čas drugim opravilom in razvoju. Tudi delovne sile, se pridušajo predvsem zadruge, ki obdelujejo večje površine, je vse manj, čeprav se v Sloveniji zadnja leta obrača trend – ljudje se vračajo k zemlji. A kot kaže v prihodnosti, kar z robotom nazaj k naravi.
Slopehelper z raznovrstnimi pripomočki opravi vse, od mulčenja, medvrstne obdelave, škropljenja, košnje, rahljanja zemlje do obrezovanja. Nadgradnja, ki je tik pred koncem, bo poskrbela tudi za avtonomno obiranje jabolk. Kaj pa vprašanje varnosti, glede na dimenzije, težo in gosenice, ki mu omogočajo gibanje tudi po strmem terenu, ter hitrost gibanja 10 km na uro, je pomembno, kaj se zgodi, če se v bližini stroja znajde otrok ali kakšen drug naključni prišlek, tudi žival. »Stroj poganja električni nizkonapetostni agregat, ki je povsem varen, saj se nemudoma ustavi, ko se pred njim pojavi ovira. Zazna jo s pomočjo radarja pa tudi mehansko ob dotiku.« Za lažjo predstavo ga lahko primerjamo z robotskimi sesalniki. Seveda je prednostno namenjen delovanju na območjih, večjih od 15 hektarov, povsem navdušeni so nad njim Italijani, ki jih že uporabljajo, pa Avstrijci, v Sloveniji so obdelovalne površine manjše. »Odzivi so neverjetni, saj je v resnici stroj zelo preprost. Lahko ga upravlja celo dvanajstletnik.« V Logatcu že raste tovarna, kjer bodo začeli množično proizvodnjo. Robot ima vgrajeno še vremensko postajo, s čimer lahko kmetovalec natančno beleži in primerja vremenske pojave skozi leta uporabe.
Vprašanje hrane, še posebno v luči trenutne vojne situacije, je tisto, kar še posebno zanima našega sogovornika Mikhaila Kostkina. Tema, ki vse bolj zadeva tudi Evropo. »To, kar se dogaja, je šele začetek. Rusija je ena večjih pridelovalk hrane in ne bo stradala. Pomanjkanje hrane bo občutila Evropa,« je prepričan izumitelj, ki je zaradi naraščajoče agresije vedno bolj skeptičen zavoljo naše skupne prihodnosti. »Rusija je v popolnoma enakem položaju, kot je bila Nemčija v tridesetih letih prejšnjega stoletja. 90 odstotkov ljudi je tam proti vojni, z veseljem bi zapustili državo. Veliko je strokovnjakov, ki si želijo oditi. A Evropa v tem trenutku pomaga tej nori pošasti, Putinovemu režimu ustvarjati grozljivo vojaško mašino. Finančne rezerve in človeški viri v državi so namreč izjemni. Boleče je. V Rusiji imam prijatelje, sorodnike. Evropa bi morala vzeti njihove resurse, ne pa jih koncentrirati v Rusiji. Prihodnost Evrope je slaba.«
https://www.delo.si/novice/slovenija/dobri-clovek-iz-negove/
Dobri človek iz Negove
Ivan Kramberger je bil eden najprepoznavnejših obrazov nastajajoče države Slovenije.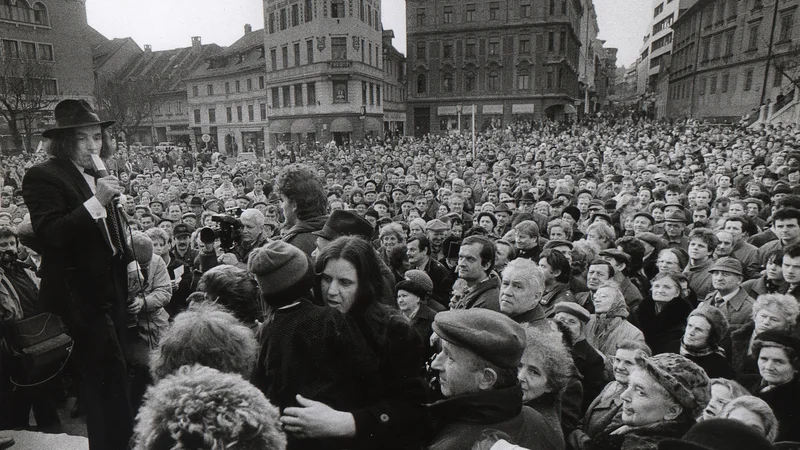 Odpri galerijo
Ivan Kramberger, posebnež, ki so mu leta 1990 prisluhnile množice, na volitvah za predsednika predsedstva pa je zanj glasovalo 18,5 odstotka volivcev. FOTO: dokumentacija Dela
Ko je pozimi leta 1990 napovedal samokandidaturo za predsednika predsedstva Slovenije, so se mu nekateri smejali, drugi pa ga pomilovali. Z dolgimi črnimi lasmi, klobukom, odprtim bugattijem in opico Ančko na rami pač ni bil videti kot resen politik. A je kljub temu (p)ostal eden najprepoznavnejših obrazov nastajajoče države. In žrtev umora, ki tudi po skoraj treh desetletjih ostaja ovit v tančico skrivnosti.
Vsi smo ga poznali kot dobrega človeka iz Negove, preprostega človeka, ki je prehodil trnovo pot iz revščine do bogastva, od čistilca kanalov do izvedenca za dializne naprave v Nemčiji in inovatorja na tem področju. S tehničnimi izboljšavami je kot »gastarbajter« v Nemčiji menda zaslužil lepe denarje, potem pa številnim ledvičnim bolnikom v Sloveniji in Jugoslaviji podarjal aparate za hemodializo v vrednosti več milijonov takratnih nemških mark. Ko se je vrnil iz tujine, je ob Negovskem jezeru postavil gostilno, pisal knjige (bolje rečeno snemal, tipkali so drugi), popotoval po Sloveniji in nagovarjal preproste ljudi. »Moje ljudi«, jim je rekel, mednje so spadali siromaki, invalidi, upokojenci, bolniki.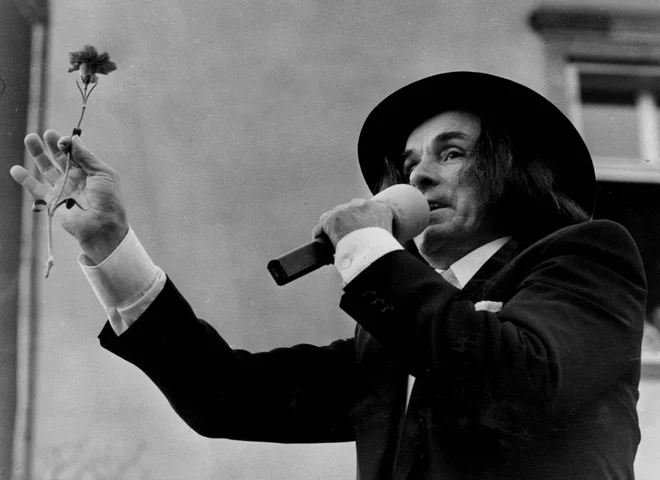 Ivan Kramberger, posebnež, ki so mu leta 1990 prisluhnile množice, na volitvah za predsednika predsedstva pa je zanj glasovalo 18,5 odstotka volivcev. FOTO: dokumentacija Dela
Na začetku leta 1990 se je vključil v kampanjo za predsednika predsedstva Republike Slovenije. Brez volilnega štaba, v avtomobilu, ki ga je sam sestavil, in s programom, ki ga je sproti prilagajal poslušalstvu, je na aprilskih prvih demokratičnih volitvah dobil neverjetnih 18,5 odstotka glasov. Po volitvah je nekaj mesecev miroval. »Da ne bodo rekli, komaj smo gor prišli, pa nas že Kramberger meče s stolov«, potem pa se je 17. oktobra pred Prešernovim spomenikom spet pojavil s svojo tradicionalno opravo in predstavil svojo stranko. Imenovala se je Narodna zveza oziroma Ljudska stranka, Kramberger pa jo je vpeljal z besedami:
Spet se je odločil, da bo ponovno kandidiral za predsednika, pozneje pa je napovedal, da se bo s stranko udeležil volitev v državni zbor.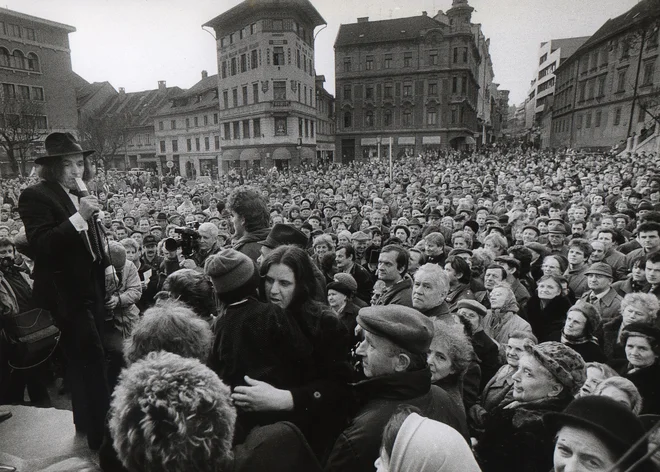 Ivan Kramberger, posebnež, ki so mu leta 1990 prisluhnile množice, na volitvah za predsednika predsedstva pa je zanj glasovalo 18,5 odstotka volivcev.
FOTO: dokumentacija Dela
Na zborovanju v Jurovskem Dolu pri Lenartu v Slovenskih goricah ga je 7. julija 1992 smrtno zadela krogla iz puške domačina. Že pred tem je govoril o grožnjah, ki jih dobiva, o izsiljevanju na cesti, neznanec je ubil njegovo opico.
Obsojeni morilec je krivdo najprej priznal, pozneje pa trdil, da so mu umor podtaknili. Krogle, ki je ubila Krambergerja, nikoli niso našli, in mnogi še zdaj verjamejo, da je za zločinom stal nekdo drug kot vaški pijanček s šestimi promili alkohola v krvi.