General Bajwa just as Mr. Khan were both involved in MK Ultra. I rate each with 10 of 10 as highest score. I thank both for support and to see world through eyes of justice.
Both one of the coolest people involved in MK Ultra with General Bajwa as one of the most experienced men ever to serve in the field of military...prior to his missions abroad
(some of which were dangerous)
as #1 man, older man on his right seen bellow served longest...I met all of them also in Pakistan where brought many times...on my question how come they would expose man like this to such missions Pakistani parliamentarians claimed me that it is requirement for every high ranking army official to not only pay his dues, but for one to continue to serve according to his duties regardless...
From
https://timesofindia.indiatimes.com/world/pakistan/cant-condone-russia-stand-by-ukraine-general-bajwa/articleshow/90615828.cms
Can't condone Russia, stand by Ukraine: General Bajwa
TNN / Apr 3, 2022, 00:19 IST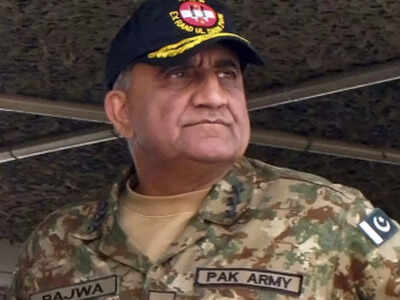 ISLAMABAD: Pakistan army chief Gen Qamar Javed Bajwa on Saturday gave voice to "Pakistan's serious concern" over the war in Ukraine, saying Russia might have legitimate security concerns but its aggression against a smaller country could not be condoned.

"Russia's invasion of Ukraine was very unfortunate as thousands of people have been killed, millions made refugees and half of Ukraine destroyed," he said, taking a stand opposite to embattled PM Imran Khan's steadfast refusal to do the West's bidding and denounce Russia.

Gen Bajwa warned that the continuation of the conflict would not serve the interests of any side, least of all developing countries bearing the socio-economic costs of a war that could still "easily get out of hand".

On Ukraine not throwing in the towel more than a month after the fighting started, the general said the country's military response had given hope to smaller countries that they could defend their territory with smaller but agile forces along with modernisation of equipment.

He said Pakistan had excellent "defence and economic ties with Ukraine" while relations with Russia, which PM Imran visited even as the war started, were "cold" for a long time because of numerous reasons. He hastened to add that some positive developments in this regard had taken place recently.
Gen Bajwa said Pakistan had despatched humanitarian assistance to Ukraine through
Pakistan Air Force
planes and would continue to do.