And thats what Uighur issue just as all other "human rights" dilemmas ran by Covid19ed West were/is all about....Chechnya, Dagestan, Kazakhstan, Uzbekistan, Turkmenistan, Kyrgyzstan, Uzbekistan, Tajikistan where mixed Asian population also lives, BUT no one sees human rights violations against them committed by all new ally Putin's mother Russia are also part of this sellout - did you know you can buy silence from West to degree that country of size of Ukraine is bullied 8 years after occupation of Crimea and Donetsk with issues from Western allies such as

"IF RUSSIA ATTACKS WE WILL IMPOSE ECONOMIC SANCTIONS ON ONE"

...silence sold to those who can interfere militarily with their Western colonial agenda in any part of the world results for West

(in case of successful sales)

in geopolitical and territorial gains in other part of the world and so it goes with Taiwan whose human DNA is Chinese and also of Aborigines which Australia and New Zealand wiped out from existence on their territories long long time ago - sale of silence to China West hopes for in respect to Taiwan which officially is the Republic of China (ROC).
I call on Japan and China to closely work with one another and protect interests of all Asians at home and abroad together as what seems is friend on surface may be exactly the opposite in reality - and its far more than just about religion in a world faster and faster absorbed by hatred. Written by eastern European - not "white".
Unfortunately for world, American black lives matters movement affiliated with racist South African government with both of its mindsets concentrated on profiteering through fake human rights issues
(Their crime against humanity is sponsored by Great Britain, Germany, United States and many others)
are pushing for WW3 at faster and faster pace and space for Taiwan alike negotiations will become lesser and lesser commodity on global scale....under Donald Trump IF one will make return
(read title if West gets China into circle)
or once cycle of colonization under future Donald Trump
(whoever will replace one if plan A fails)
is complete and minorities within system no longer needed, the last of otherwise primary Western task(hosts) will be completed. This too(last) happened already before....
@Taiwan - Global nazi

(world regulated through hatred which is affiliated to DNA principles to degree I feel far more related to Asians than whites)

sphere at this time contradicts(disallows) special/specific treatment of your situation as if in needs of becoming new American or British bomb carrier in extremely strategic for China part of the world. Problems with China deescalated already and now whole new round is coming up in which nothing is in it for you - regardless.
Americans
(I was hijacked from bed in Miami, loaded in plane like cattle, and brought by CIA/MI5/Germans drugged up back to Slovenia time and again)
would meet in this room for no less than 20 years with Taiwanese, Britons, Australians and others to brainwash through torture China
(room was/is bugged beyond unimaginable)
on why one should give in future extortion. Presented China as ultimate enemy and inquired over and over again during interrogation during which they insisted me how they will give Taiwan to China as per why they shouldn't and so on...with Chinese officials' presence whenever they participated, presented
me to China as ultimate enemy whose views China should just follow or otherwise
(tipped possible war ion negotiation table etc.)
...ambitions with which West hoped for would finally obtain clearance
(rationalize somehow crime infront of own public)
for genocide against me if not already subverting me in worth less than animal obeying
human being
.
Janez Janša(KUČAN'S PRIVATE ASSASSIN - UDBA KILLER) who participated torture verbally expressed support for embassy already during torture setting aside as is evident own Slovenian who lost on his political ambitions no less than 27 years - Janša's affiliation with politics was for him of paramount importance when compared to value human life of Slovenian native - man most loyal to Slovenia in this case.
With his criminal conduct, Janez Janša in is by far superseding issue of traitors.
China 'shocked' by Slovenia's plans to allow Taiwan to open an office
Foreign ministry accuses Slovenian leader Janez Jansa of making 'dangerous remarks that challenge the one-China principle and support Taiwan independence'

Jansa had referred to Taiwan as 'a democratic country' and said it was 'difficult to listen to a capital with a one-party system lecturing about democracy'
The Chinese foreign ministry said it was "shocked" by Slovenia's plans to allow Taiwan to open an office there, saying it would damage ties between China and Europe.
Ministry spokesman Zhao Lijian also said that comments by Slovenian Prime Minister Janez Jansa, who made strong criticisms of Beijing in a television interview on Monday, were "dangerous".
"The one-China principle is a universally recognised norm in international relations and a general consensus of the international community," Zhao said on Wednesday. "It is also the political foundation of China-Slovenia and China-Europe relations.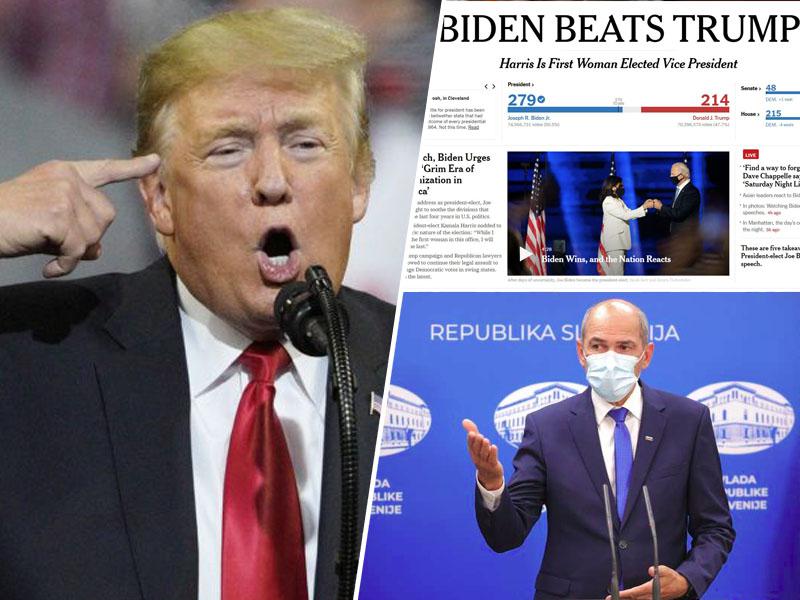 "We have noticed that the Slovenian leaders have blatantly made dangerous remarks that challenge the one-China principle and support Taiwan independence. We are deeply shocked by this and strongly disagree."The one-China principle is Beijing's position that there is only one sovereign state under the name "China" and it includes self-ruled Taiwan, whose official name is the Republic of China.
The Taiwanese government on Tuesday welcomed Jansa's comments and confirmed that negotiations were under way for the island and Slovenia to establish representative offices on each other's soil.
"Actually, we have normal relations with Taiwan," Jansa told Indian broadcaster Doordarshan. "Last year, when we saw some good anti-pandemic measures in Taipei, I personally called the health minister of Taiwan and we had an audio-video conference, exchanging our experiences. I personally visited Taiwan four or five times so far.
"They are a democratic country. It's difficult to listen to a capital with a one-party system lecturing about democracy and peace around the world. You know, [Taiwan is] a country which is democratic and respects all international democratic standards, international law included."
Beijing considers Taiwan a wayward province that must be brought into its fold by force if necessary. It has warned other countries repeatedly against having official contact with the island.
It responded furiously to Lithuania after the European country signed an agreement with Taiwan in July to open a de facto embassy for the island under the name Taiwanese Representative Office in Lithuania. The office opened in November.
The Chinese government has since downgraded its diplomatic ties with Lithuania. European companies have also complained that they were facing pressure from China to stop using components made in Lithuania - something that Beijing has denied.
Lu Shaye, the Chinese ambassador to France, said in an interview with France 24 on Monday that China needed to defend its interests but had not cut off diplomatic ties with Lithuania, hoping it would "correct its mistakes".
This article originally appeared on the South China Morning Post (www.scmp.com), the leading news media reporting on China and Asia.
Janša on coronavirus: Chinese authorities should be held accountable for this #video
"We will probably never know one hundred percent where the virus came from, whether it was artificially developed in a laboratory, escaped by accident, or is of natural origin, but we know that China did not act in good faith in the beginning," he said in an interview. Indian National Television said Prime Minister John Jansa.